My Favorite Ubud Restaurants: The Ultimate Bali Food Guide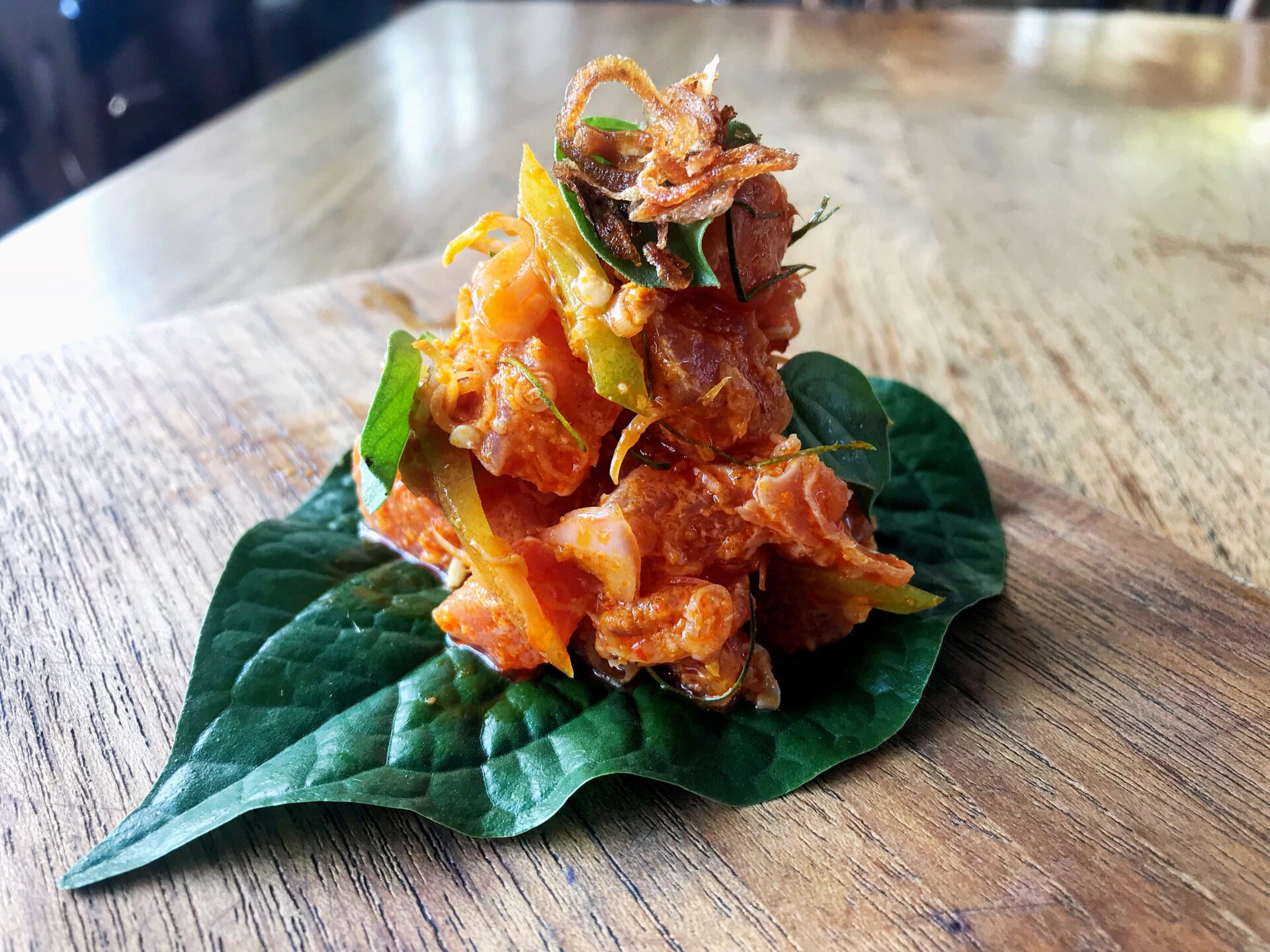 Ubud, Bali is one of my favorite foodie spots. Ubud restaurants just have a way with food. First, I've never seen food more beautifully presented as it is in Ubud. Restaurants use banana leaves, flower petals, and fresh fruits to enhance the beauty of the food. Second, most of the food you find in Ubud is incredibly healthy. (It's still healthy that I ate coconut ice cream every day, right? Because coconut!) And, third, I love the way the Indonesian flavors of turmeric, ginger, lime, shallots, galangal, and pandan all come together in the dishes the chefs create. You definitely get that sweet, salty, bitter, sour, and umami taste in the Indonesian foods that you eat leaving you feeling more satisfied than when eating dishes that lack all of these flavor components.
I've been to Ubud five times, but this last visit blew my mind food wise. There are so many new Ubud restaurants, and many of them are top notch. Here my list of my favorite Ubud restaurants, so you can enjoy some of the best meals to be had in Bali on your visit there.
My Favorite Ubud Restaurants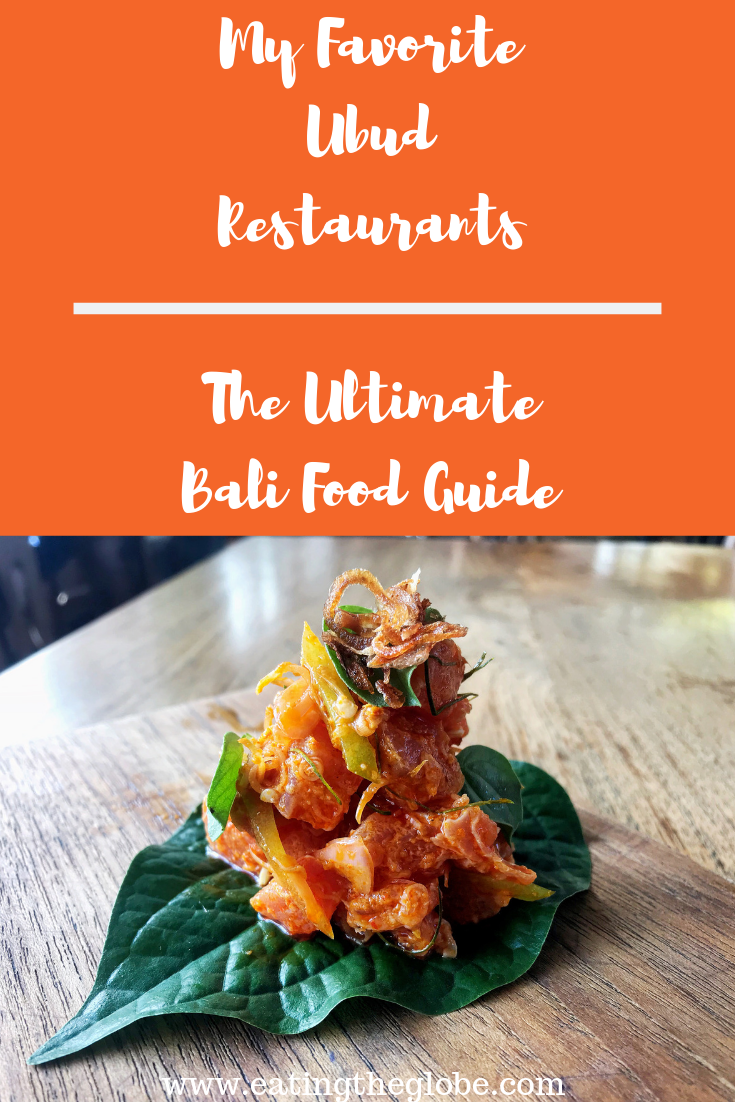 1. Hujan Locale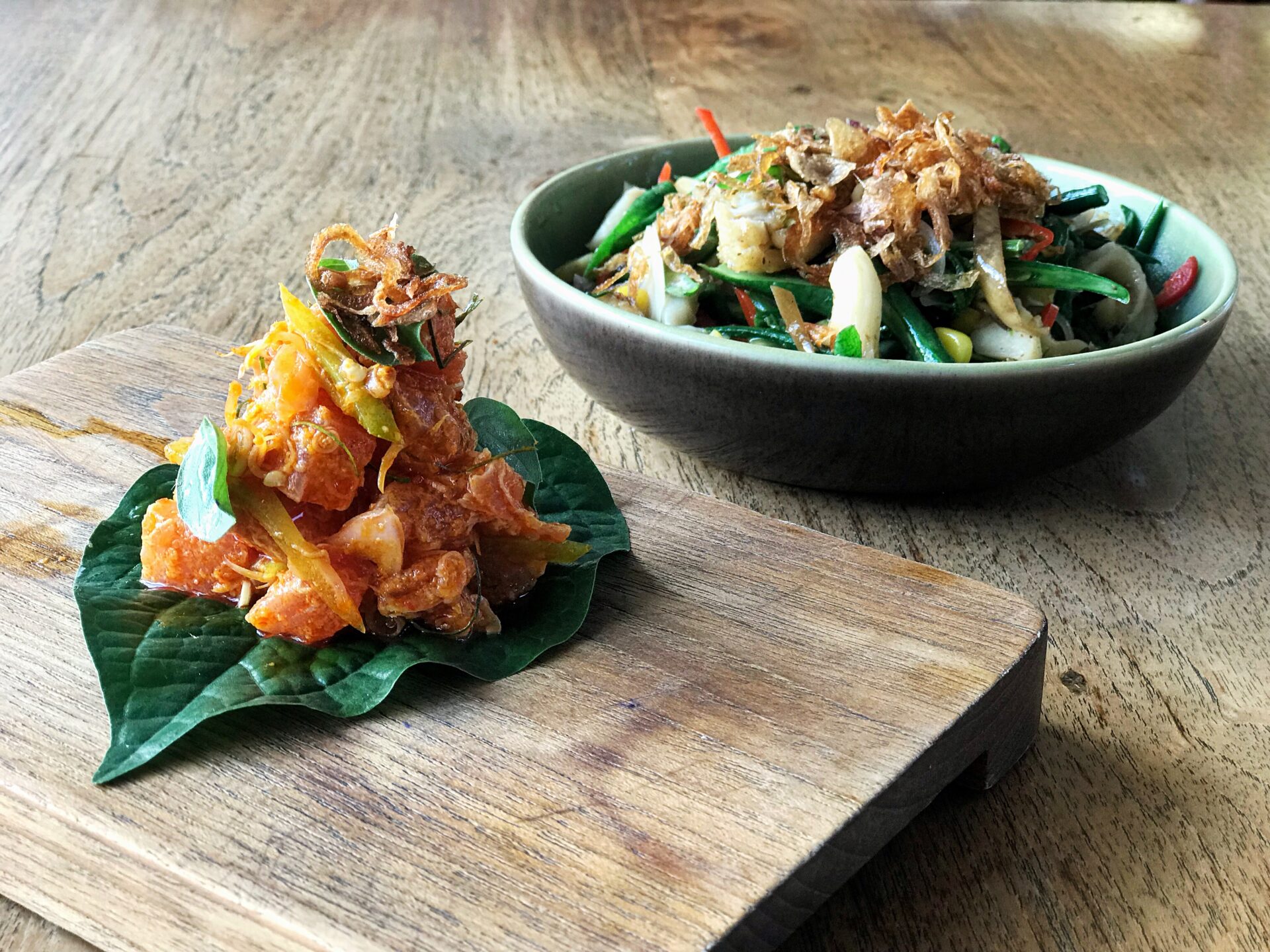 Of all of the Ubud restaurants, Hujan Locale was my absolute favorite. It blew me away in a way that not many restaurants do. It was so good that I gave them their own separate review that goes into more detail about the dishes that I had there. But, if you want a taste of some of the culinary specialties that all of Indonesia, not just Bali, has to offer, this is the restaurant you need to try.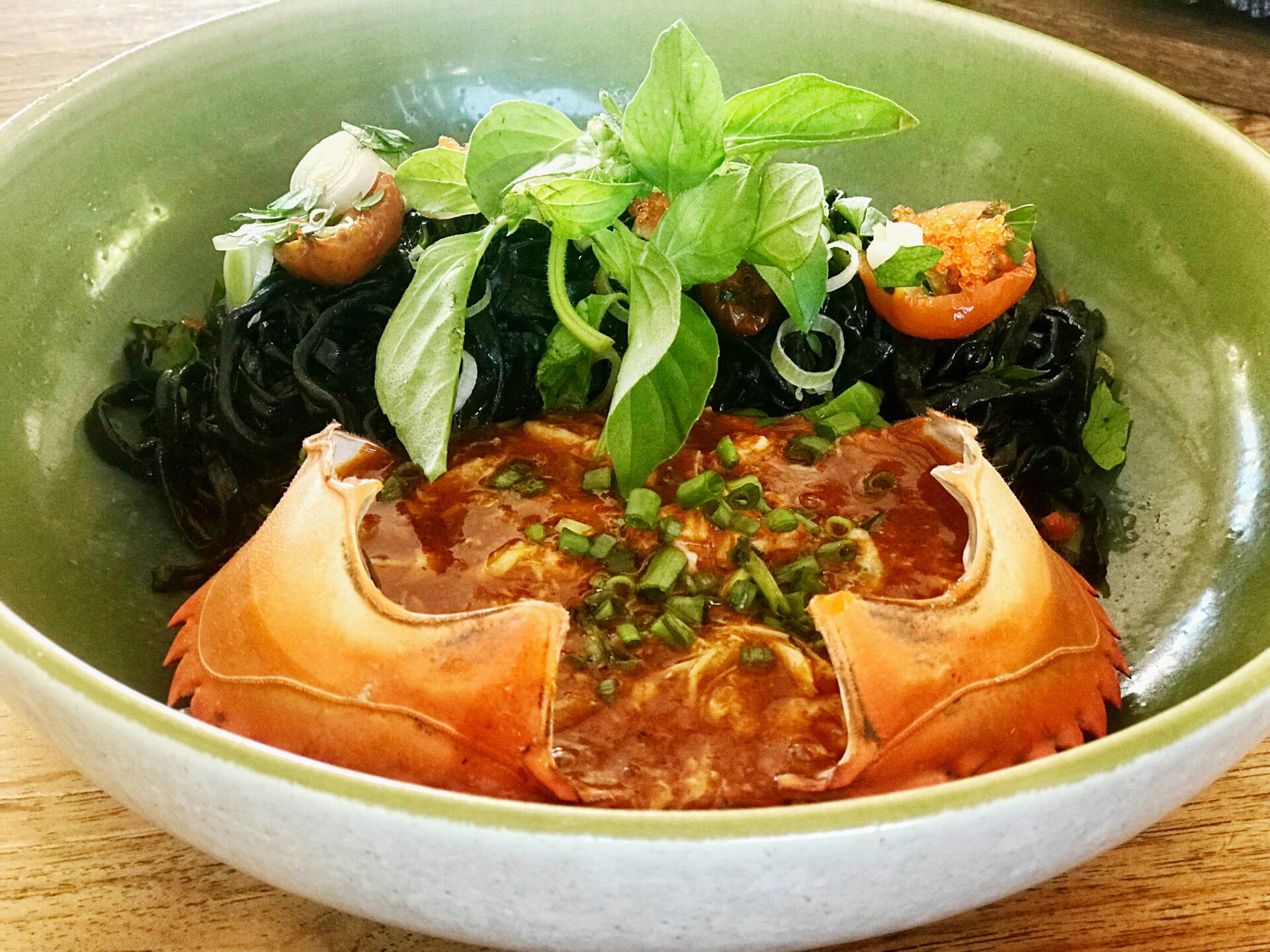 Hujan Locale definitely wins the award for the most beautifully presented food. It's just not beautiful, it's often whimsical, and the flavors of the food match its beauty. Complex flavors and Indonesian dishes that you will be lucky to find anywhere else in Bali elevate this dining experience to one that you will remember forever.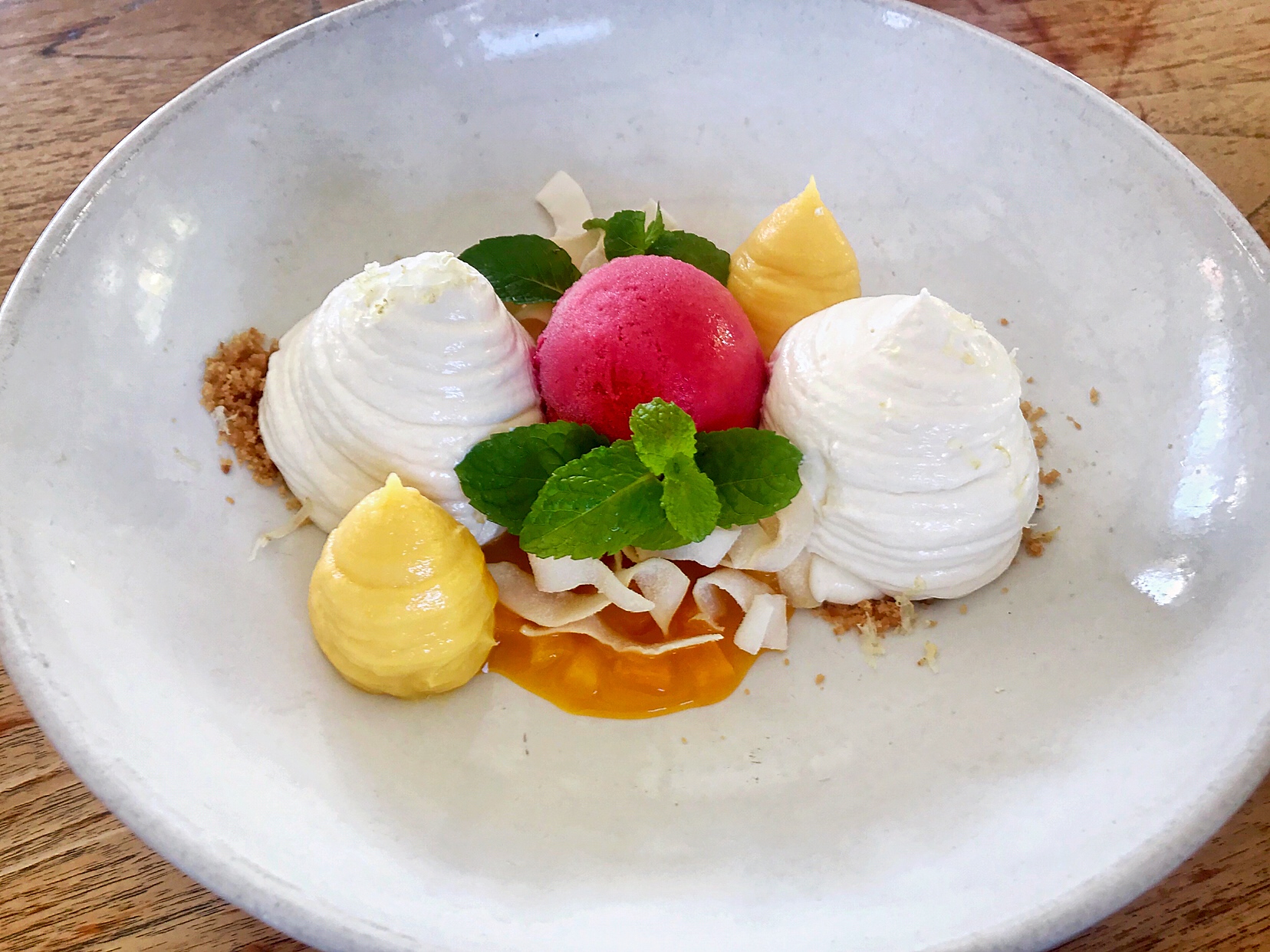 2. Savannah Moon Warung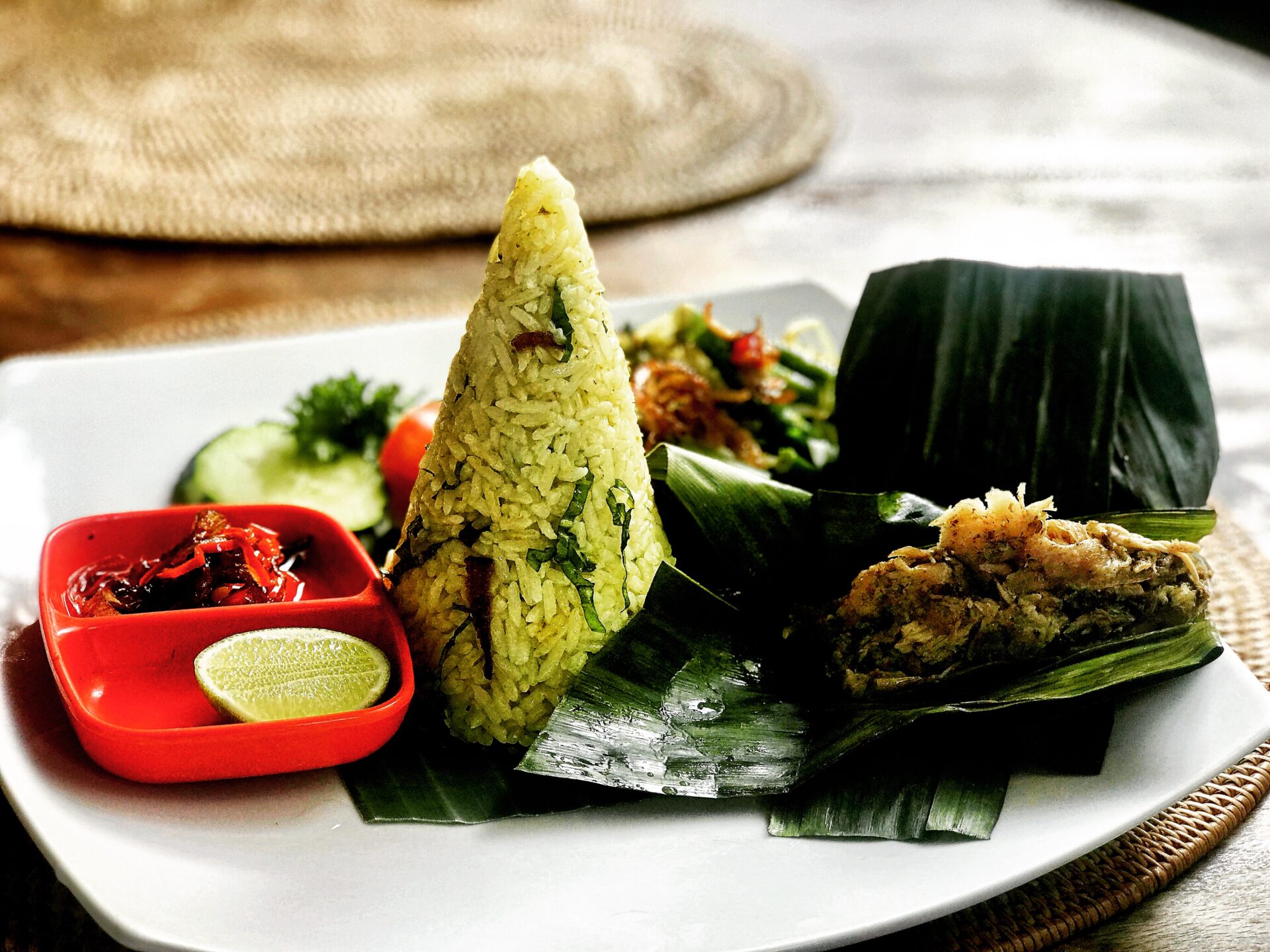 Savannah Moon Warung is an artsy warung with delicious food that is owned by two sisters who are painters. Lovely paintings decorate the space (one of the sisters paints with her feet), and the food is prepared with a lot of care. Make sure to get the avocado milkshake. I'm a fan of the smoked duck, but there are many Indonesian food specialties to try on the menu, and I don't think you can go wrong with your choice.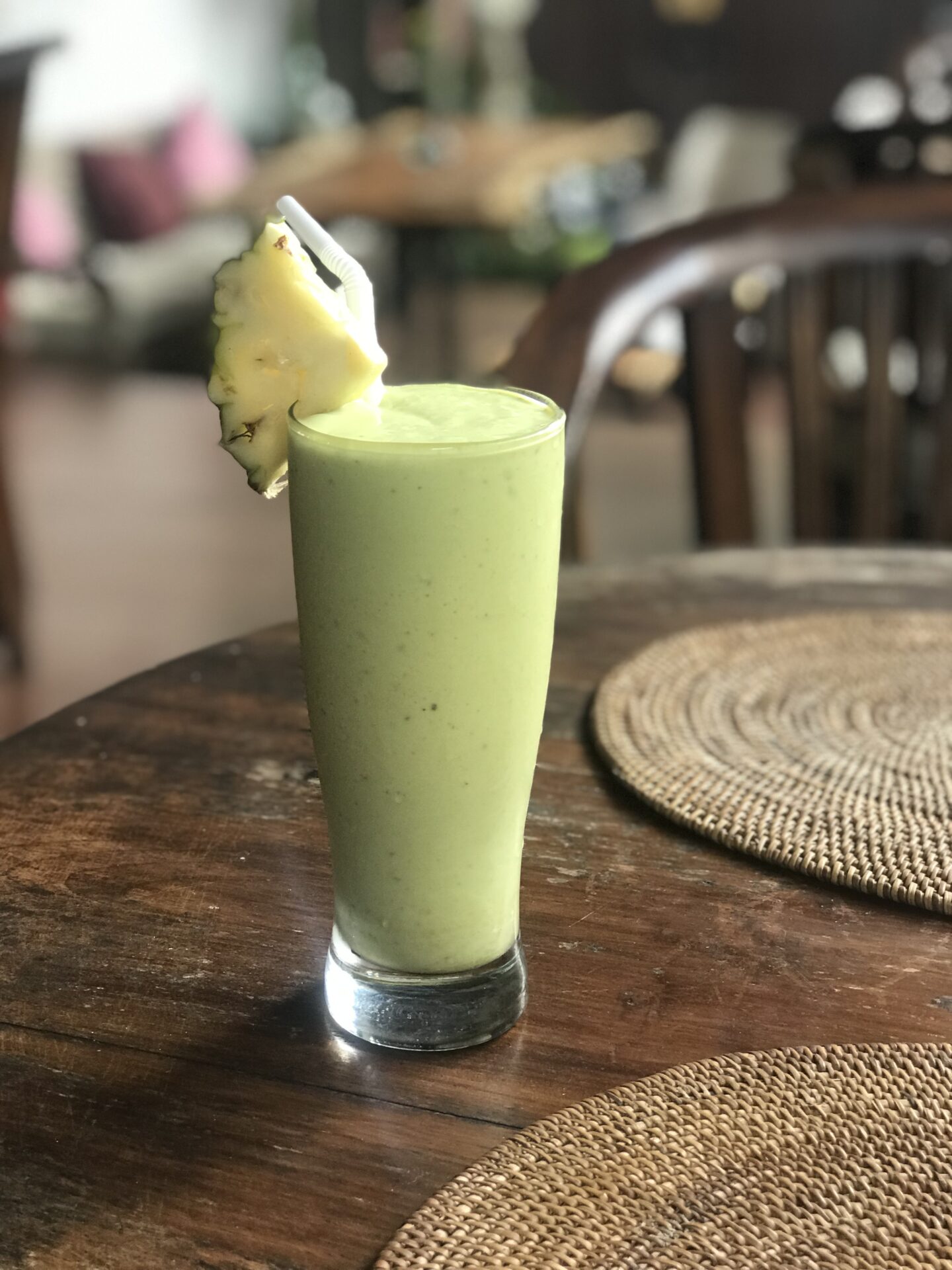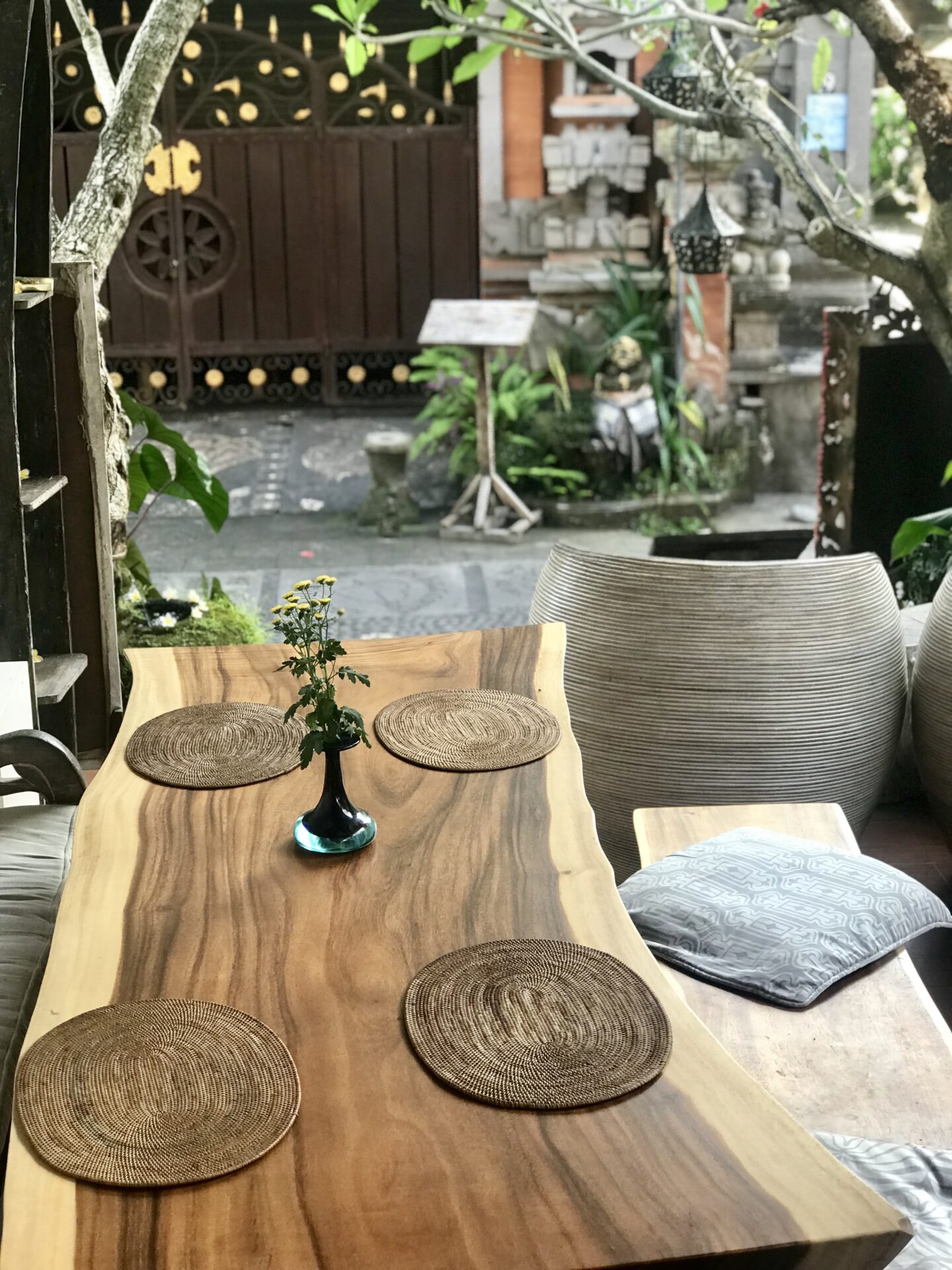 3. Tukies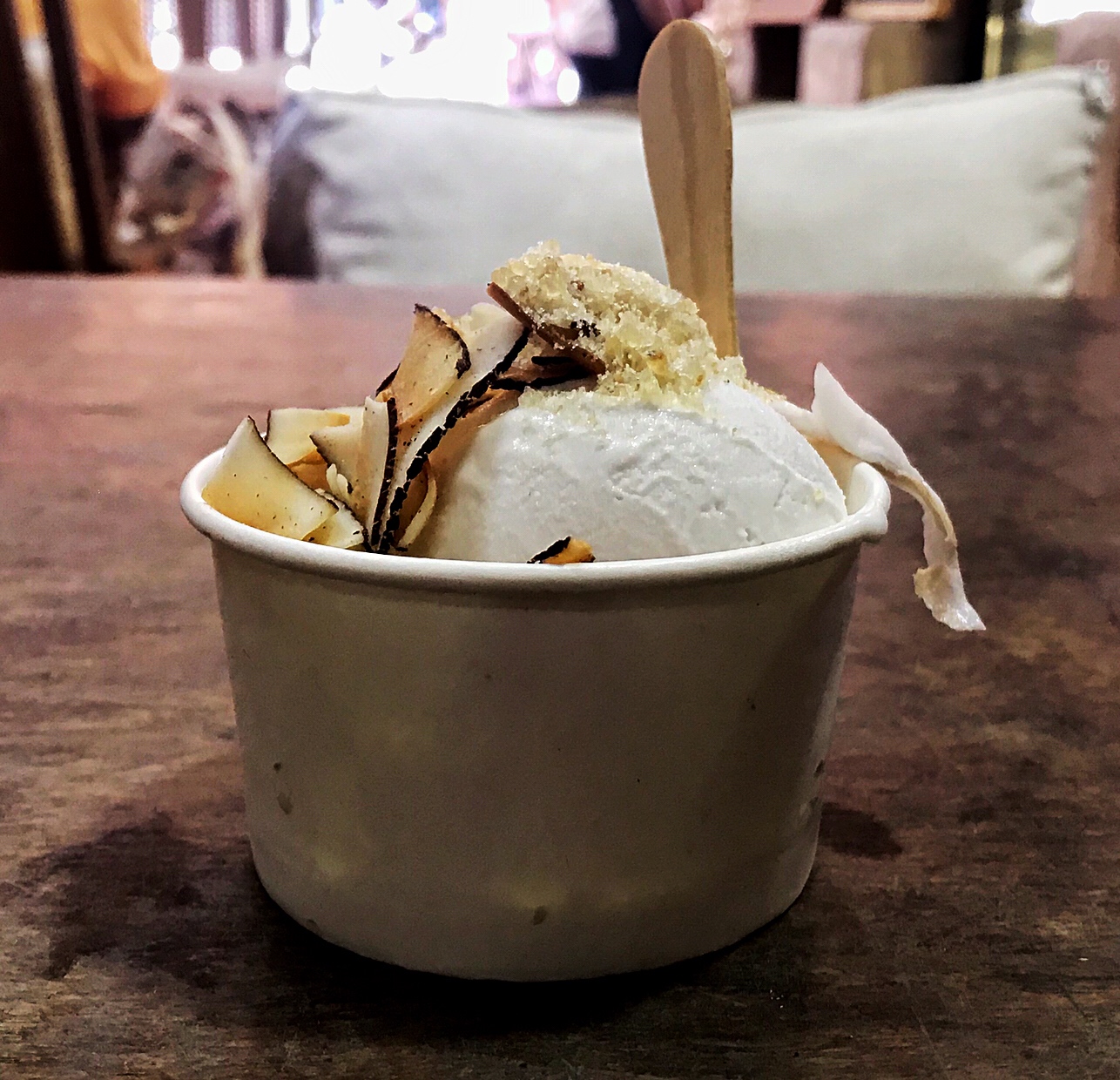 I was glad to discover Tukies early on in my trip. Their coconut ice cream was the best coconut ice cream I've ever had in my life, and I ate it every day that I was in Ubud. You can get it served in a cup or in half of a young coconut. Tukies only sells coconut products, and they are all amazing. I also enjoyed the Balinese crepe made with pandan and filled when coconut sugar syrup and shredded coconut. I even bought some of their coconut bowls to use at home, I loved this store so much. And the coconut butter. Definitely buy the coconut butter. There are also different coconut drinks you can try, but I never got around to them because I was so smitten by the ice cream.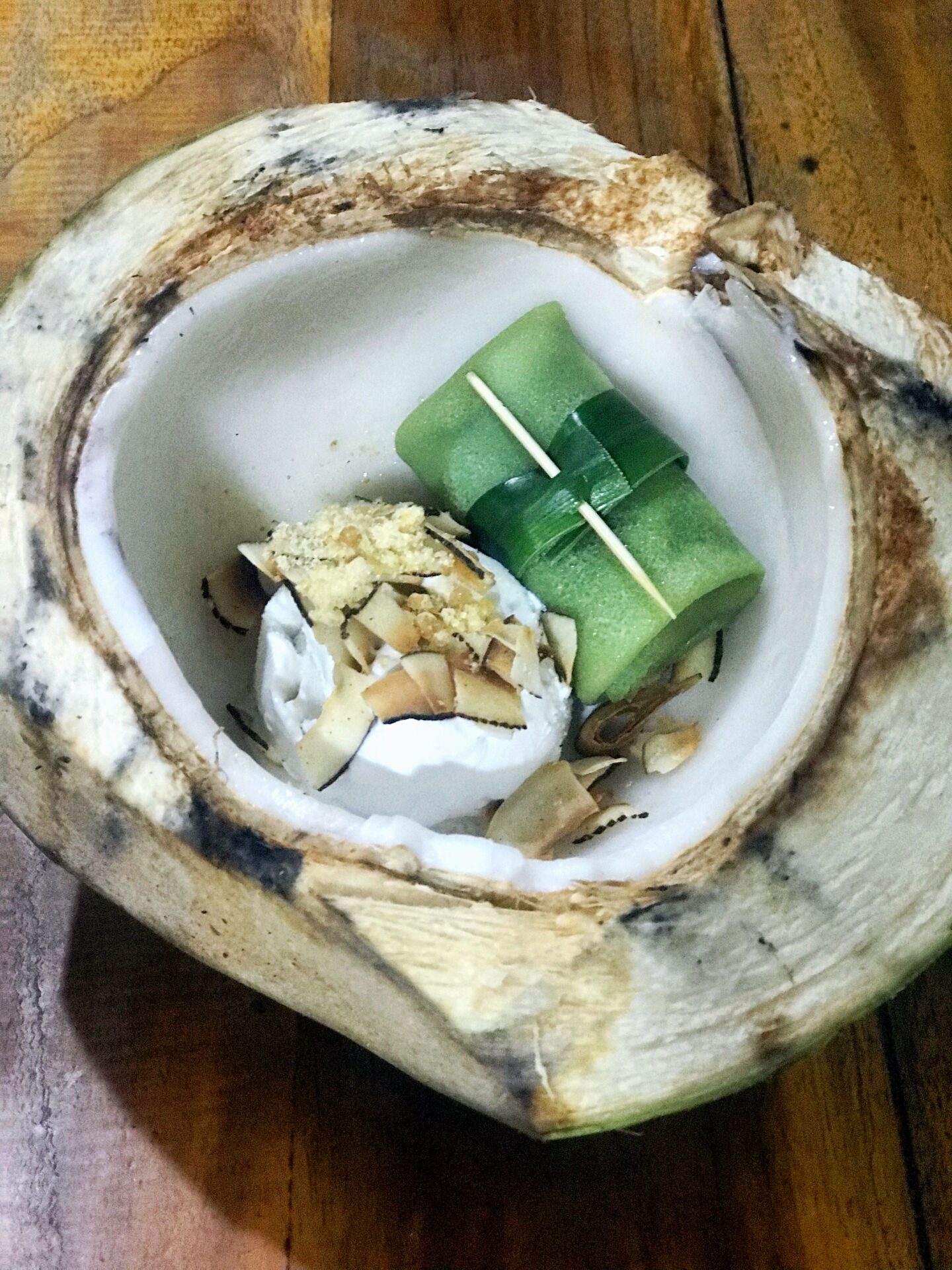 4. Bali Buda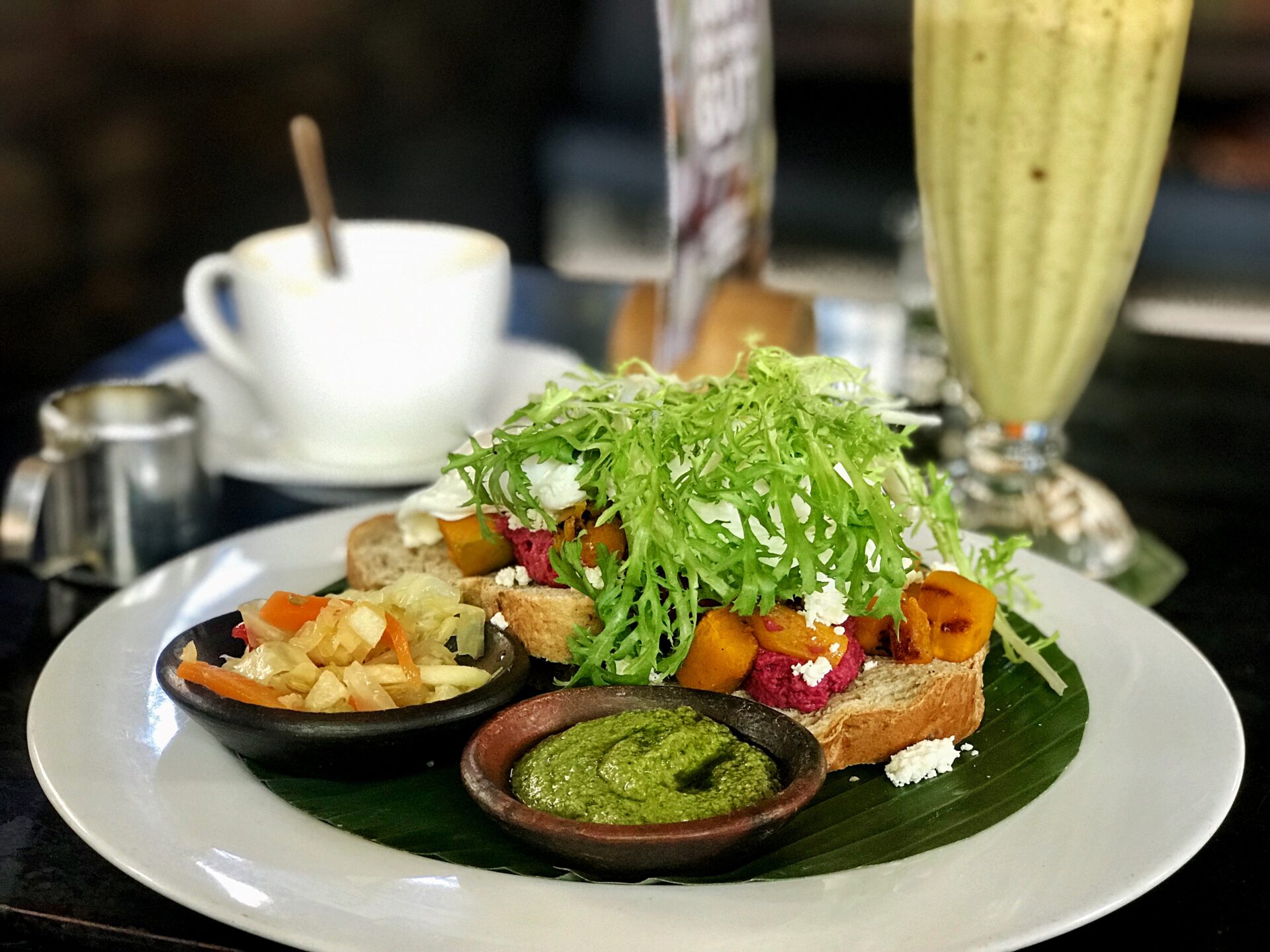 Bali Buda has one of the healthiest menus around and also one of the most delicious. The produce they serve is organic and chemical free, and everything they serve is homemade. The best part is they will deliver to your villa (in biodegradable containers) if you don't feel like going to the restaurant. There is also a grocery store and bakery they own around the corner if you are staying for a while and want to cook with some of the ingredients that they use. Go early for the best selection in the bakery. This place suits all diets from vegans to vegetarians to omnivores. Breakfast is my favorite meal to get here.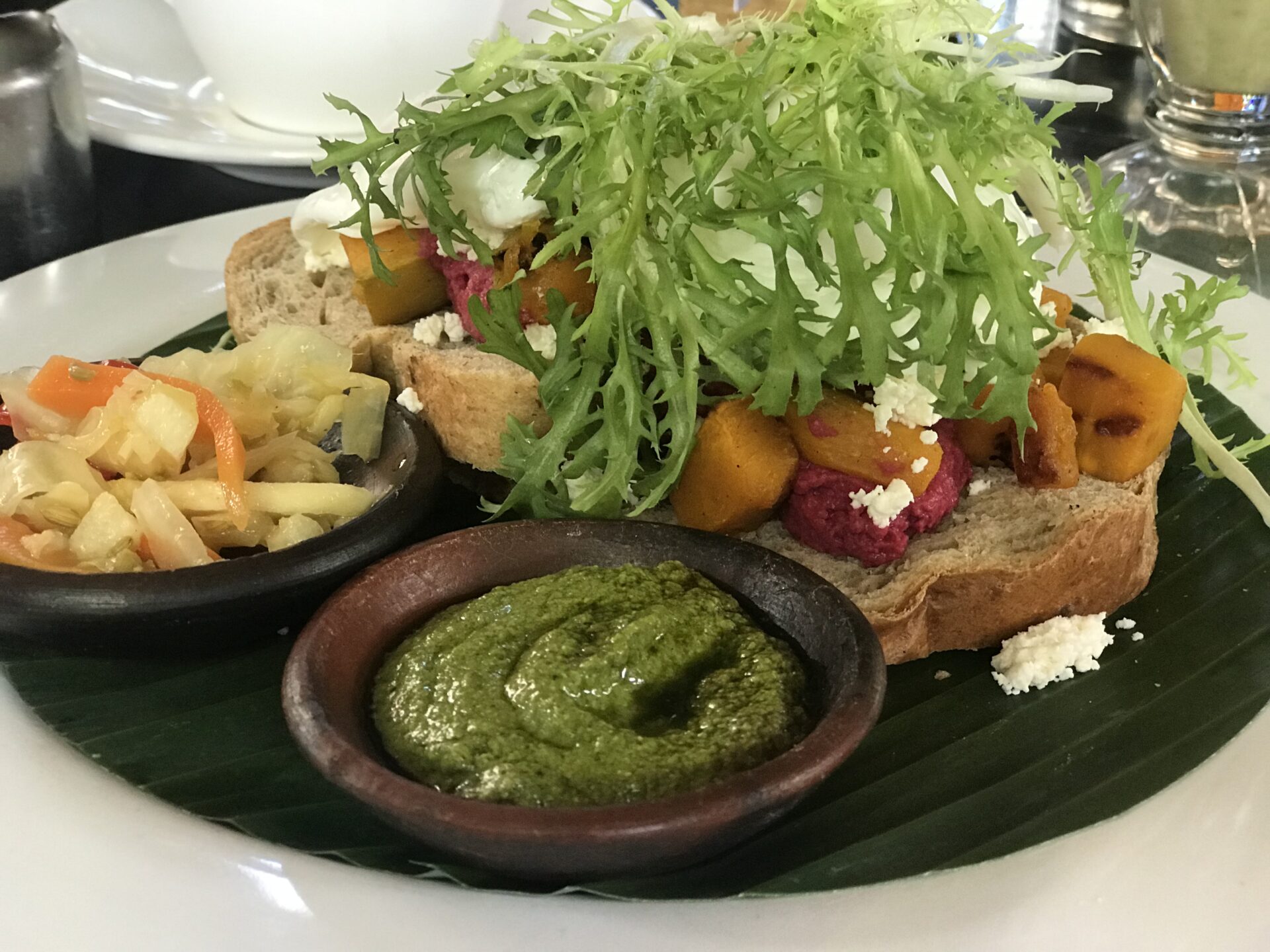 5. Taksu Restaurant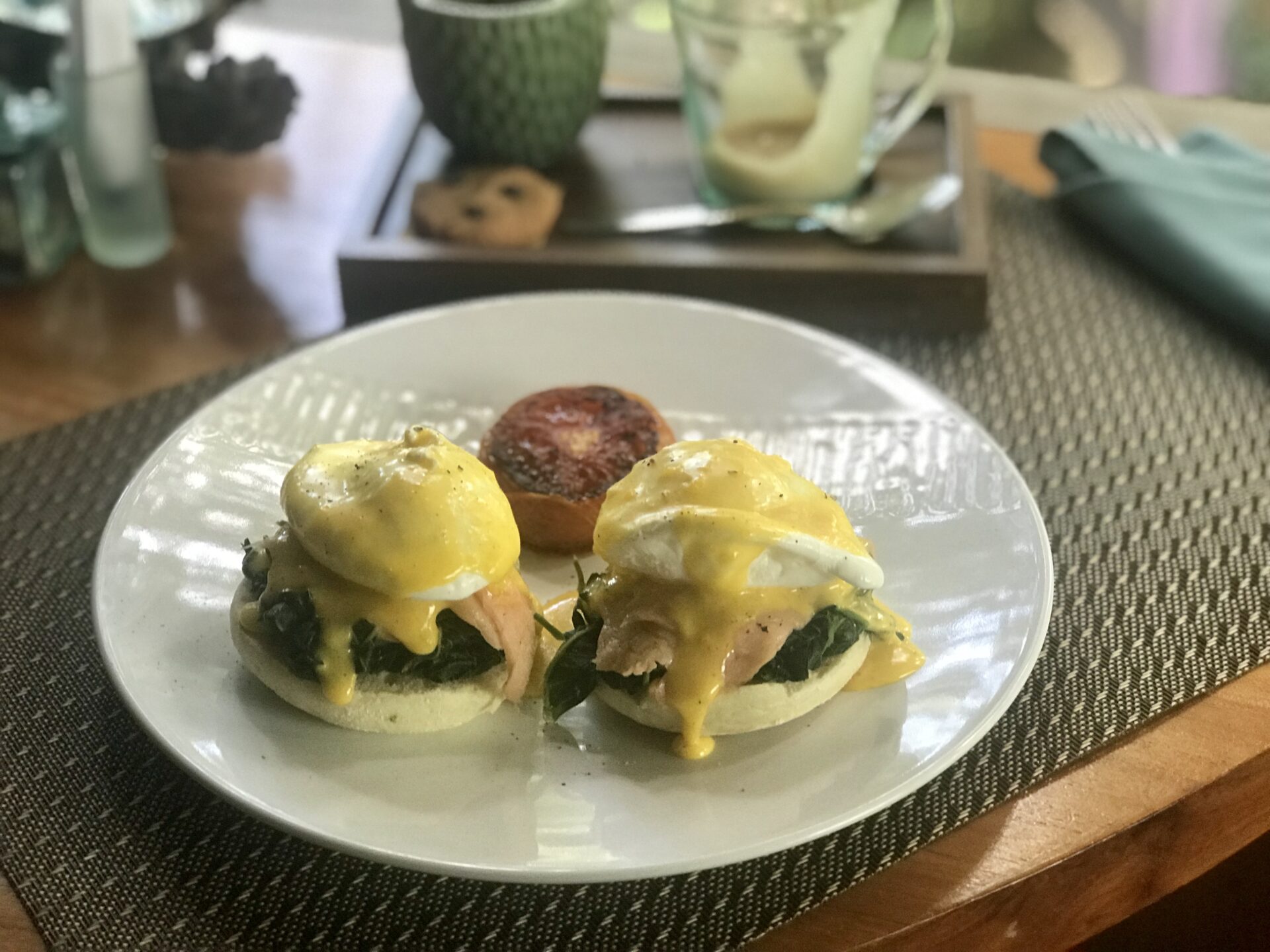 I've always enjoyed Taksu Restaurant, especially for breakfast. The view of the beautiful gardens makes for a tranquil setting with your meal. The eggs Benedict is a good one. I was a bit disappointed that they got rid of the South of the Border section they used to have on the breakfast menu along with the set menus. I used to love the Indonesian chicken sate breakfast. But, it's still a great place to go, especially if you are in the mood for a Bennie.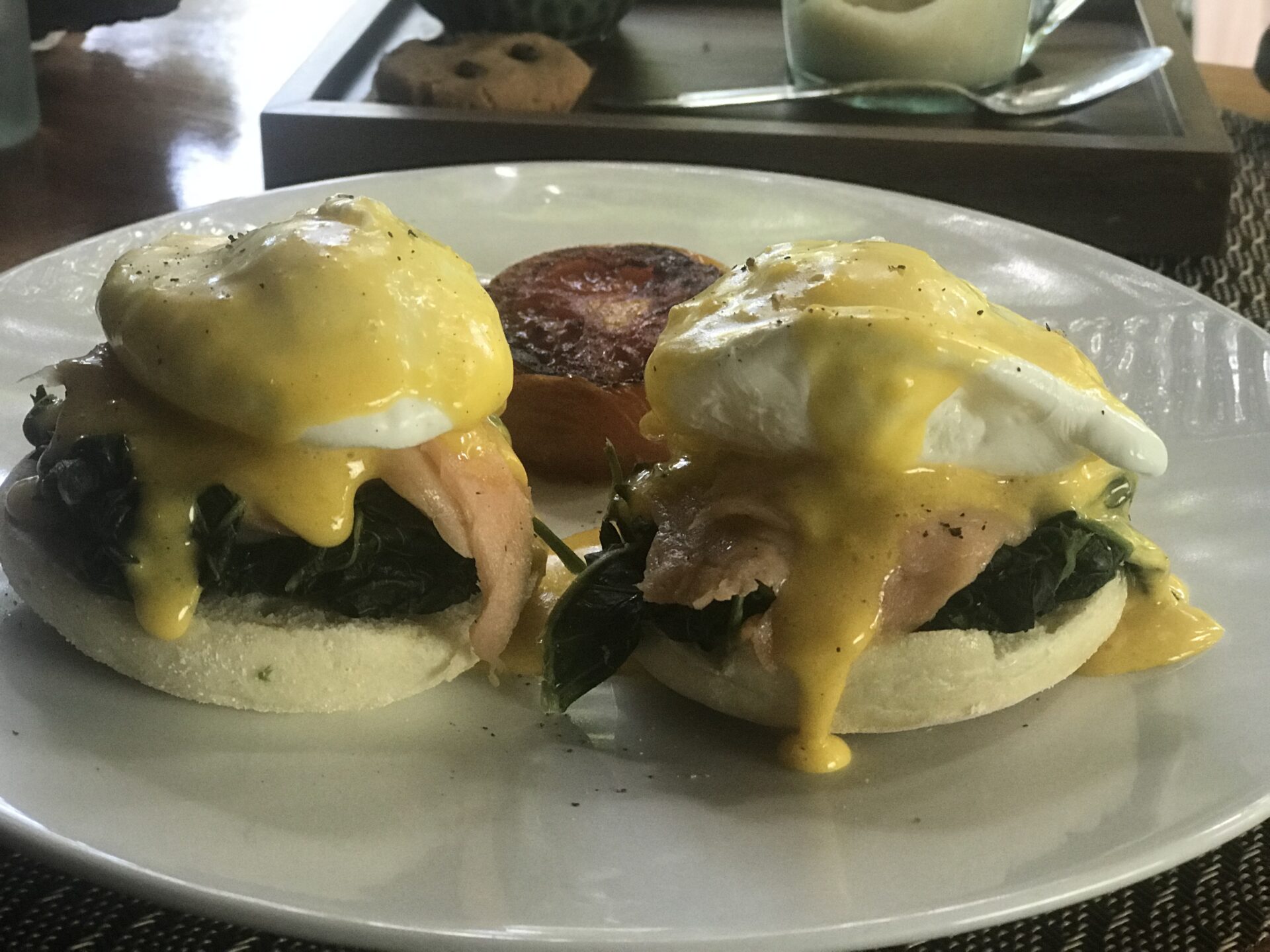 6. Clear Cafe
There are many who say that Clear Cafe is the most beautiful restaurant in the world. I have to agree. I mean, check out the front door! To have the elements of nature incorporated into your meal is incredible.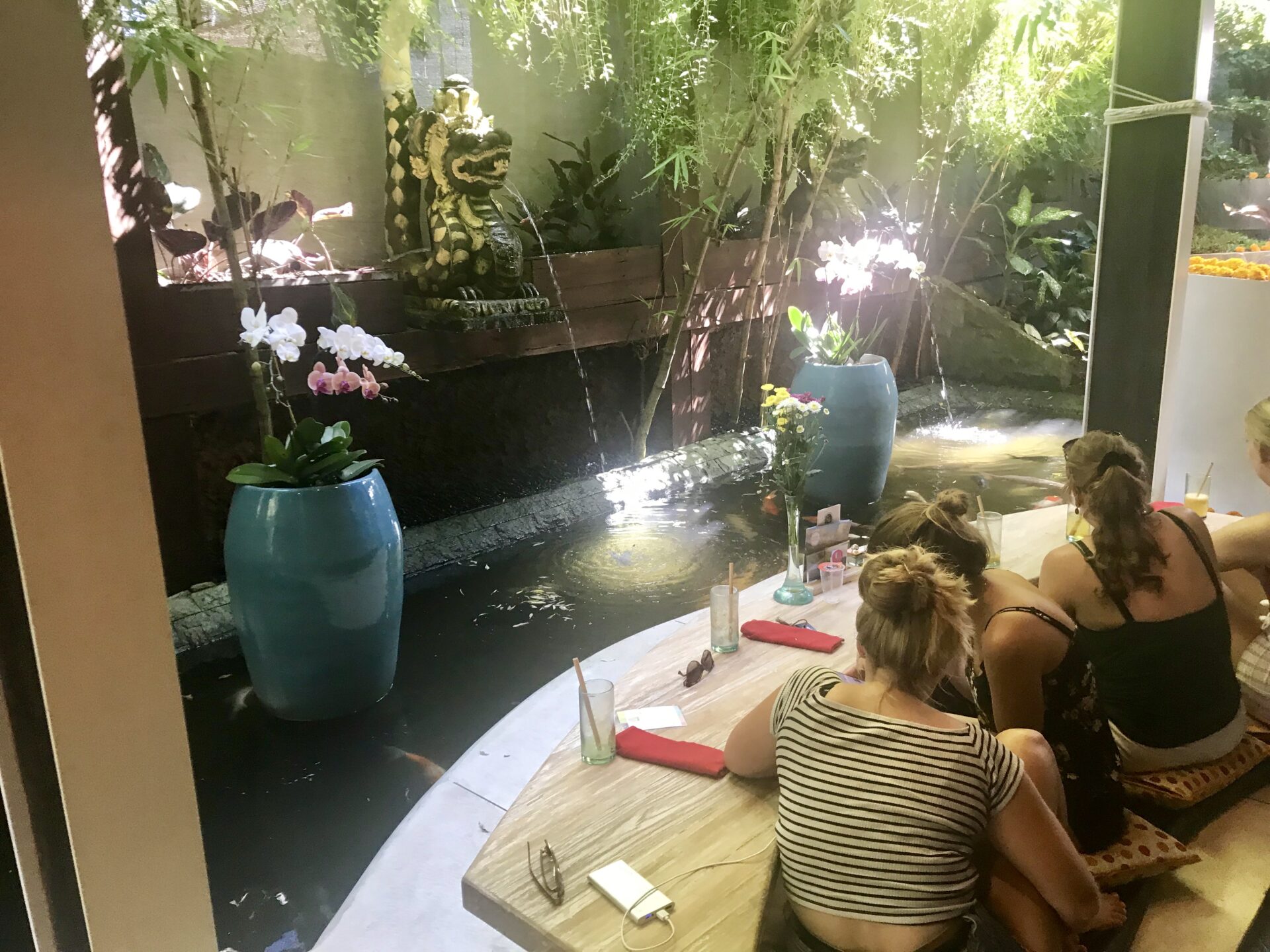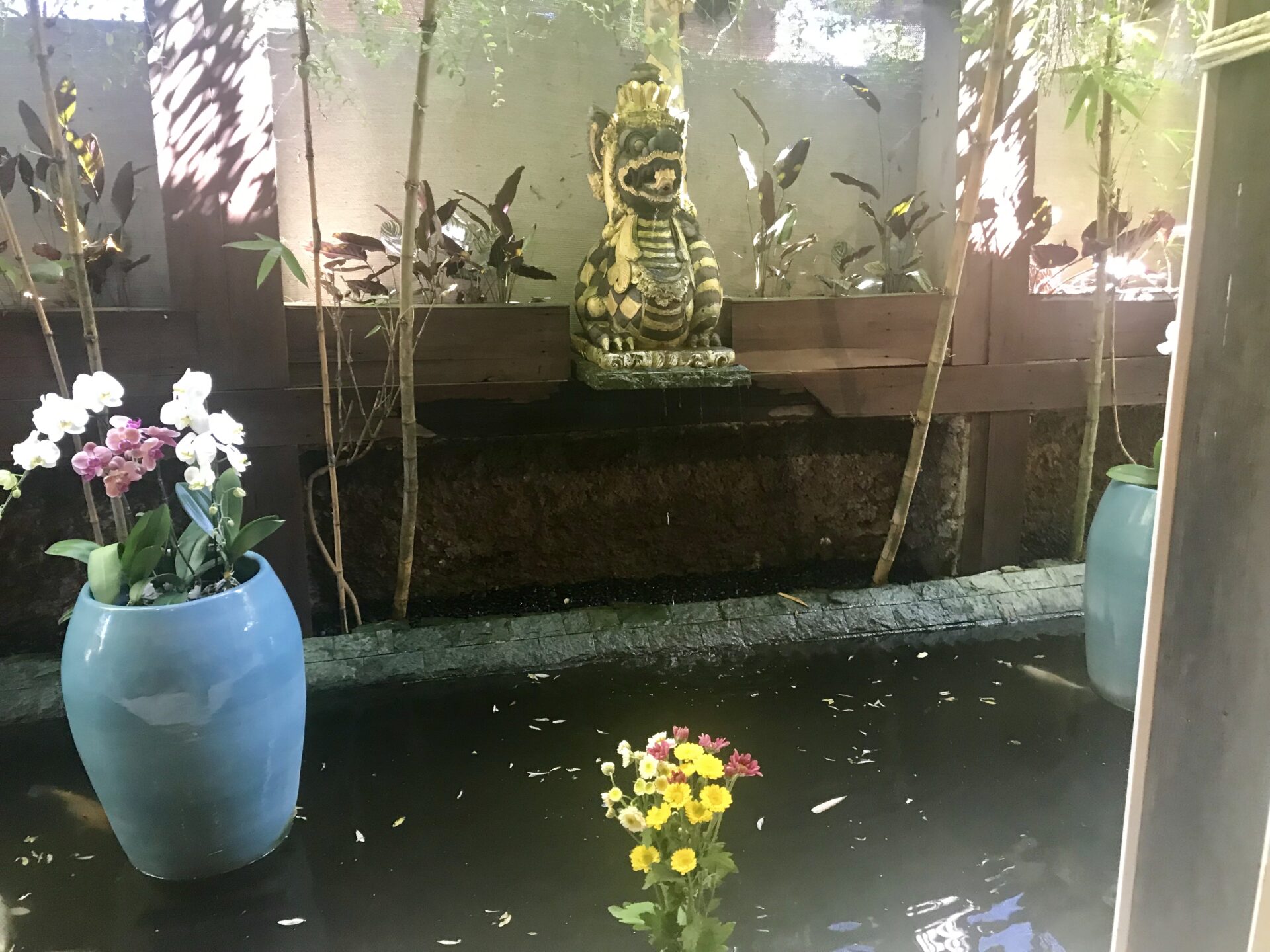 The last time I was here, it caught on fire. I wept as I watched it burn to the ground. Well, they've built it back better than ever. The architecture is just stunning.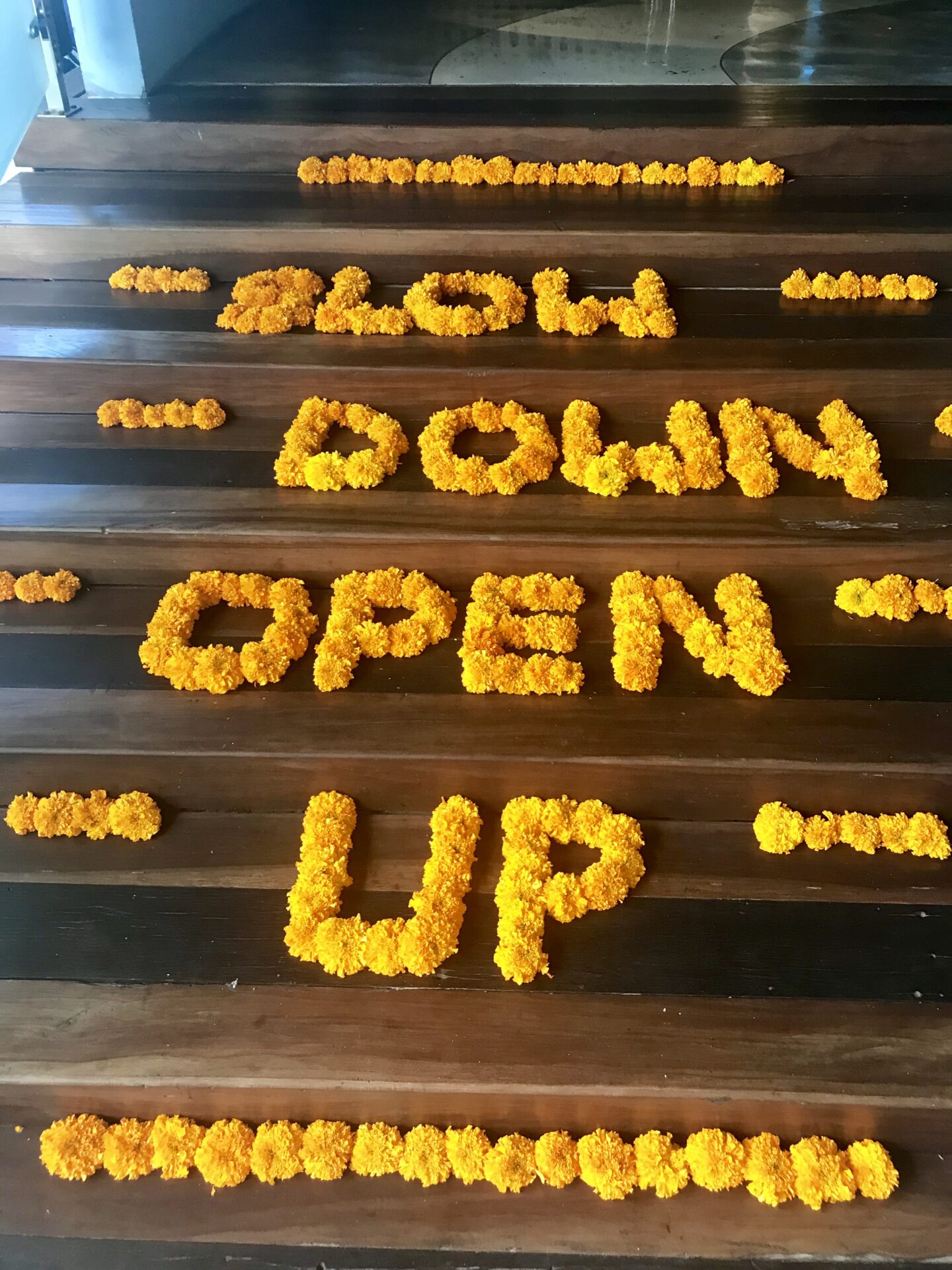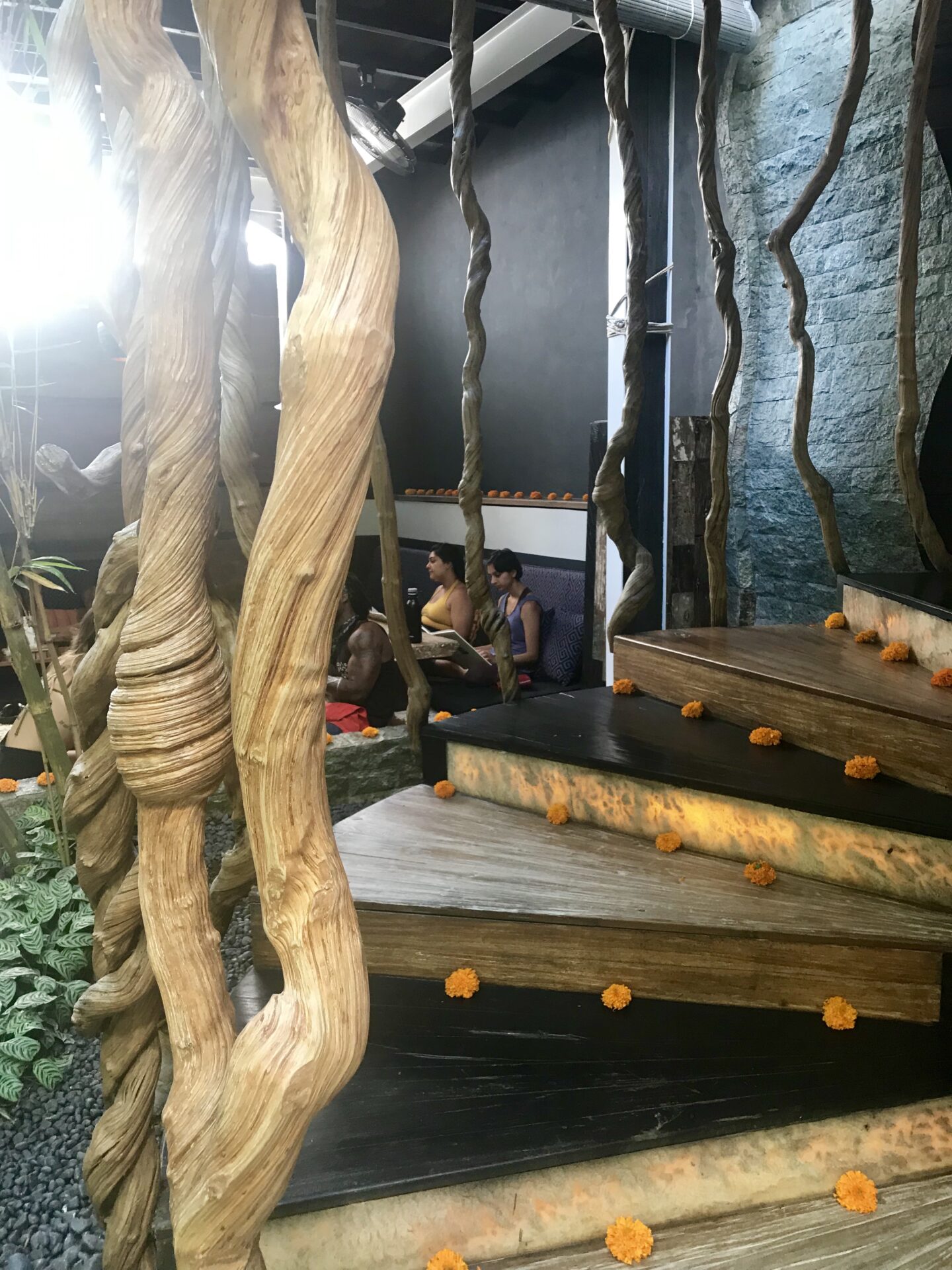 And the food is dreamy. I loved the lavender infused water and the cacao, mint, spirulina, cashew smoothie I had as well as the coconut encrusted snapper.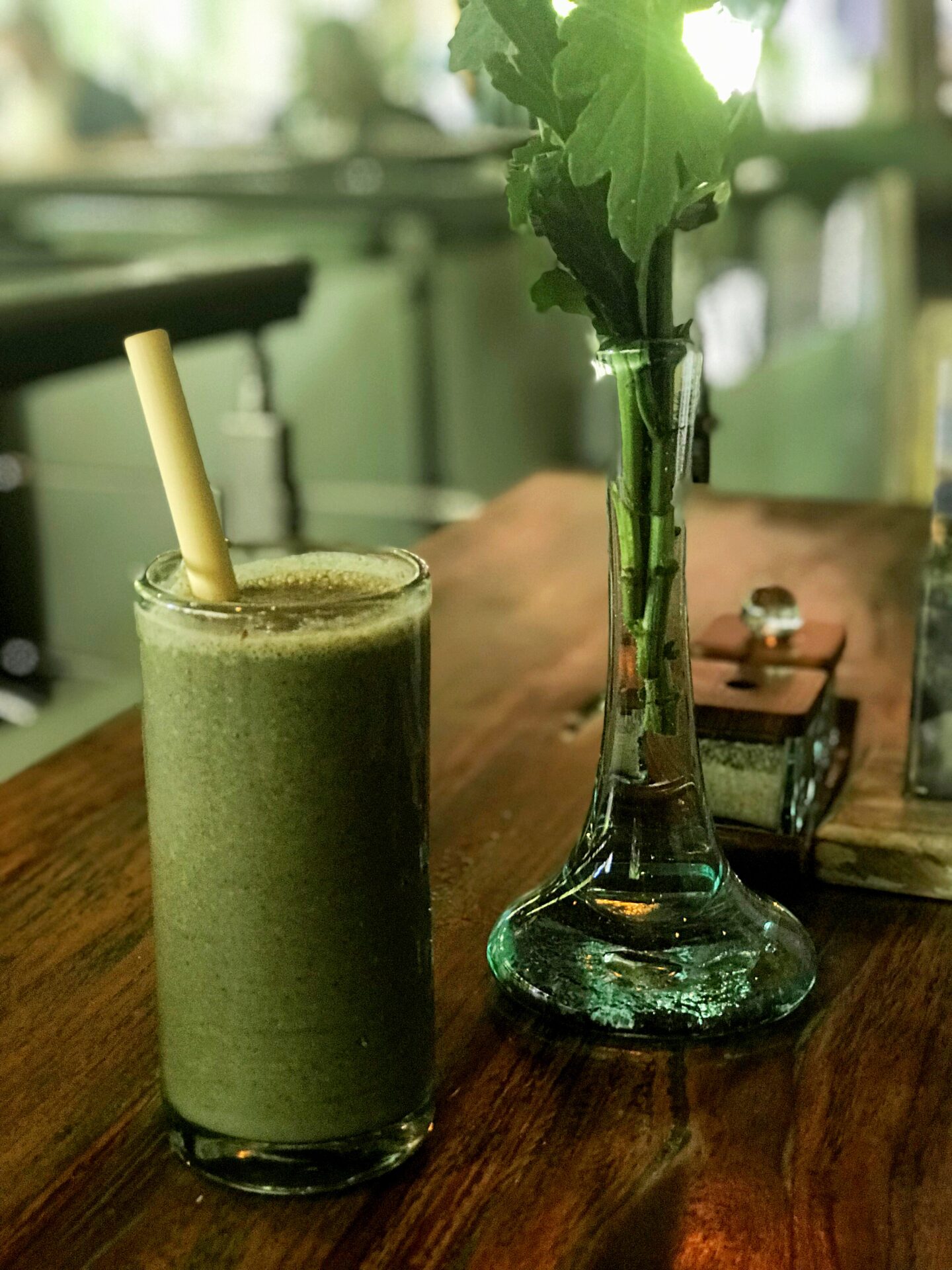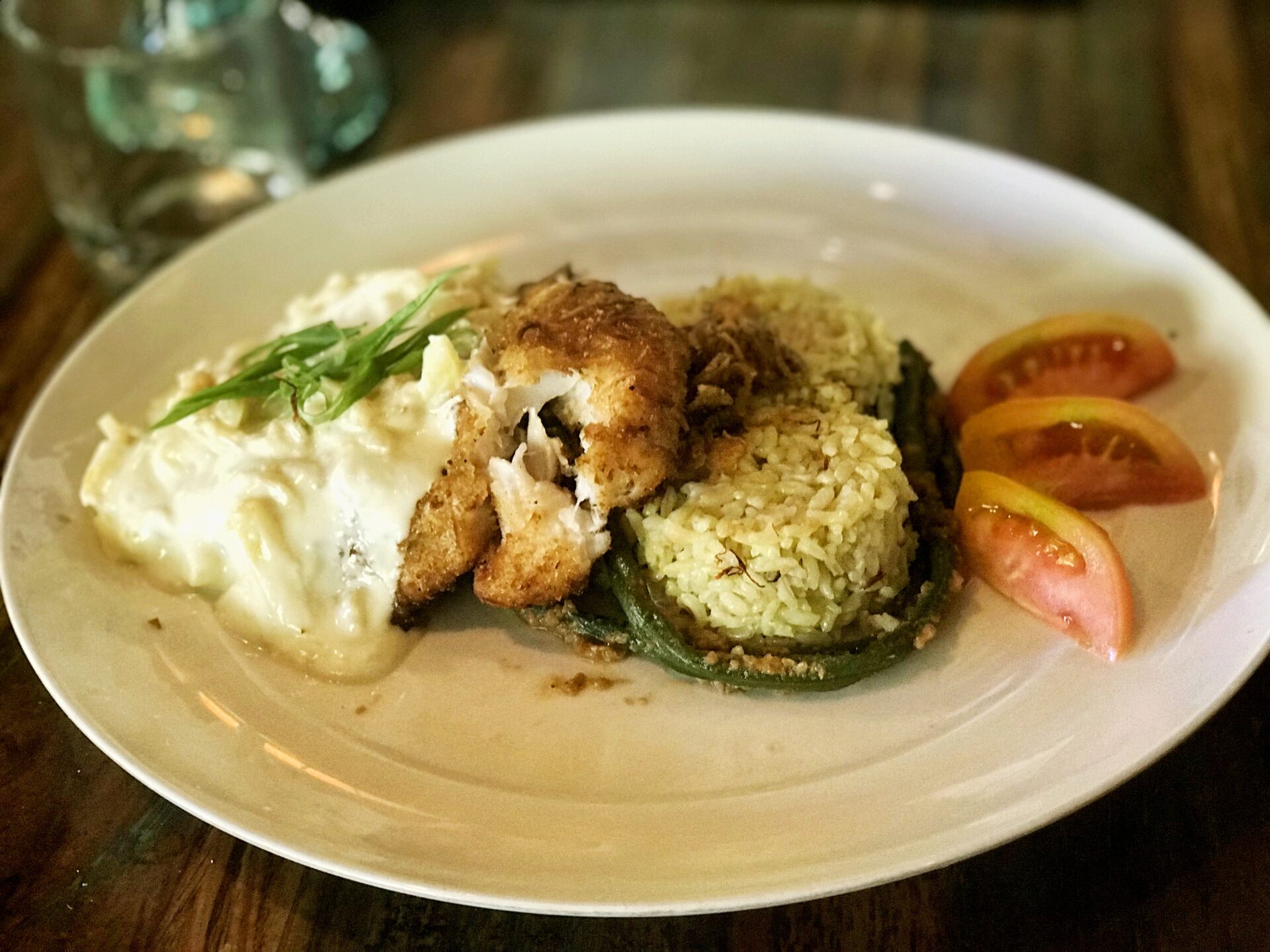 On my second visit, I enjoyed the Hint of India plate which was a spinach potato curry and channa masala with cucumber raita, red rice, chapati, and mango chutney.
Also, don't forget to order dessert. The raw chocolate pie made with raw ice cream, chocolate, and irish moss is wonderful.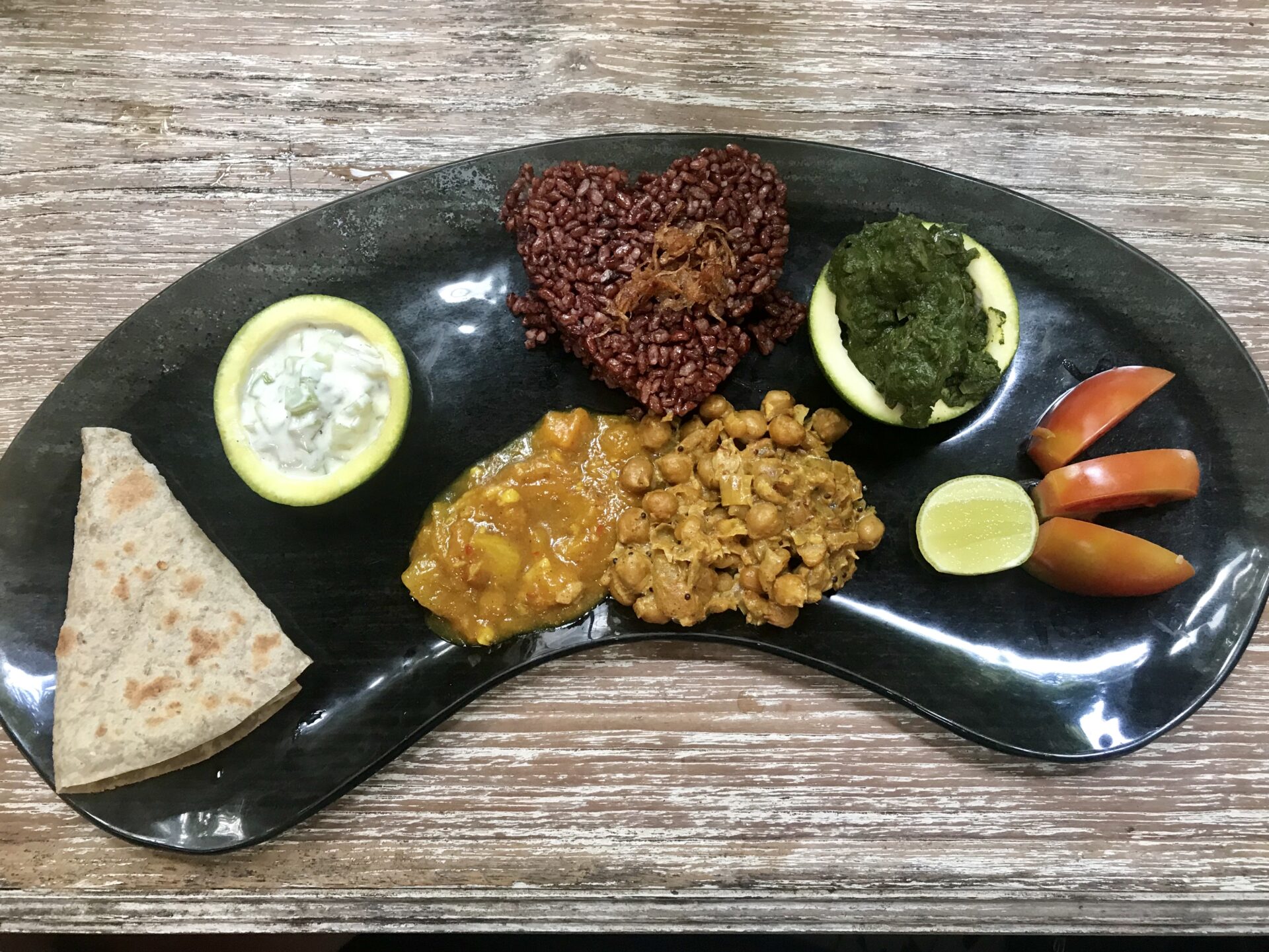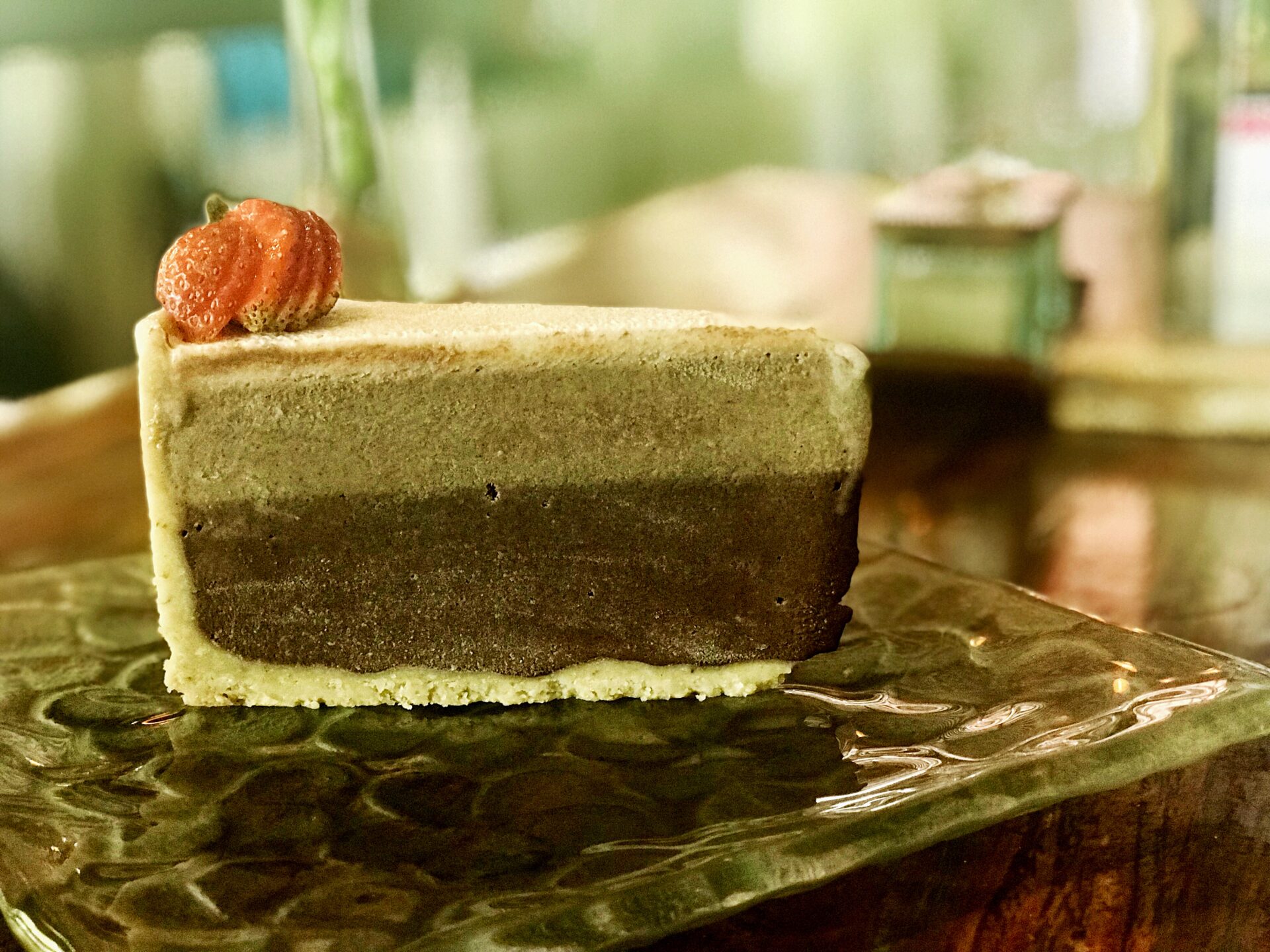 7. The Garden Kafe At Yoga Barn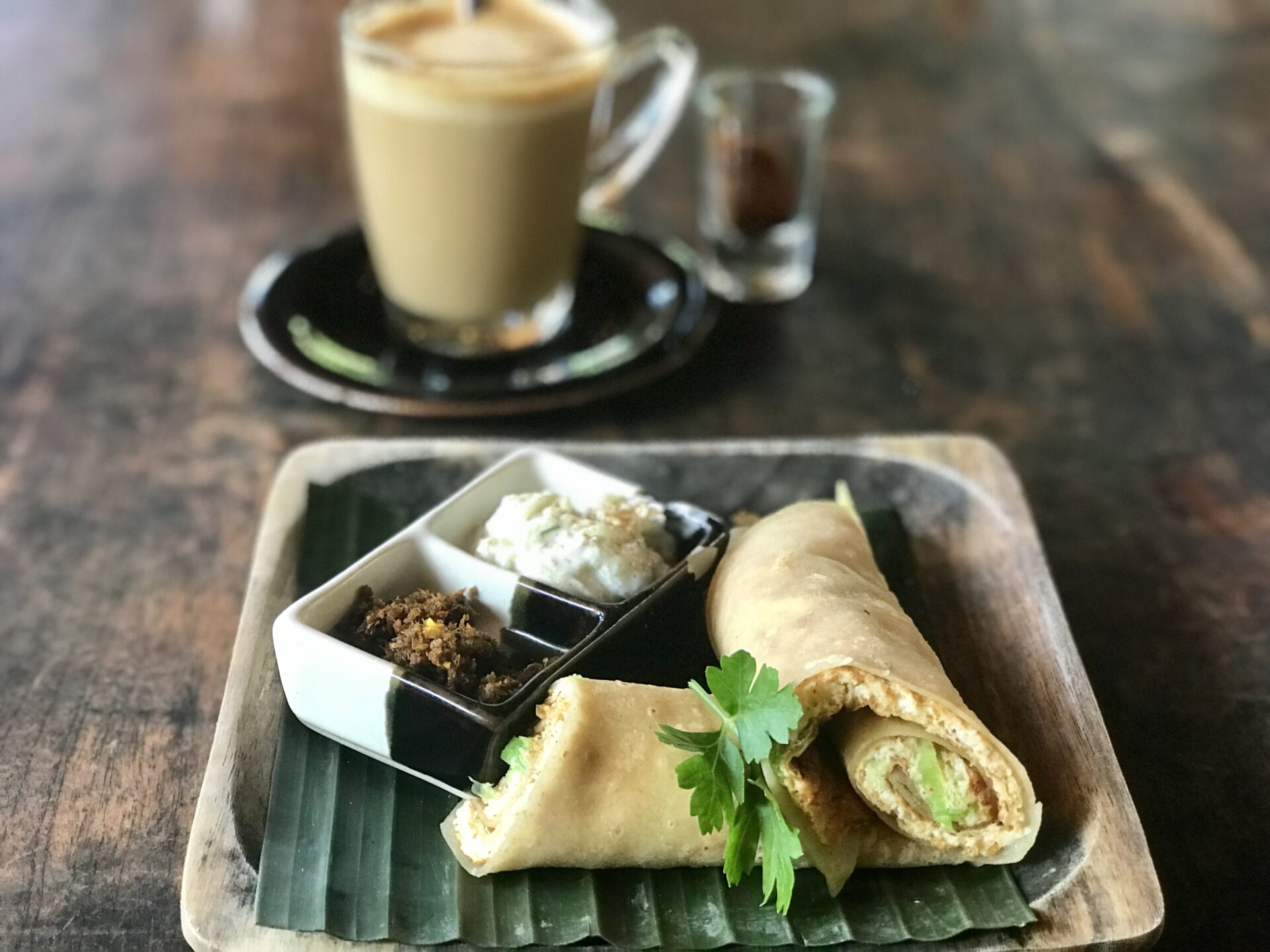 The Garden Kafe is another refreshingly healthy place to eat in Ubud, and it's located at Yoga Barn. It's great for grabbing a quick bite to eat after a yoga class. I enjoy it for breakfast. The food is delicious, and the view of the gardens are just lovely. I love the Ayurvedic breakfast wrap which is an egg white omelette made with ayurvedic spices wrapped in chapati. What really makes it is the raita and ginger pickle that it's served with.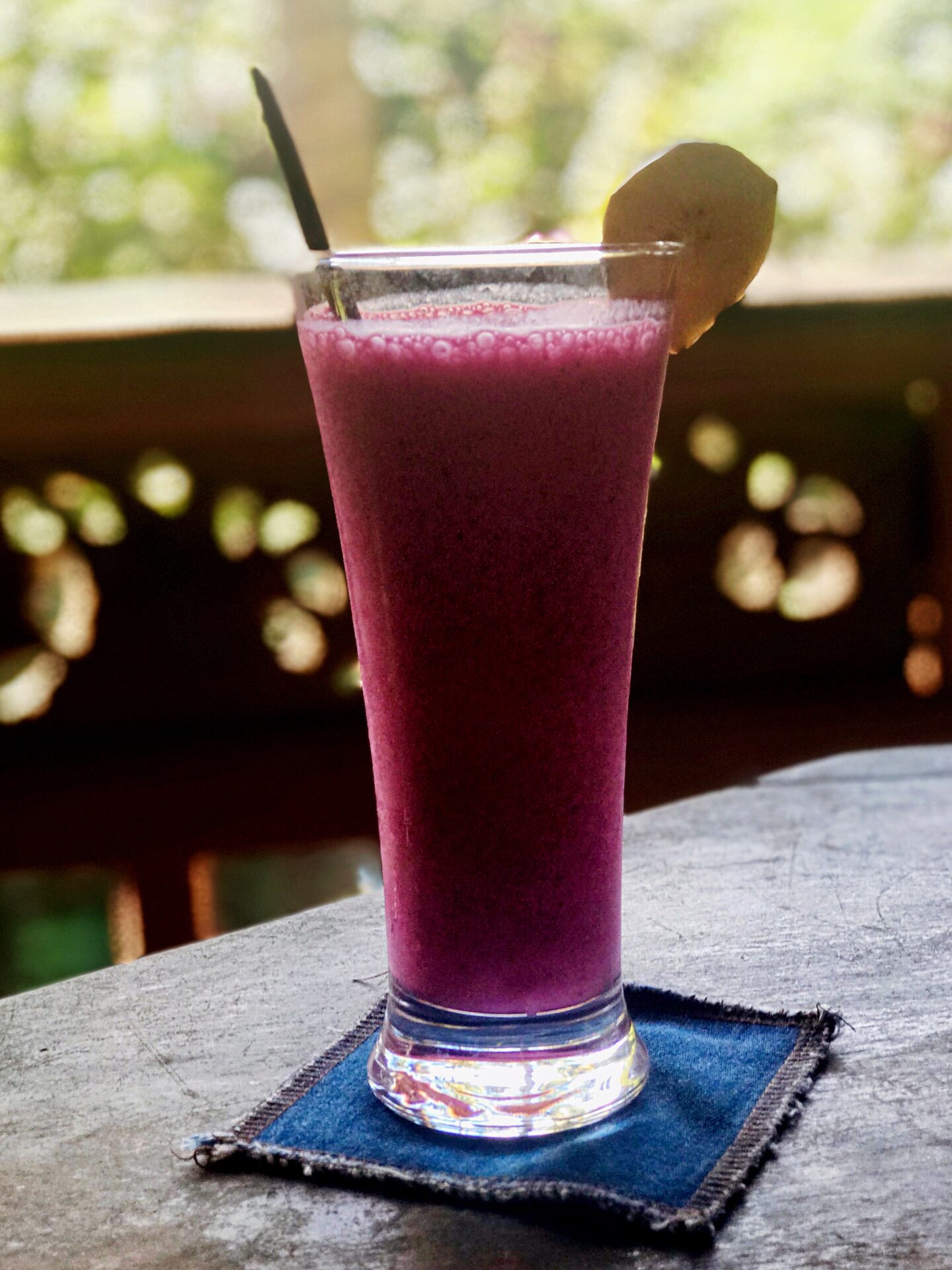 Also, makes sure to try the Dragon Passion Smoothie, which is cashew milk, banana, dragon and passion fruit. It was one of my favorite smoothies in Ubud.
8. Warung Pondok Madu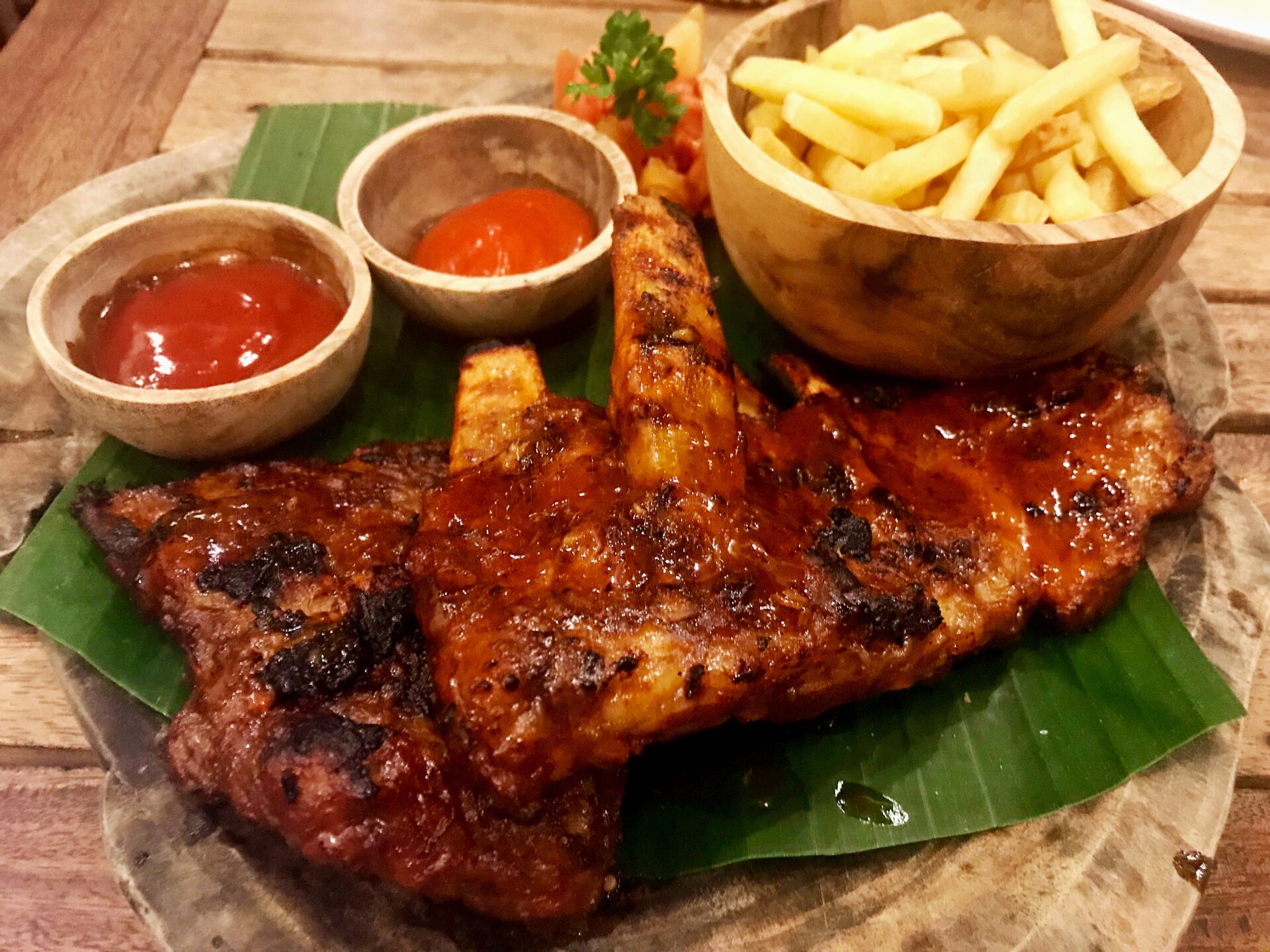 One of the specialties in Ubud is BBQ pork ribs, and I think that Warung Pondok Madu makes some of the best. They are super tender with the perfect amount of sauce. Get the large order. You won't regret it!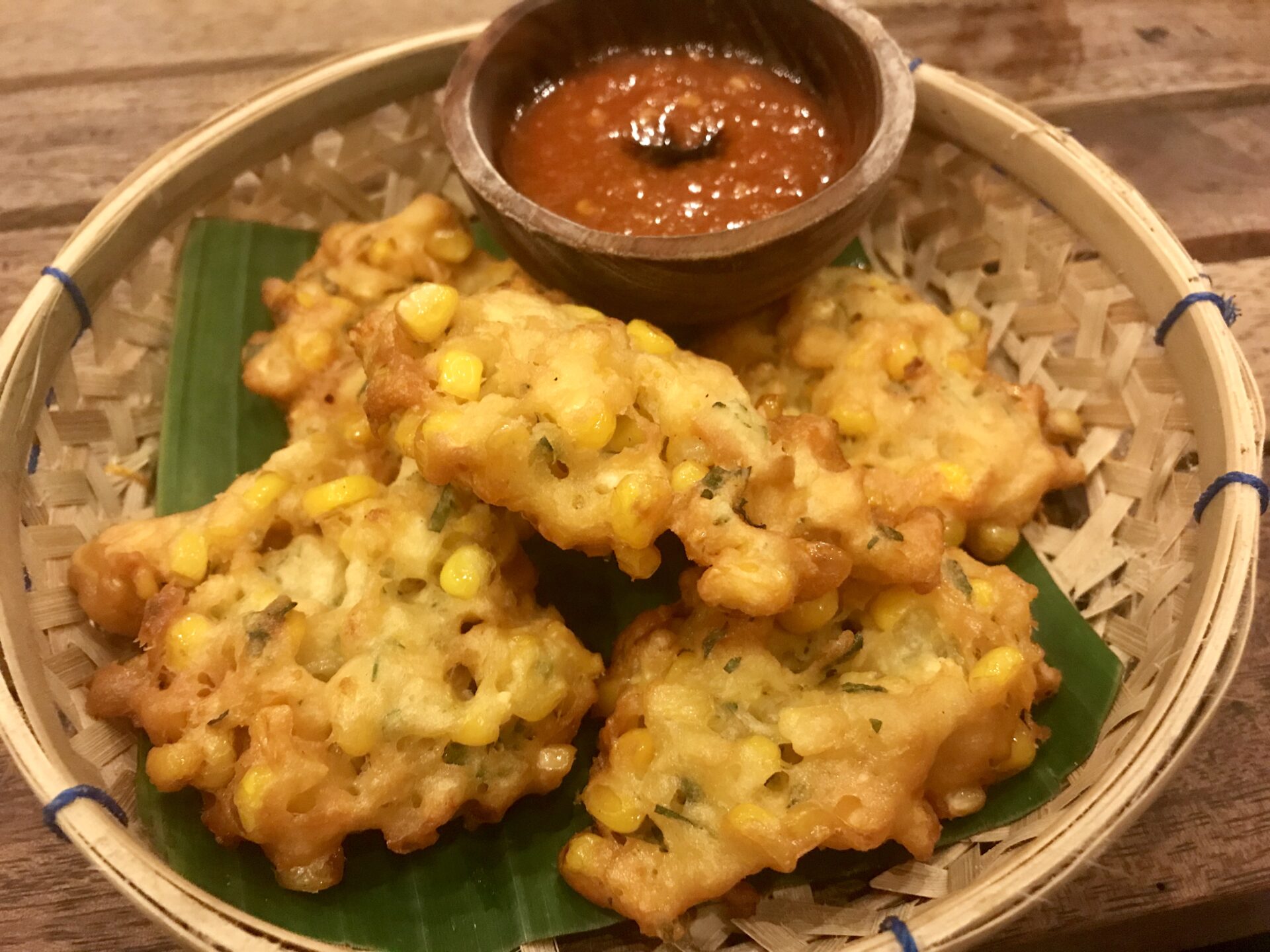 Also, make sure to try the corn fritters. They are made with kaffir lime leaves and make a great pairing with the ribs. Make sure to get the cucumber lime juice, too! This is a gem of a local spot in Ubud, and the prices are still affordable, unlike many of the restaurants I went to where I noticed a big increase in prices since the time I visited four years ago. The staff is super friendly and will happily answer any questions you have about the menu.
9. 

Bebek Tepi Sawah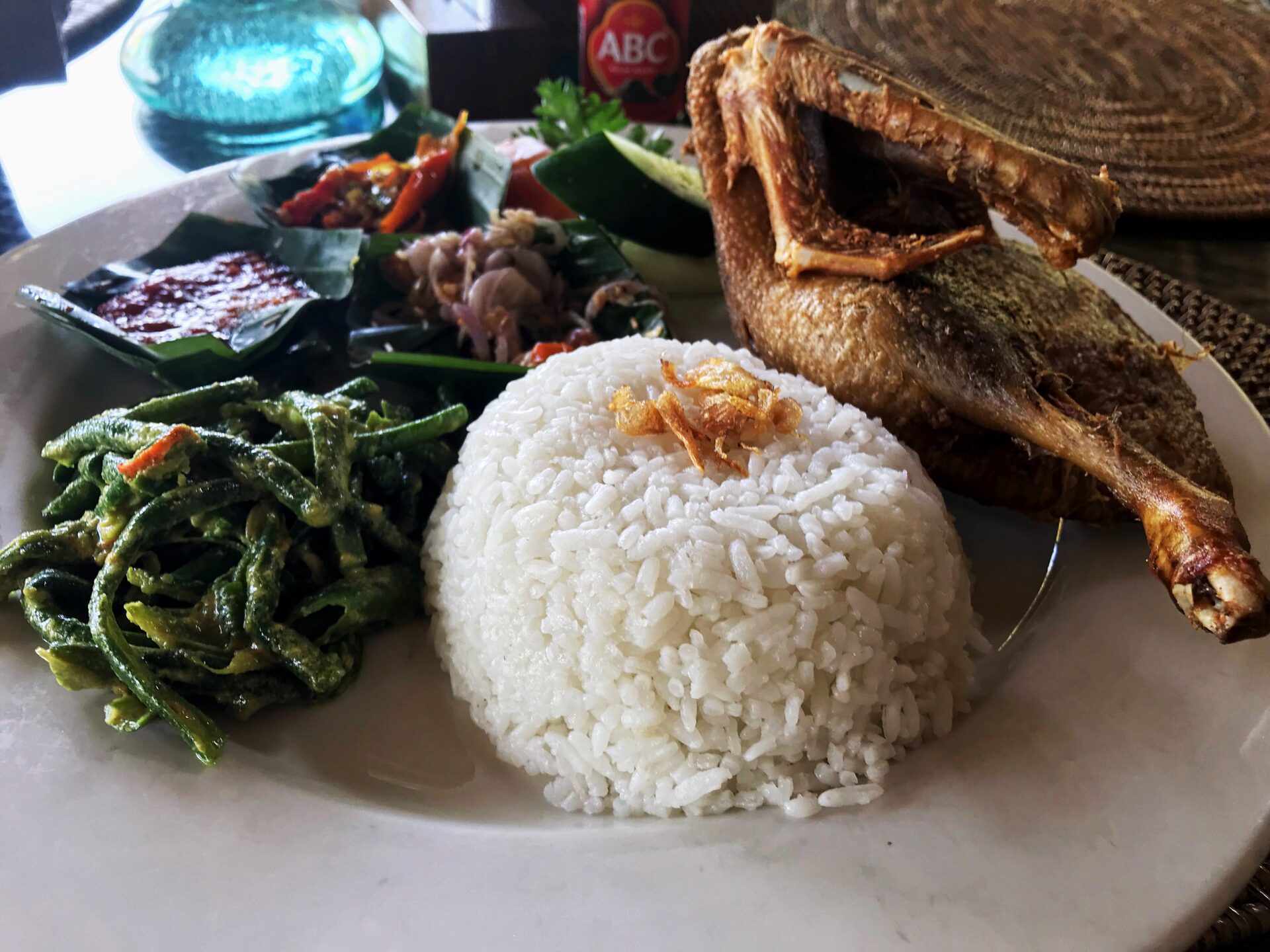 One of the most popular specialties in Bali is duck. Just wander around any rice field, and you will see why! I actually prefer smoked duck, but I took the waiter's suggestion and ordered it the traditional way which is fried.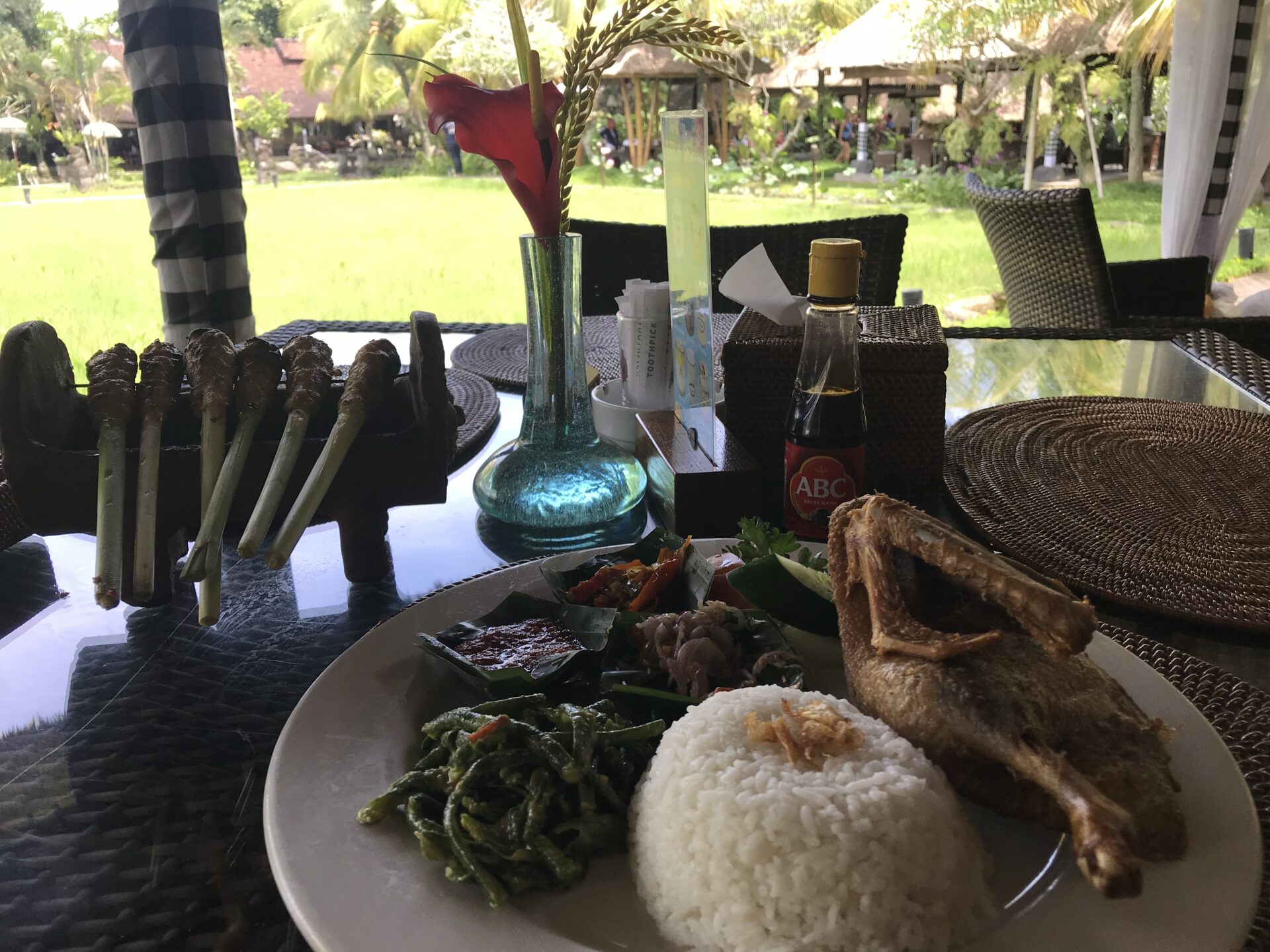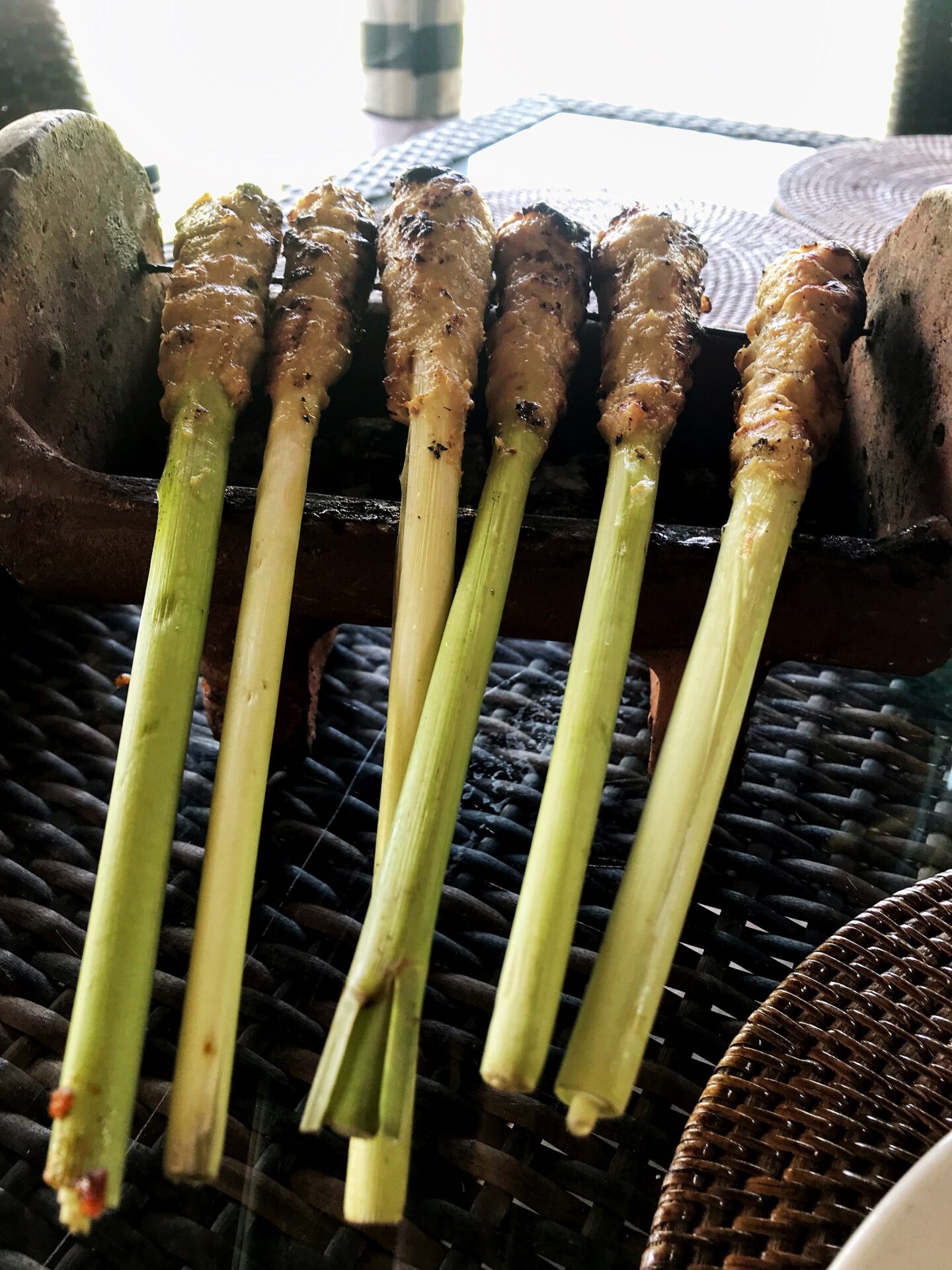 Also, make sure to order the sate lilit which is grilled minced chicken with Balinese spices. It was the best sate in all of Ubud.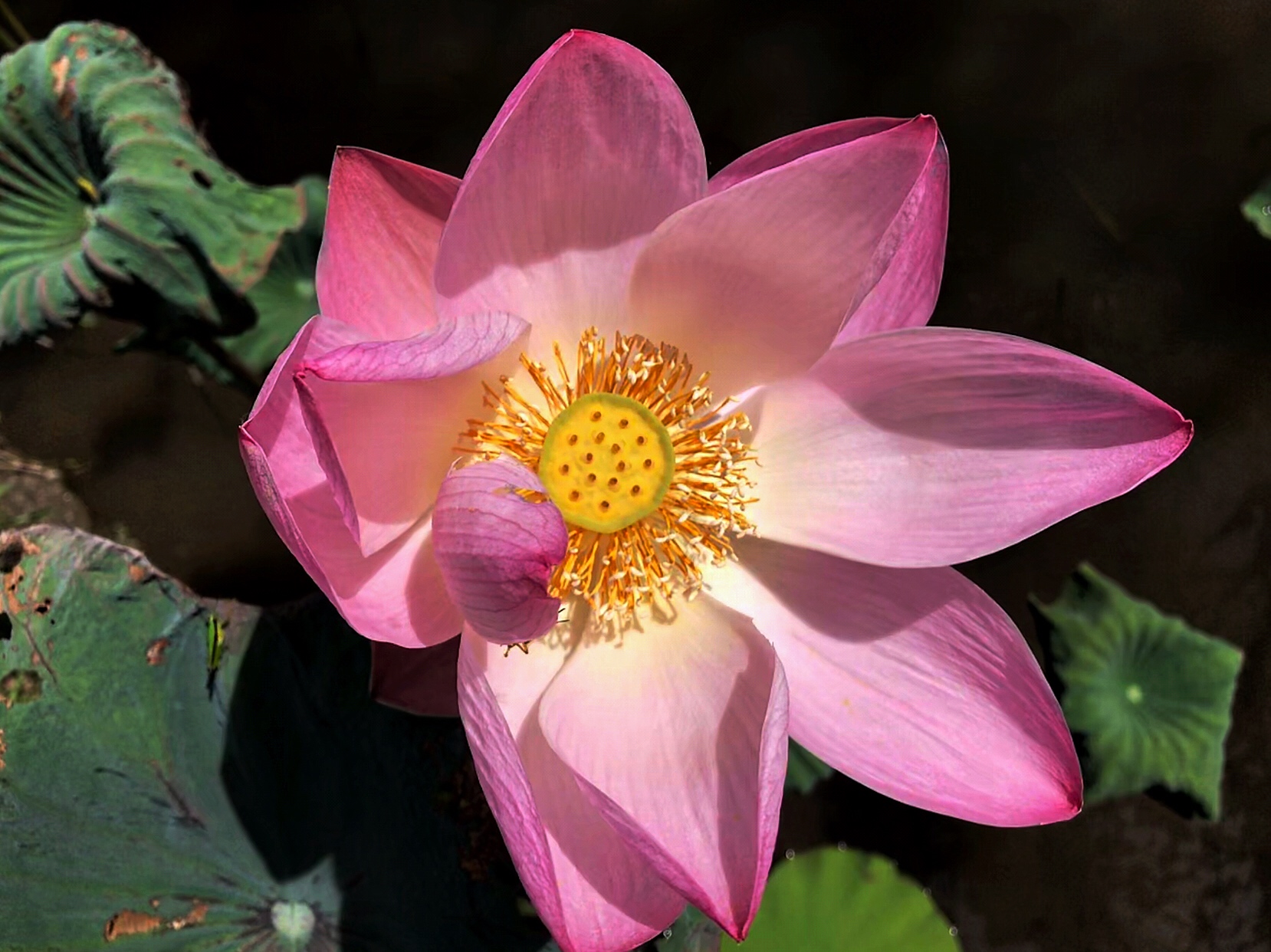 The most stunning thing about this restaurant are the views over the rice paddies. Gorgeous flowers surround you, while palm trees sway overhead, and the sounds of birds and Balinese music greet your ears. This was the first restaurant I went to in Ubud just so I could have the complete feeling of really being in Bali. It definitely has the best view of all the Ubud restaurants. Bebek Tepi Sawah is something special, and is definitely worth a visit. 
10. Mother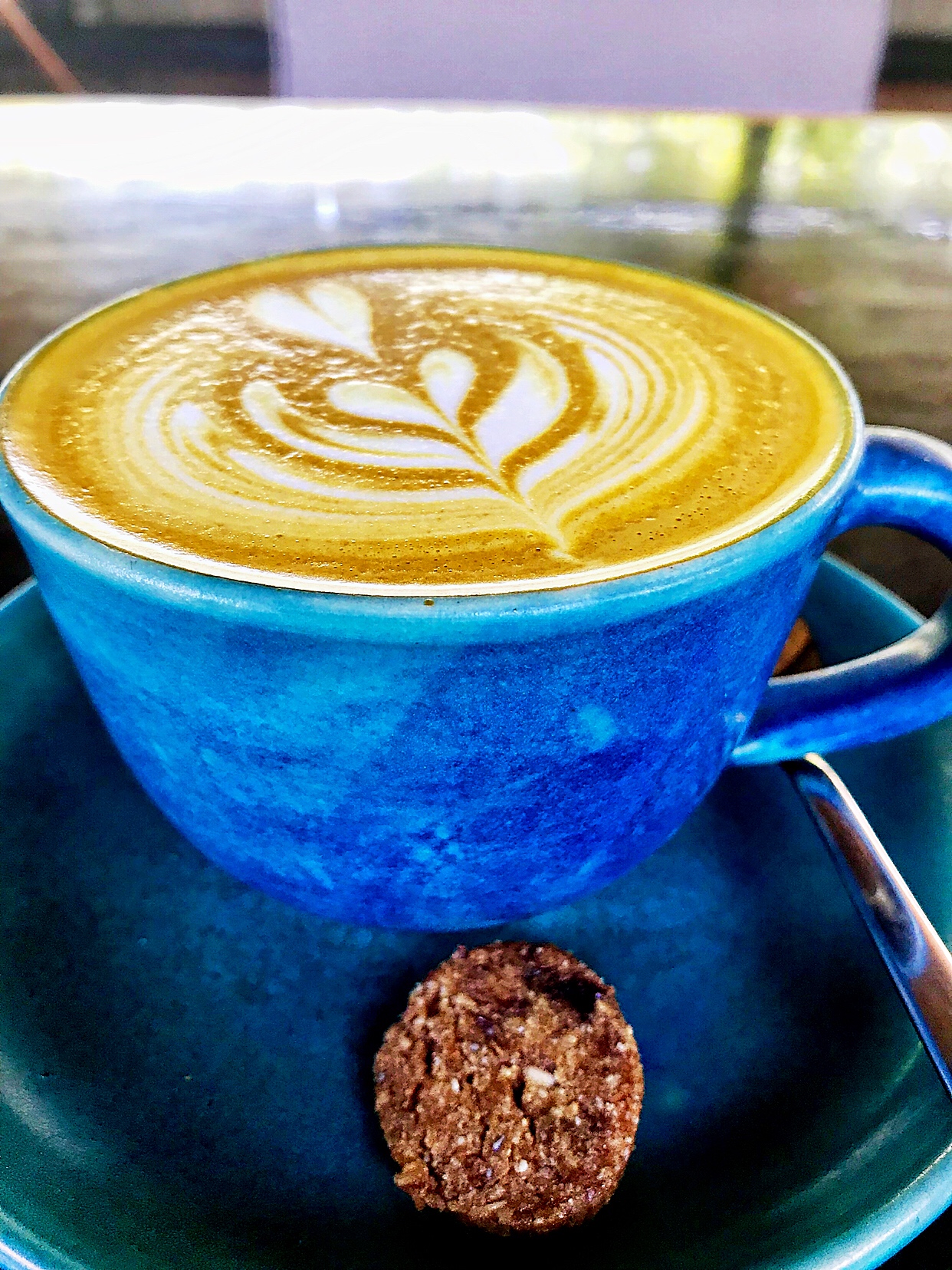 Mother was my absolute favorite place to eat breakfast in Ubud. It was over the top impressive. They have great choices for vegans, vegetarians, and omnivores. The jamu latte was one of the best lattes I've ever had.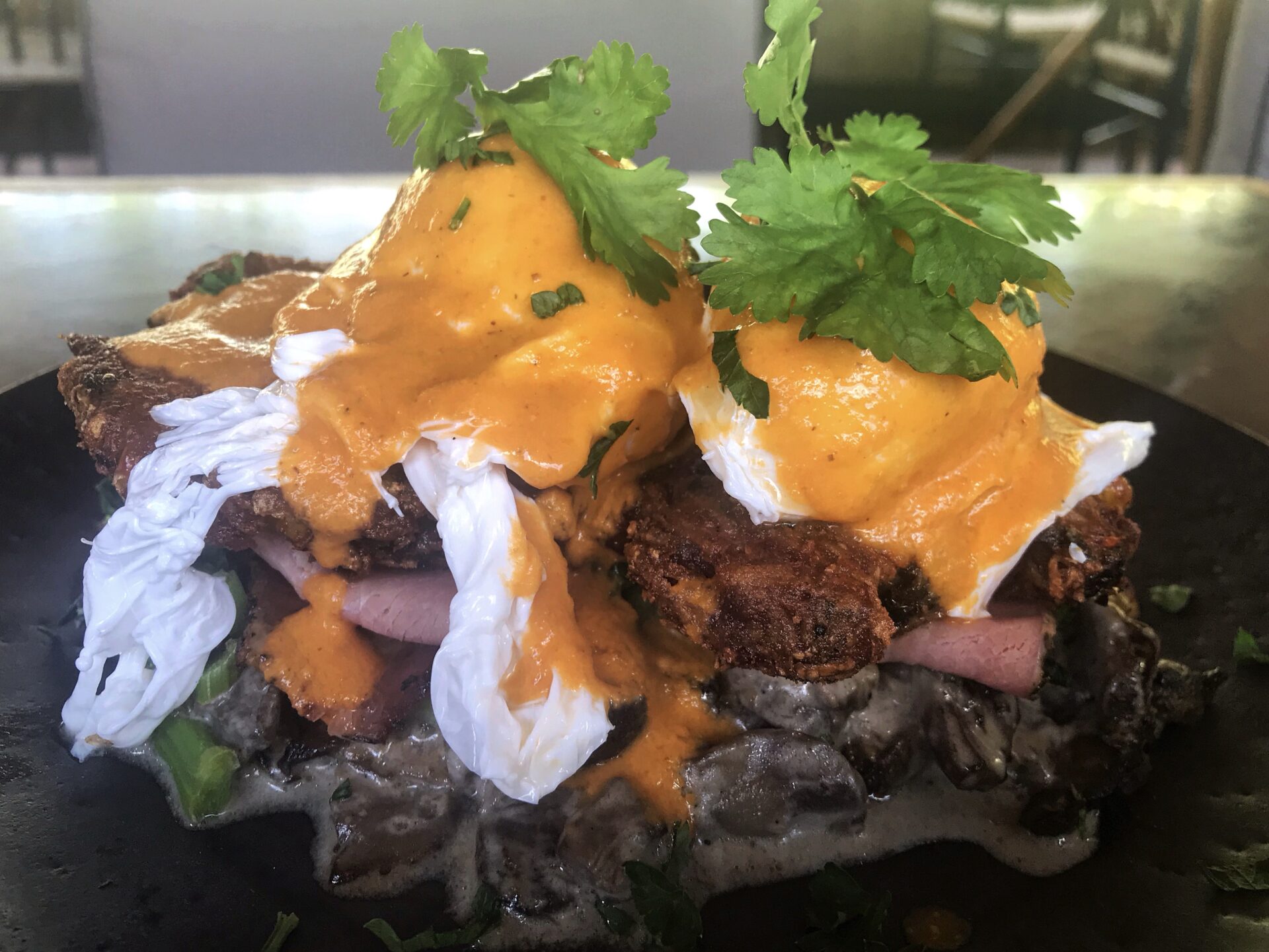 The benedicts over hash browns were also my favorite benedicts ever. I'll take potatoes over bread any day. I also loved the richness of the duck eggs instead of chicken eggs. They also have a lovely store in the restaurant that I may have gone a little crazy in. I bought some of the lovely batik napkins the restaurant uses, vanilla bean paste, seaweed, gotu kola, and a few other items.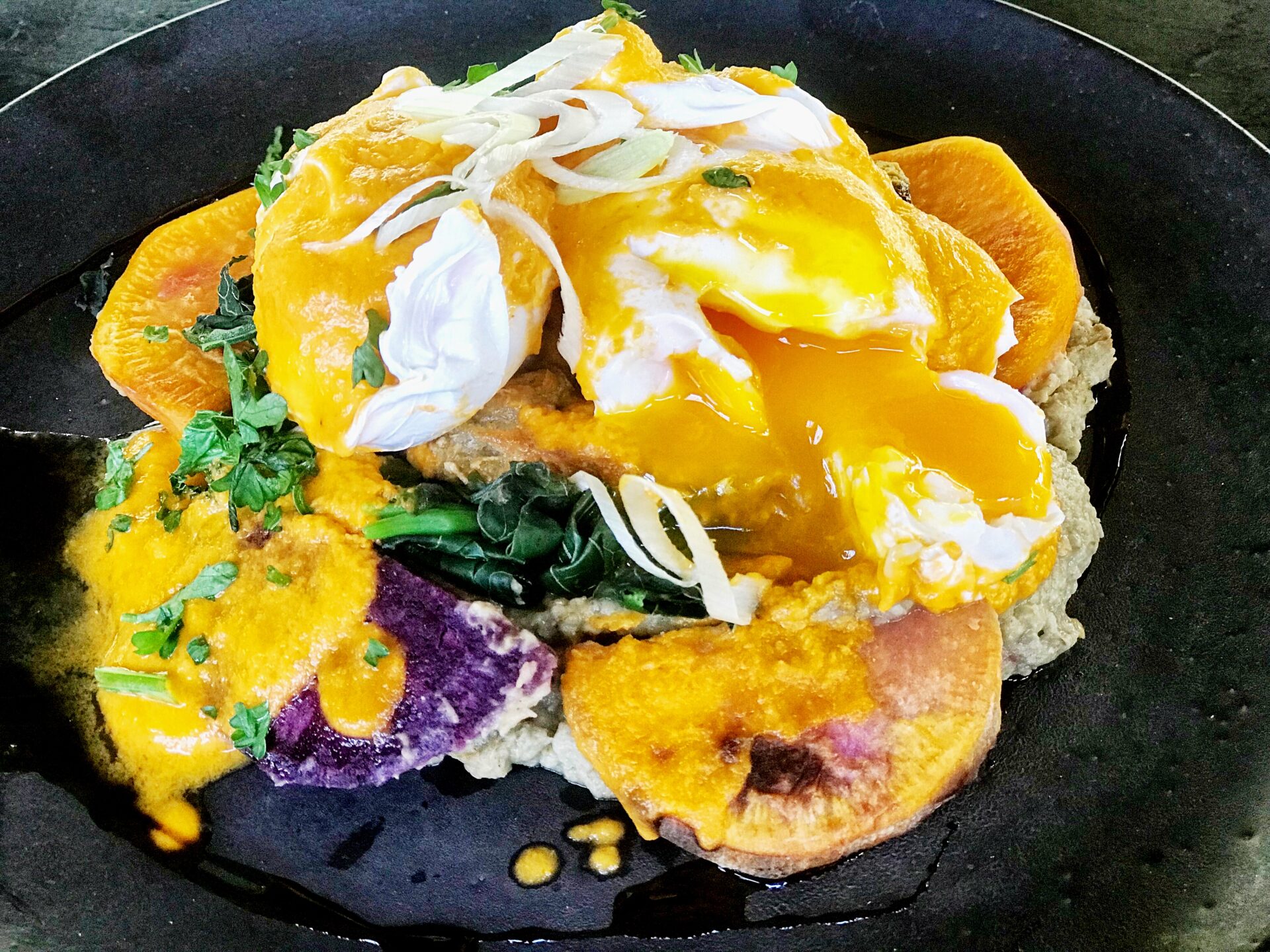 11. Folk Pool & Gardens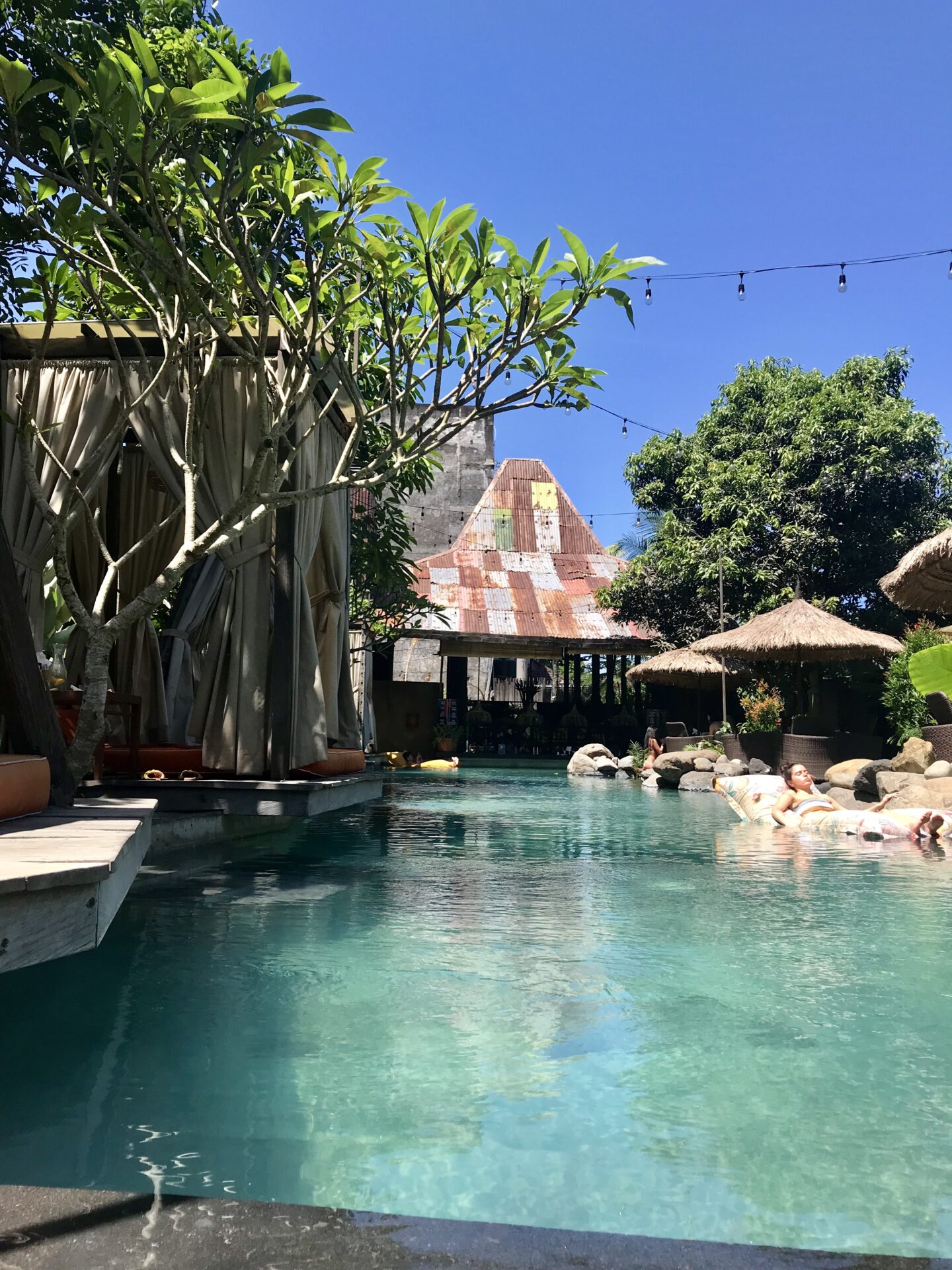 Folk Pool & Gardens definitely gets the award for being the most unique of the Ubud restaurants that I dined at. I actually ate my lunch sitting at a table in the pool!! Oh yeah. Bring your swimsuit. Other folks will appreciate that. Talk about a perfect way to spend a hot and sweaty day in Ubud. I went here on my second day when my jet lag was kicking in. This got me reenergized for the rest of the day.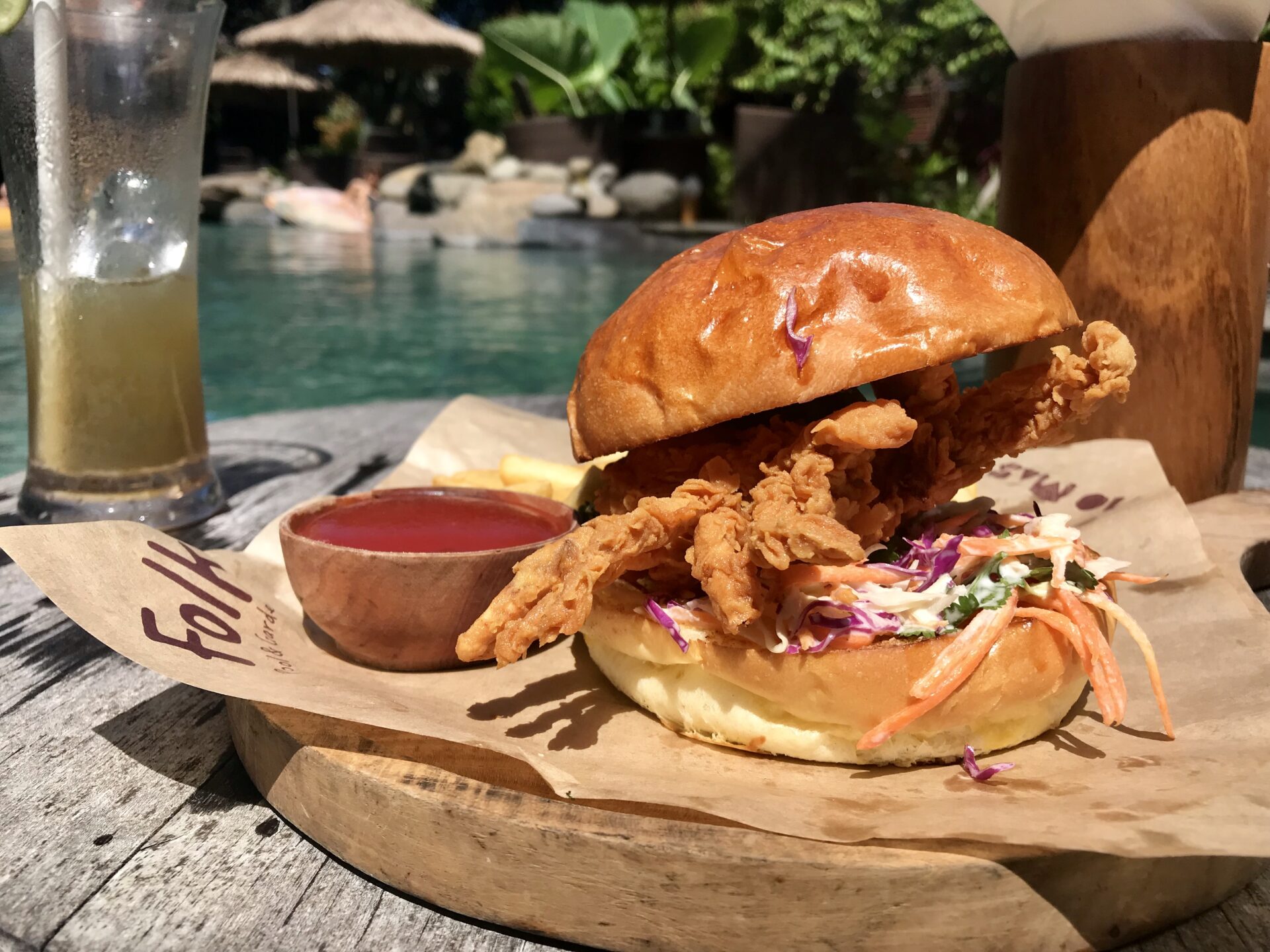 I had the softshell crab sandwich and sugarcane juice which also gave me the perfect sugary, salty lift to revive me. I may have had a mojito or two as well! Folk Pools serves breakfast, lunch, and dinner, so you could easily spend an entire day here. There's also a swim-up bar and a seasonal twilight cinema. Make reservations for the private daybeds and teepees which there is a charge for. The poolside chairs and sofas are free, but best to still book in advance.
Like this article? Subscribe and never miss a post!