20 Greek Foods You Must Try Before You Die: My Favorite Chania Restaurants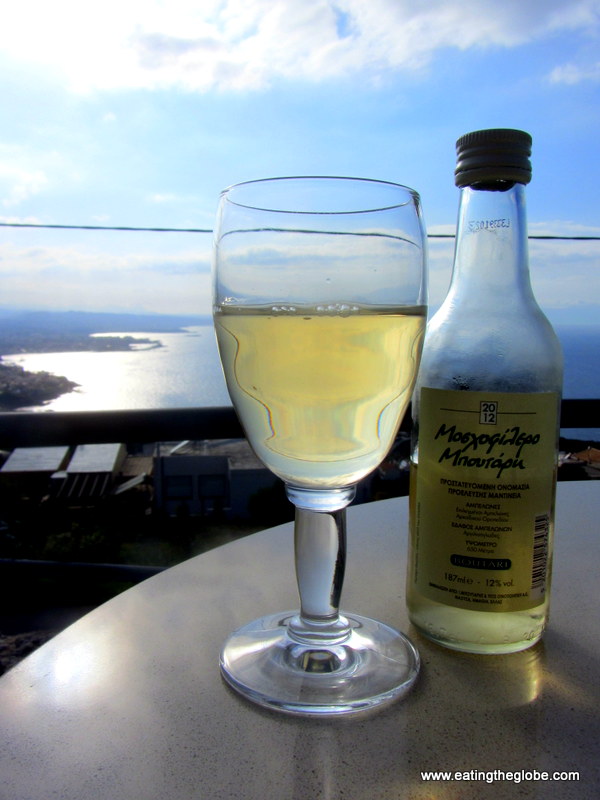 Greek food is some of the most captivating food in the world. The deepest, richest olive oil you can get. Fresh seafood. Flavorful olives and cheeses. Dark red wine paired with savory lamb. I did my share of eating at the many Chania restaurants, and these were my favorite dishes.
20 Greek Foods You Must Try Before You Die:
Portes Restaurant got my vote for the best Chania restaurant.  I ate there twice. Portes means doors, and the path to the restaurant is decorated with charming old doors. Susanna, the owner, is an excellent hostess. The restaurant was filled with her local friends that made it feel like you were at a dinner party instead of a restaurant. Portes had a cozy, comforting feeling, and the food tasted like home-cooking.
1. Wild Fennel Pie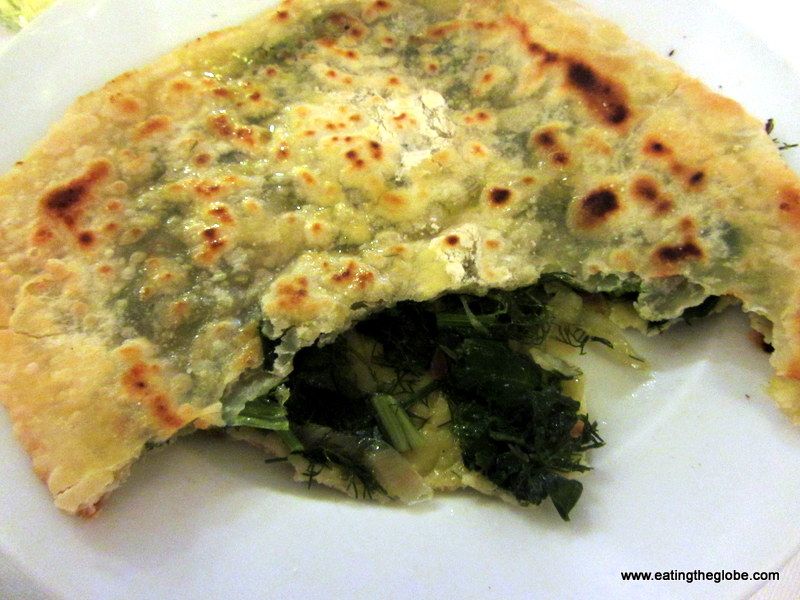 2. Octopus with Avronies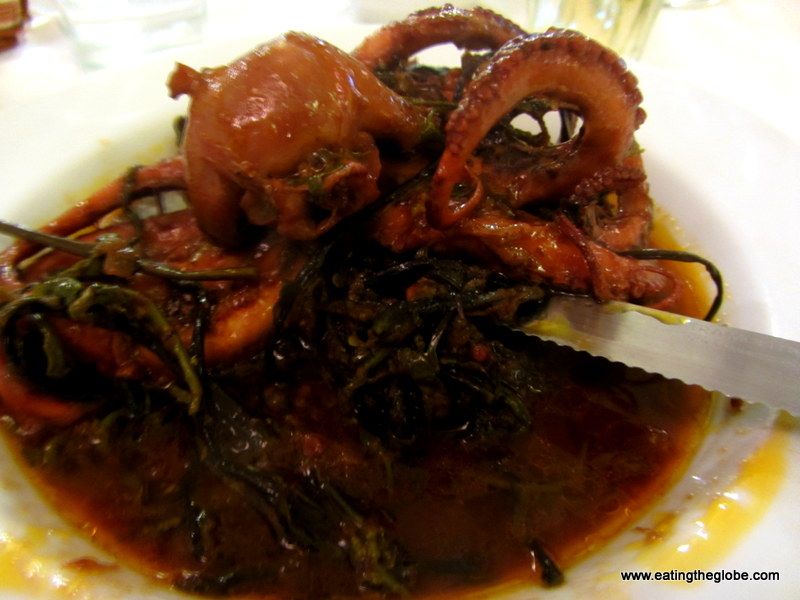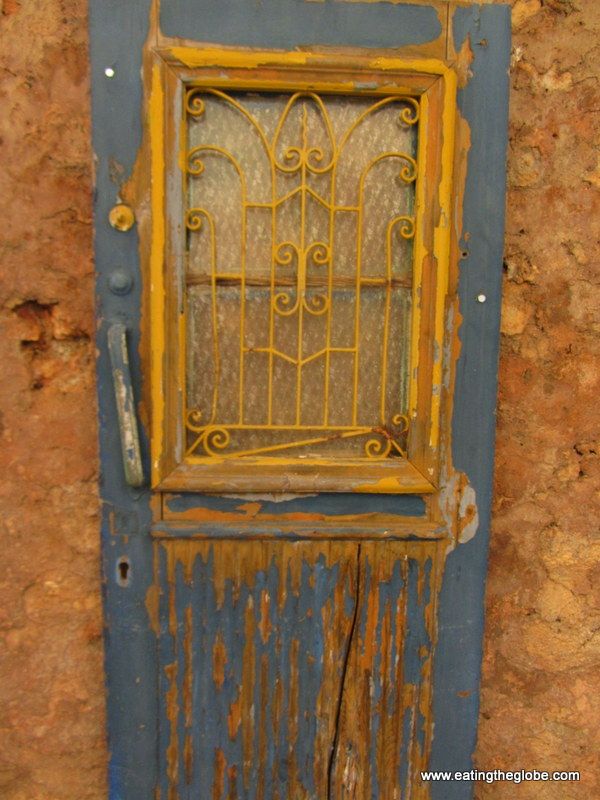 3.  Sun-dried Tomato Fritters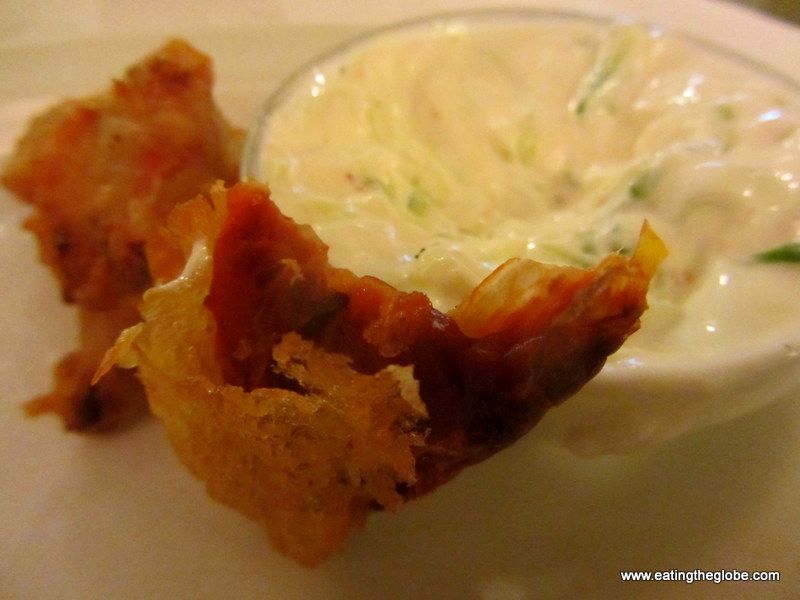 4. Spicy Pork With Couscous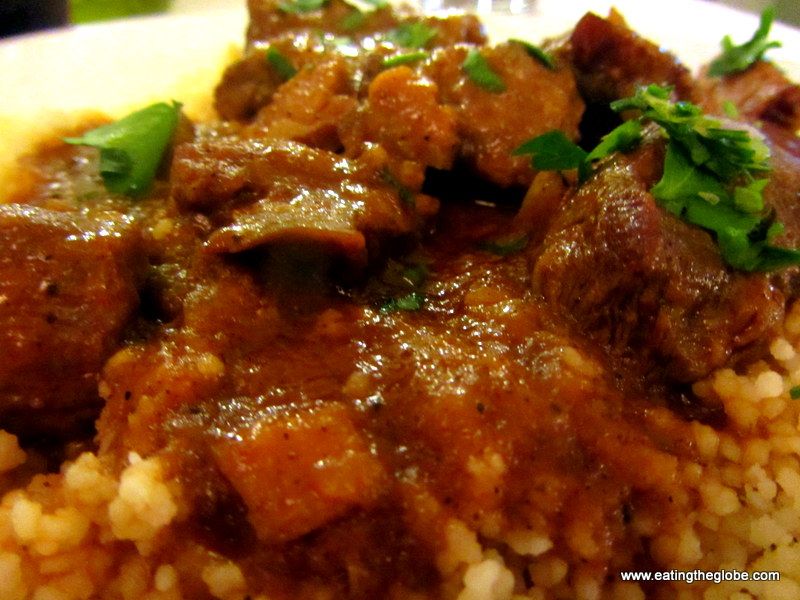 Akrogiali Taverna was in front of the beach in Chania and had excellent seafood. I absolutely loved the calamari stuffed with feta (who says cheese doesn't go with fish?), and they gave complimentary baklava at the end that was some of the best I've ever had. I went at night, but during the day, you can sit and watch the ocean waves.
5. Calamari Stuffed With Feta and Herbs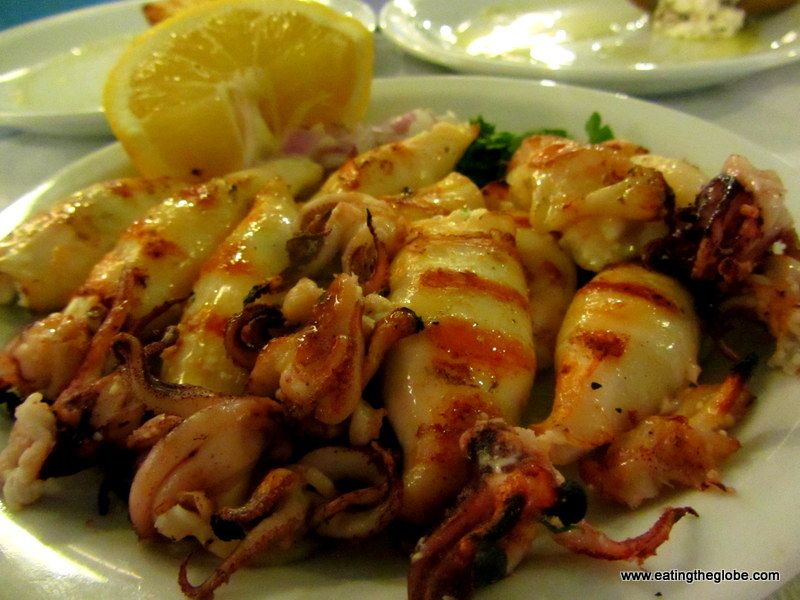 6. Baklava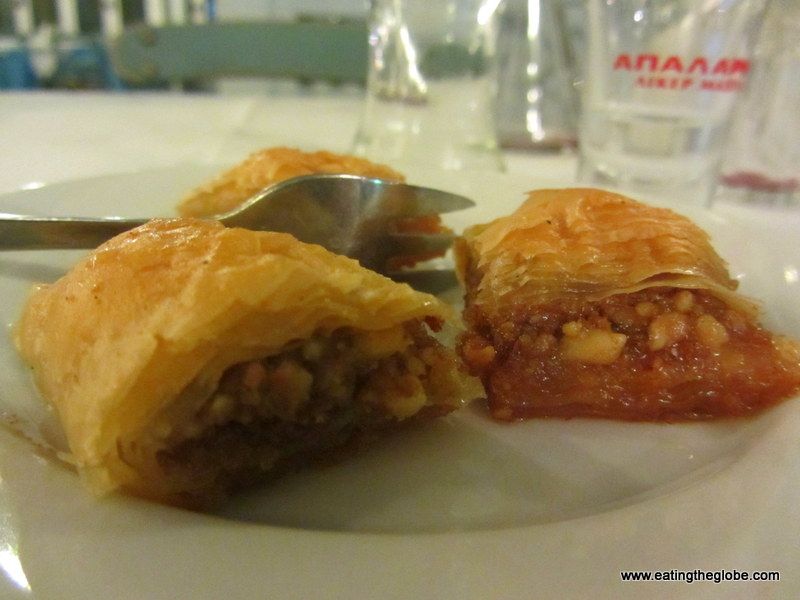 Baklava is layers and layers of pastry with gooey sweet honey and nuts in between the layers. It's rich and delicious and something you shouldn't miss!
7. Meatballs over Fried Potatoes At A Taverna In The Chania Market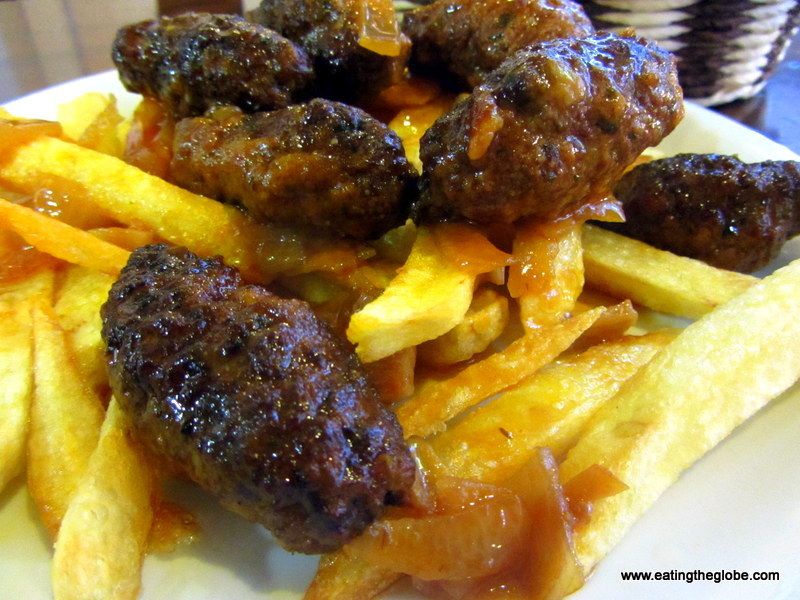 Make sure to visit the Agora Market in Chania.  The market sells lots of local foods and the taverns there are some of the best in Chania. This is where the locals eat.
8. Donuts At Nanou
Donuts are all the rage now, but at Nanou Donuts House, they've made them the same way since 1979. Trust me, their practice has paid off. I had the one with bueno cream, which was a French cream that was stunning.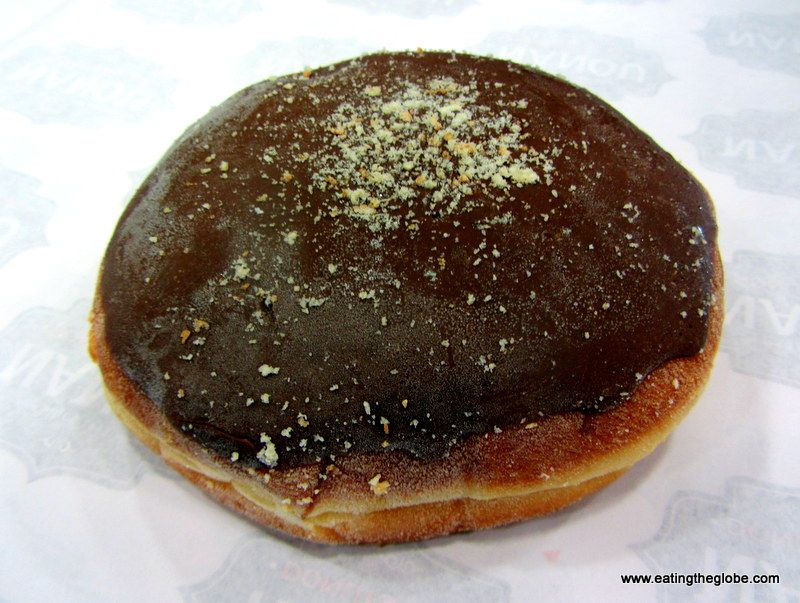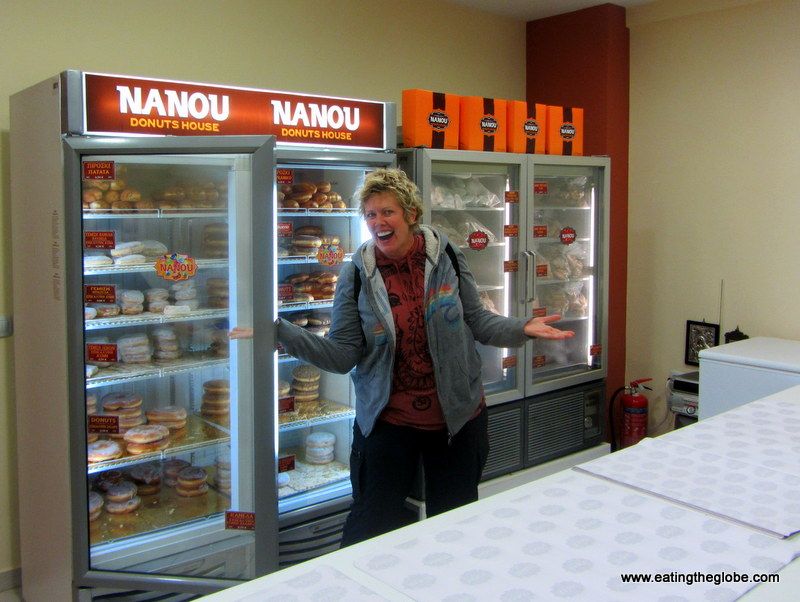 9.  Bread
The Greeks love their bread, and they are insulted by the restaurants outside of their country that don't serve it with a meal. There are more bakeries than cats in Greece, and, trust me, that's a lot of bakeries! The best bread I had with a meal was at Chrisostomos. Theirs was baked in a wood oven, and you could really tell the difference.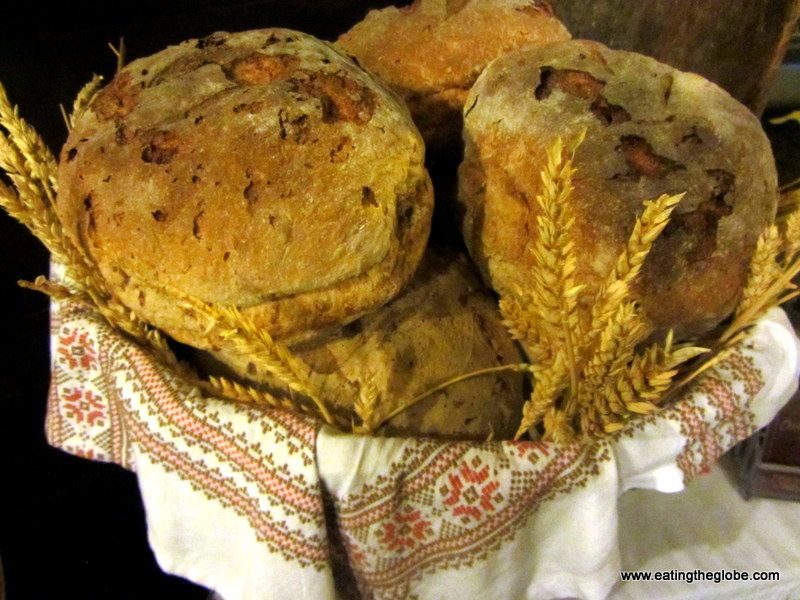 10. Lamb
I love the rich taste of lamb and no one does it better than the Greeks. Again, the best I had was from Chrisostomos. They really know what they are doing.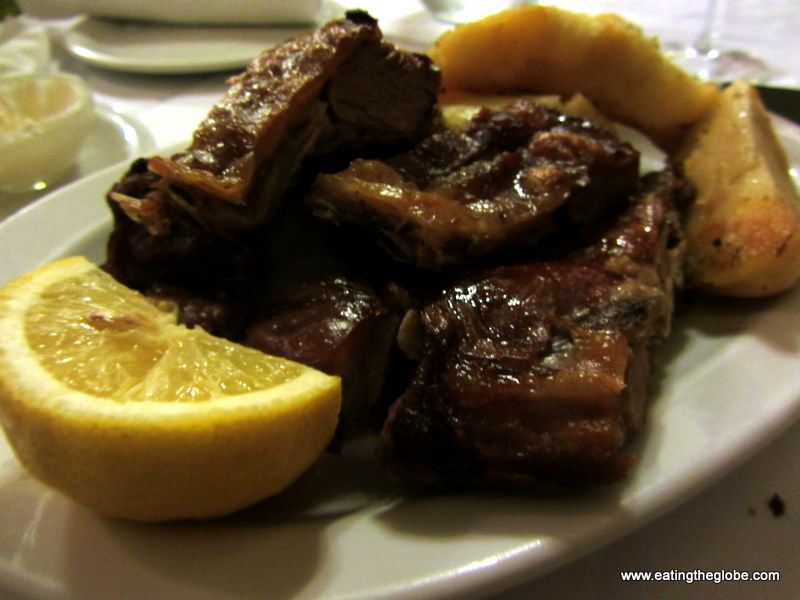 11. Loukoumades
Loukoumades, or the Greek version of the donut, are one of the best things I've ever put in my mouth. They are drenched in syrup and have a hint of cinnamon or nutmeg. Again, Chrisostomos hit the nail on the head with their version. Plus, it gets even better. They serve them complimentary with raki after your meal. (I love the Greek tradition of serving free dessert with raki!)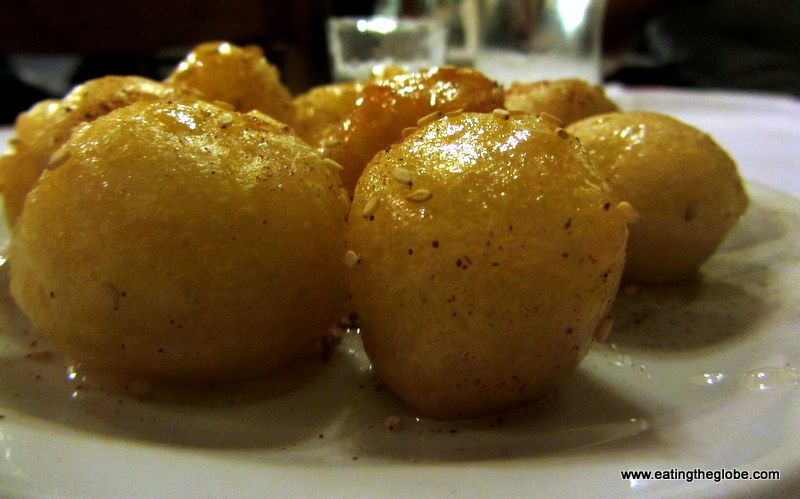 12. Wine
Honestly, I was amazed at how good the Greek wine was. And at an average price of just 2 euro a glass, I had to taste all that I could. Research, of course!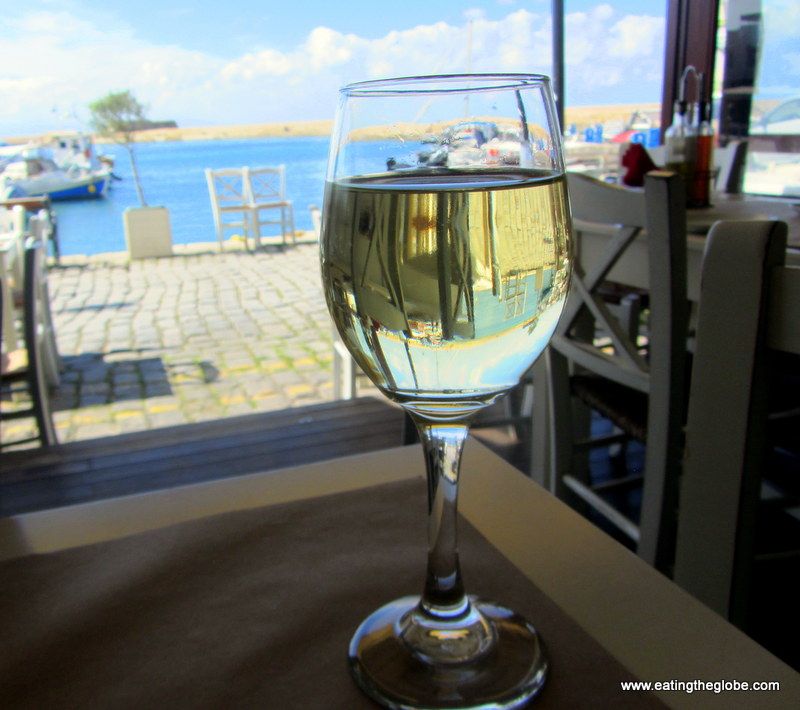 13. Seafood Souvlaki
This particular version was tuna souvlaki that came from my second favorite restaurant in Chania, Glossitses. Glossitses has an amazing harbor view. The best thing about the restaurant (besides the food) is that they are a fair trade restaurant. They buy directly from the fishermen and pay them fair prices. Also, most everything they serve is organic. This is a restaurant in Chania that you won't want to miss!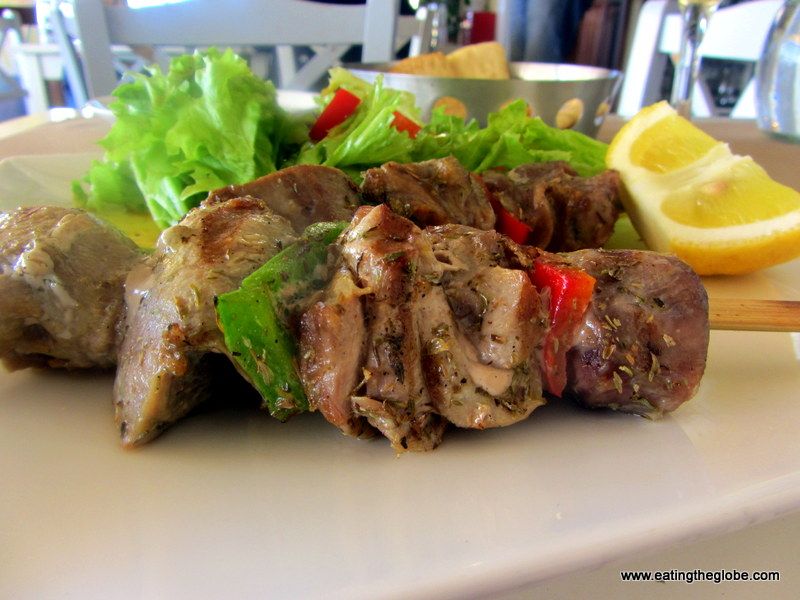 14. Cretan Oranges
I visited Crete in the spring and orange trees were everywhere (even in the bus station parking lot). The heady smell made Chania smell glorious, and the oranges are the most flavorful and juicy ones that I've ever had. I loved that for their complimentary dessert, Glossitses served one organic orange with a knife. It was a perfect pairing to raki.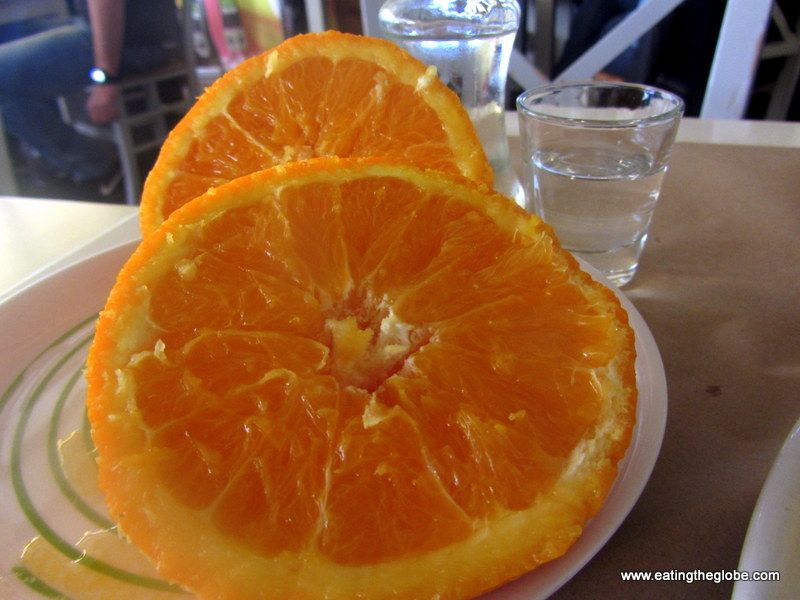 15. Dessert From Pasteleria de Dana
The Pasteleria de Dana served some of the best desserts that I've ever had. It was tucked away down a little alley in Old Town, and with its free wi-fi, it became one of my favorite spots to write while giving myself a little treat. My favorite was the caramel panna cotta.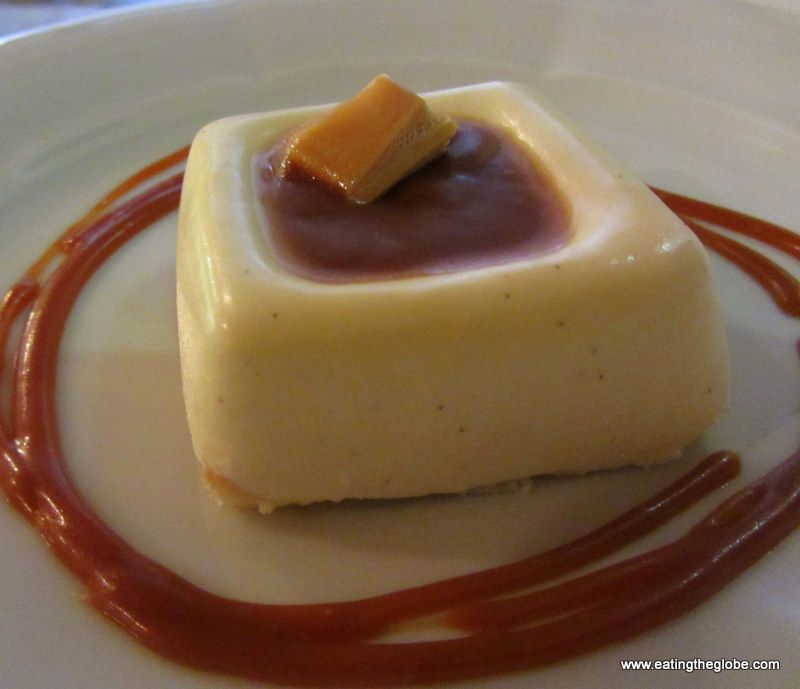 16. Crayfish with Squid Ink Pasta
Palazzo Almare wowed me with this dish. The crayfish was so sweet and fresh. There was also cuttlefish and mussels in the dish, and I had every cat in Greece longingly watching me polish off this one!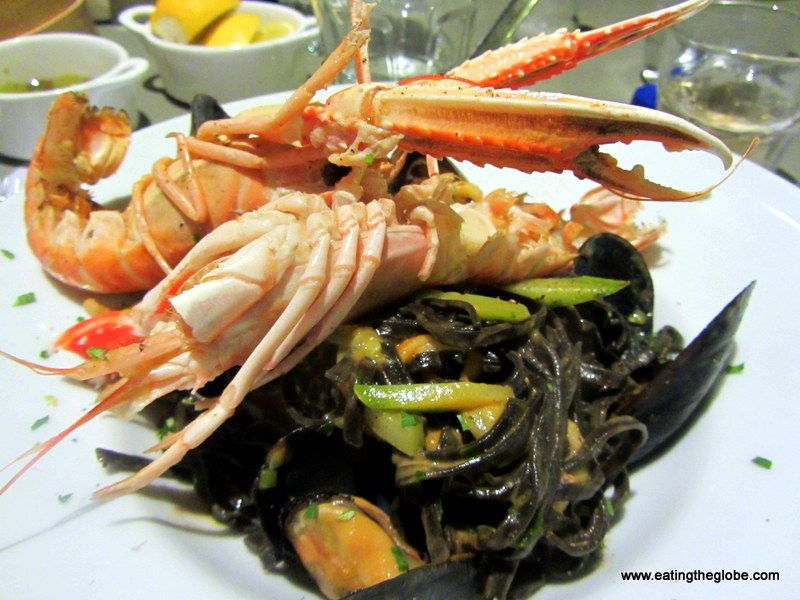 17. Gelato From Delizia
Could it be that the best gelato that I've ever had was in Greece? Yes, it was. Of course, it is made by an Italian. He uses only the best of ingredients and milk to make it. Most of them are organic. He gets his vanilla from Tahiti, his hazelnuts from Sicily, and uses a local orange only found in Crete to make the orange one which was my favorite. (The pistachio was my second favorite!)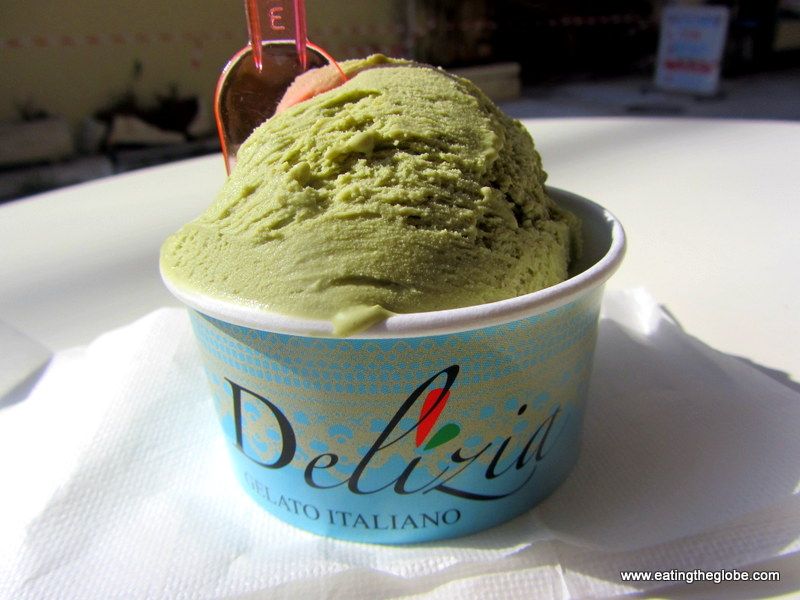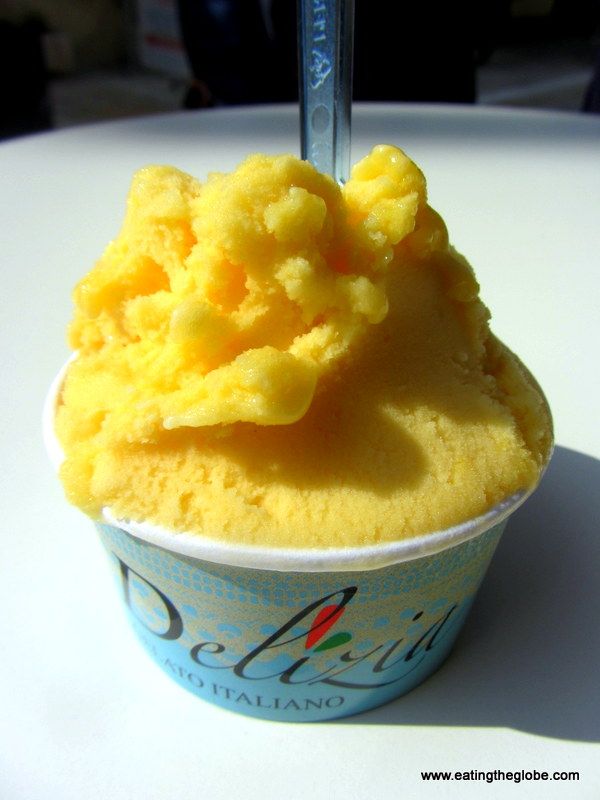 18. Greek Salad
You can't leave Greece without having at least one Greek salad. It will be the best Greek salad you ever have. Everything made in Greece is about the quality of the ingredients and the freshness. This was a different version of the Greek salad (bread instead of feta cheese) from Koukouvaya, near the Venizelos Graves. Don't miss this spot at sunset. It has stunning views. Don't pass up the Knaafeh string pastry dessert they make! It's a dessert that will transport you straight into the middle of a Middle Eastern dream.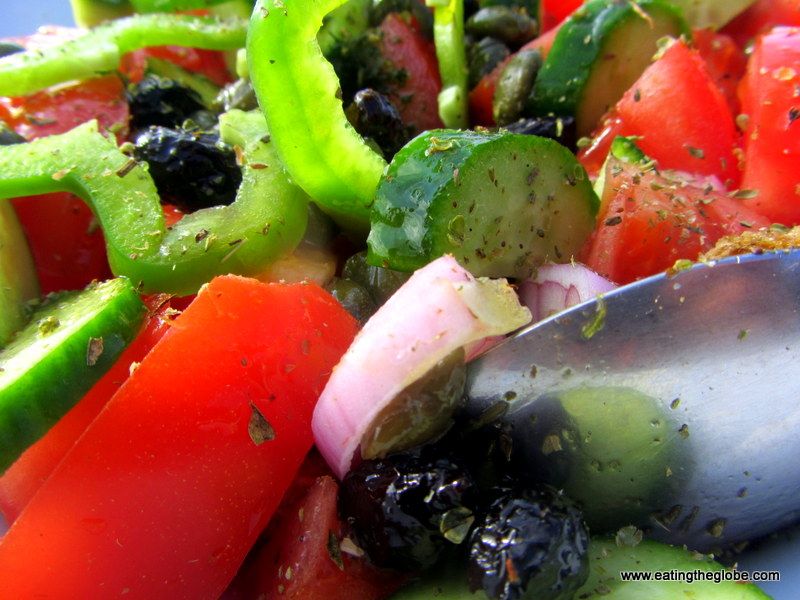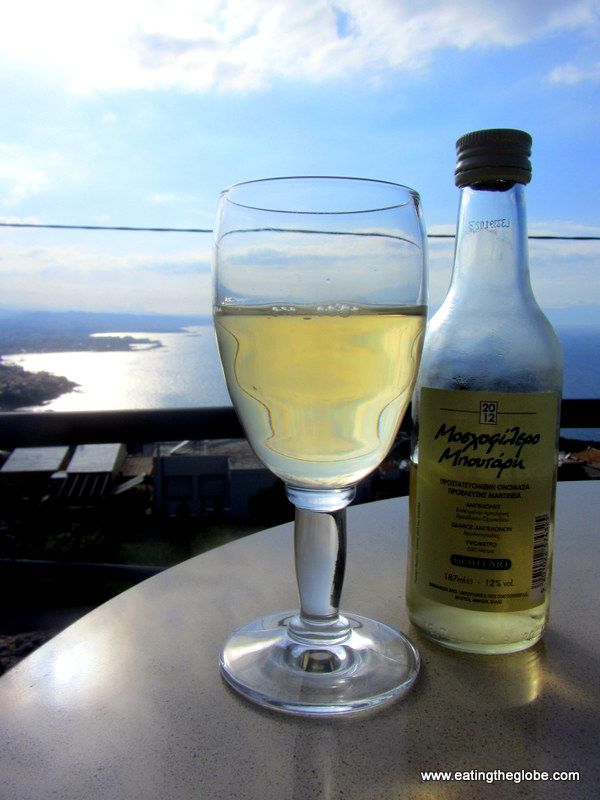 19.  Knaafeh string pastry dessert at Koukouvaya Chania Restaurant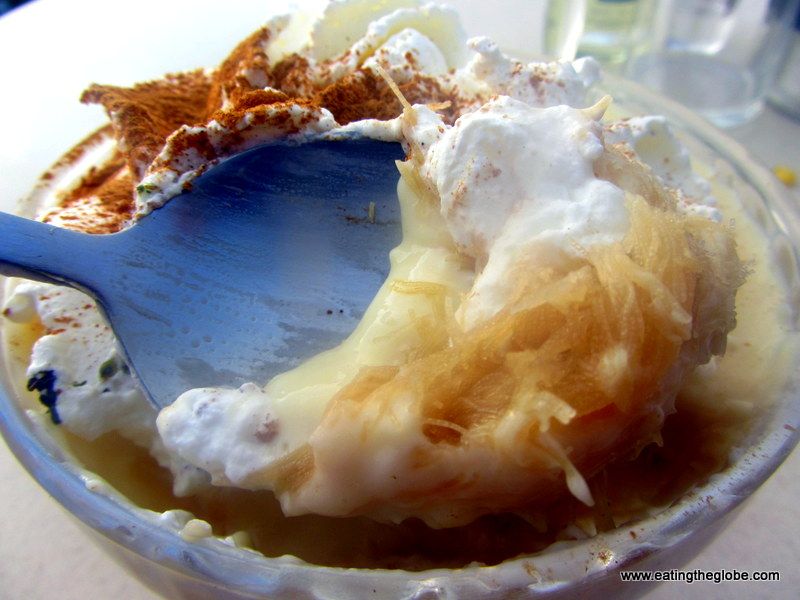 20. Pork Souvlaki Pita Sandwich (Gyro)
Yes, I saved the best for last. To me, pork souvlaki is better than bacon. Mix that with fries and put it in bread? Why, yes, I think I will. Pork souvlaki is the reason you won't see McDonald's in Crete. (thank God!) At only 2 euro each, pork souvlaki is always the first thing I want to eat when I get to Greece and the last thing, too. I don't understand why there isn't a stand right at the exit/entrance to the airport.
It's messy food. The grease literally drips down your arm as you eat it. It's the kind of food that makes you take a shower right after eating it. And that's the kind of food that I like. The best one is at what in Greek looks like Opaka (click on the link to watch the video), but is apparently pronounced Charcoal in English. Just look for the crowds of locals. That's how you will know you've found the right place!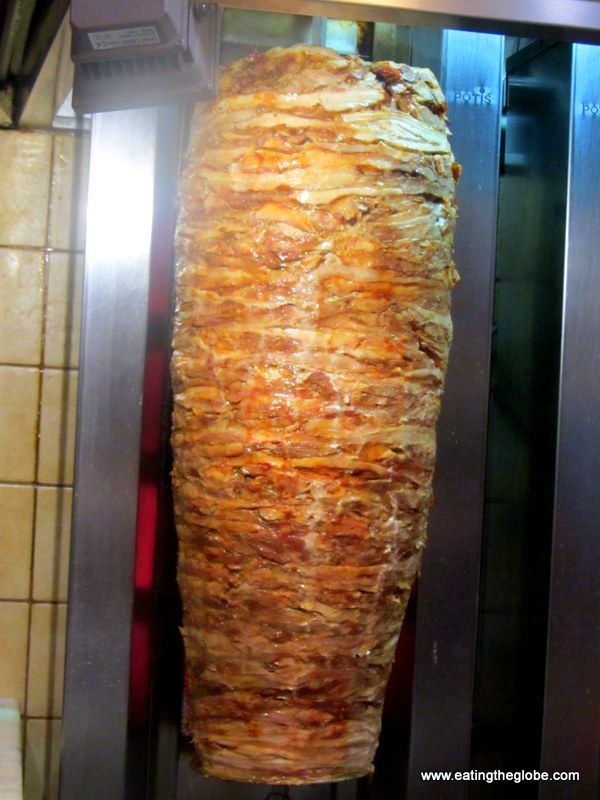 Pork souvlaki illuminated by spotlight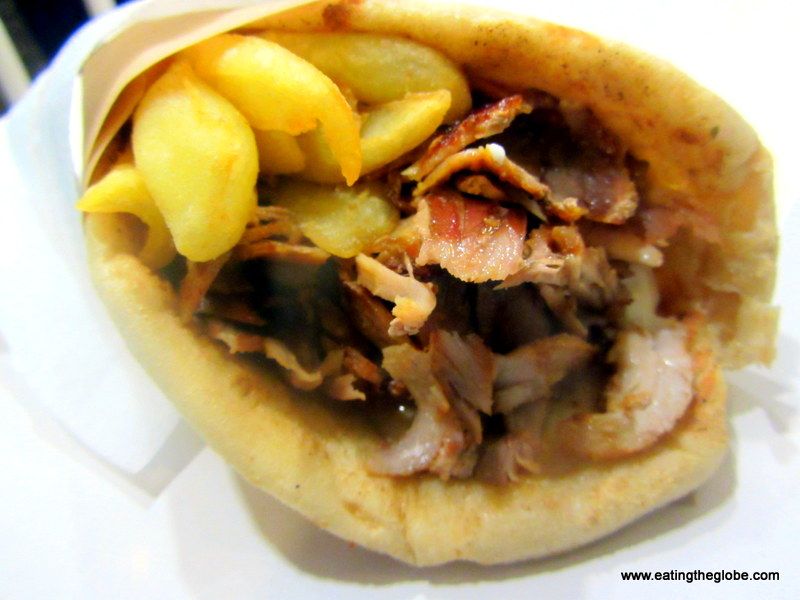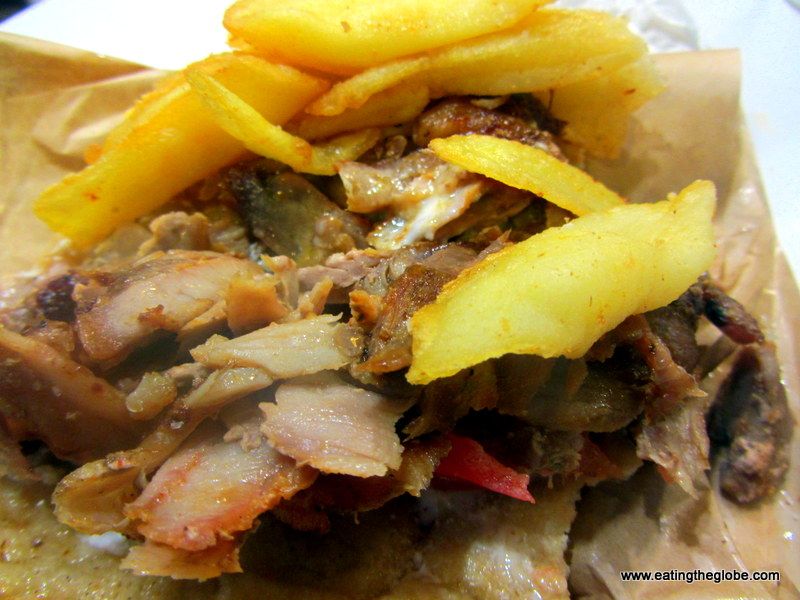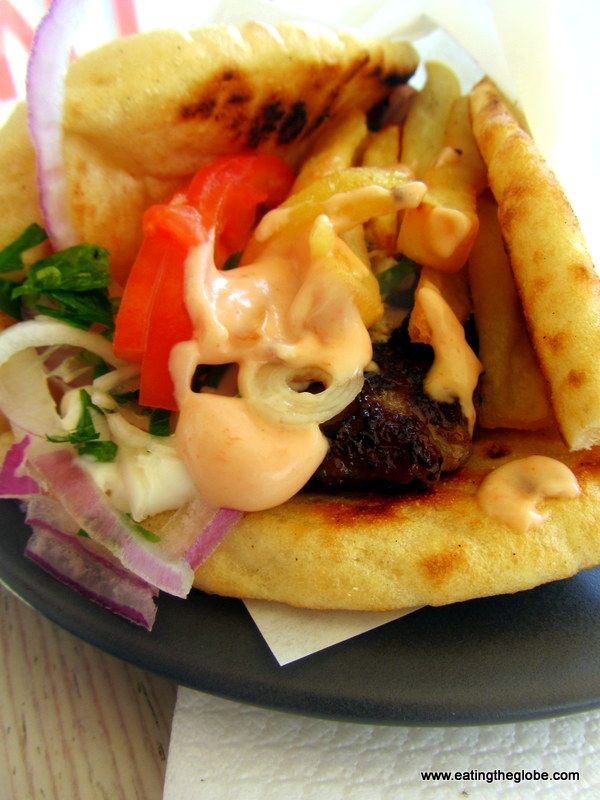 Like this article? Subscribe and never miss a post!