My Favorite Dish Right Now In Portland Comes From A Food Cart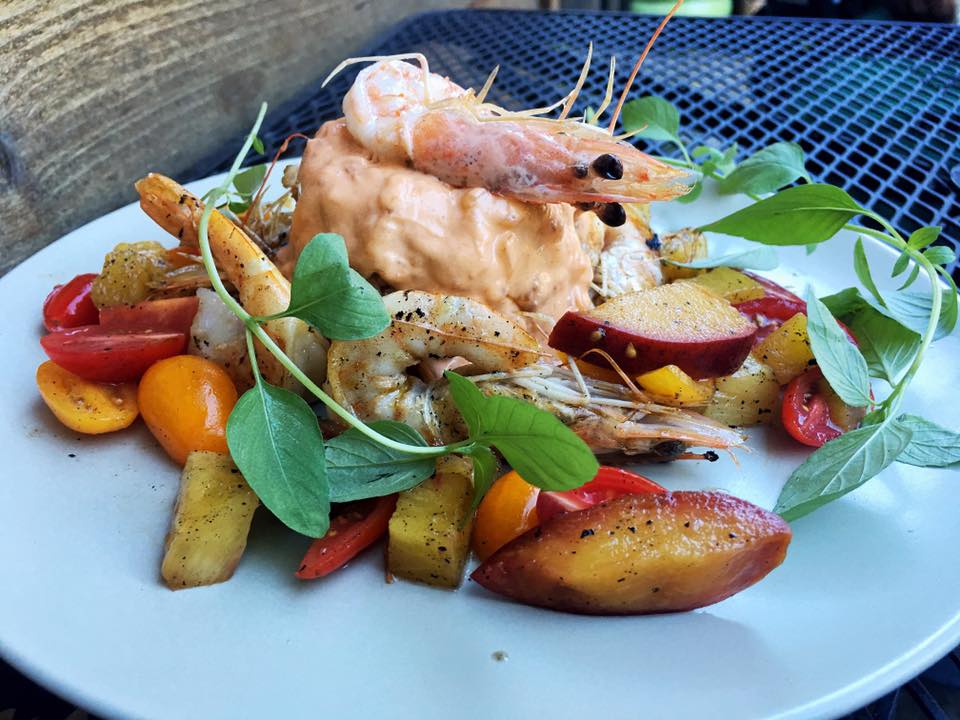 It's summer in Portland. It's hot. You want dinner, but nothing too heavy. I recommend going to have this incredible dish from Bibingka food cart. Bibingka is right next to my other favorite food cart in Portland, Gumba. Or it is right now, anyway. Sadly, this small little pod of food carts is going to have to move.
Bibingka serves Filipino food, and this dish was so good, that I went back less than a week later to have it again (which is something I don't normally do unless something I eat is WAY over the top). Shrimp Ginataan is made of  prawns that are cooked in coconut milk and served over crab fat rice. Surrounded by roasted tomatoes and peaches, it's the perfect Summertime dish. The richness of the rice (and it's so rich) combines with the freshness and lightness of the prawns for a perfect taste combination. Some foods become boring after a few bites, but this is one of those dishes that just seems to get better and better with each bite.
There are other Filipino food choices, too, such as limpia, adobo short ribs (which I still need to go back and try), rice noodles with squid and pork belly, and the Filipino coconut cake, bibingka that the cart is named for. I loved the attention to detail and presentation of the food that the owner serves.
One thing's for sure, it's definitely worth following both Gumba and Bibingka to see what spots they end up in. (I'm secretly hoping it won't be right beside each other because I feel like I'm cheating on a partner with the other one watching when I don't order from both, so I usually order from both places and wind up with way too much food.)
Address:
1477 NE Alberta St
Portland, OR 97211
(570) 575-5357
Hours: Thurs-Sun 5-10pm
Like this article? Subscribe and never miss a post!