Things To Do In Athens: An Athens Food Tour With Greeking.me
If you asked me of all the things to do in Athens what I planned on doing, I would have said, "Eat all the Greek food!". So, when Greeking.me invited me to do their Athens food tour called Athens For Foodies, I had to say yes.
My Review Of An Athens Food Tour With Greeking.me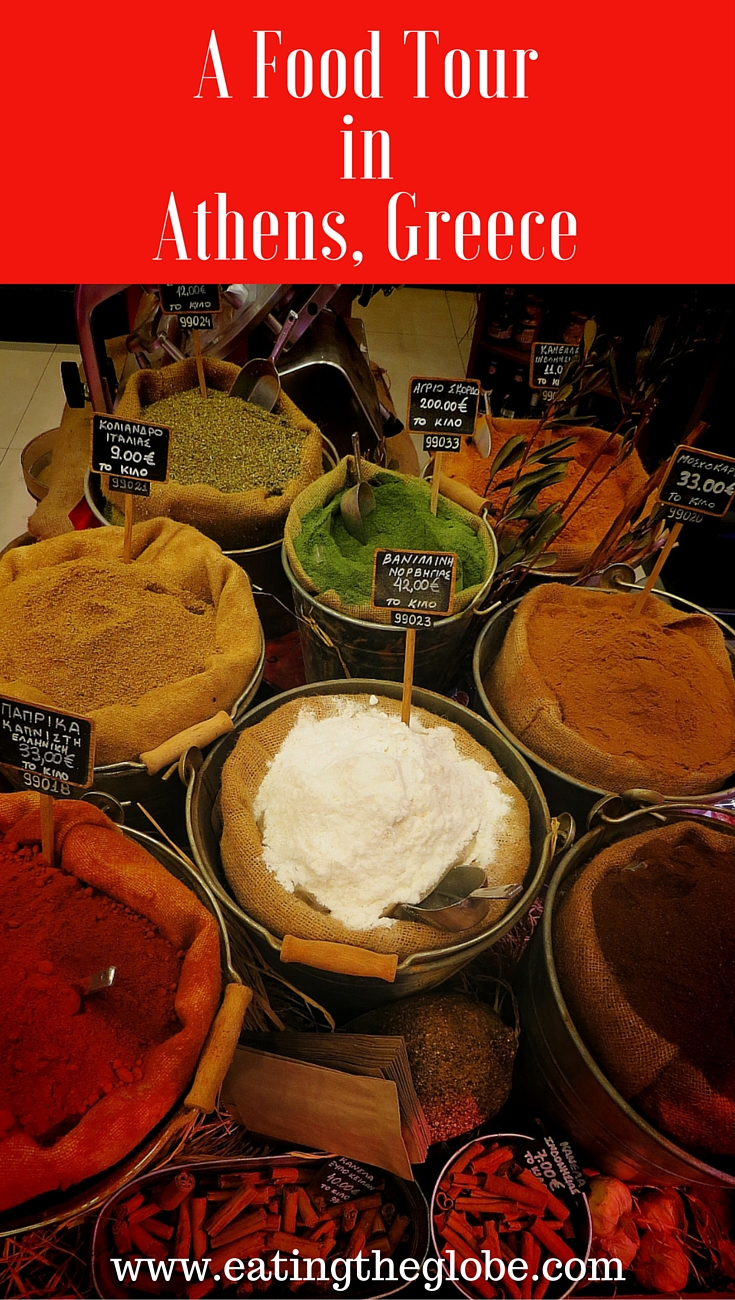 Our first stop was at Ariston for traditional Greek pies. We sampled a lovely one where the dough was made with yogurt, and this place was so popular that one taxi driver even stopped his taxi in the middle of the road and pushed me out of the way to jump out and grab some of the pies for his breakfast! It was a hilarious moment, and a testimony to how much the locals love this place.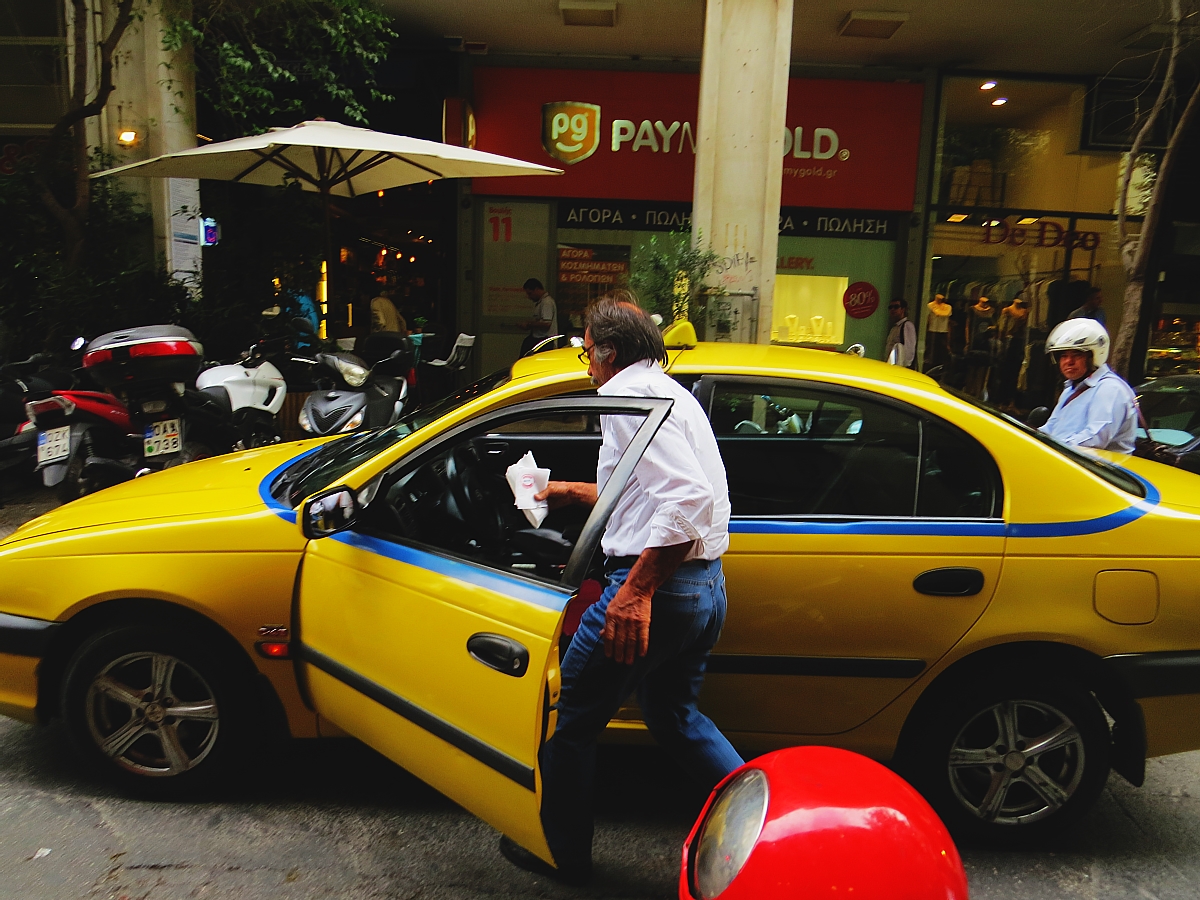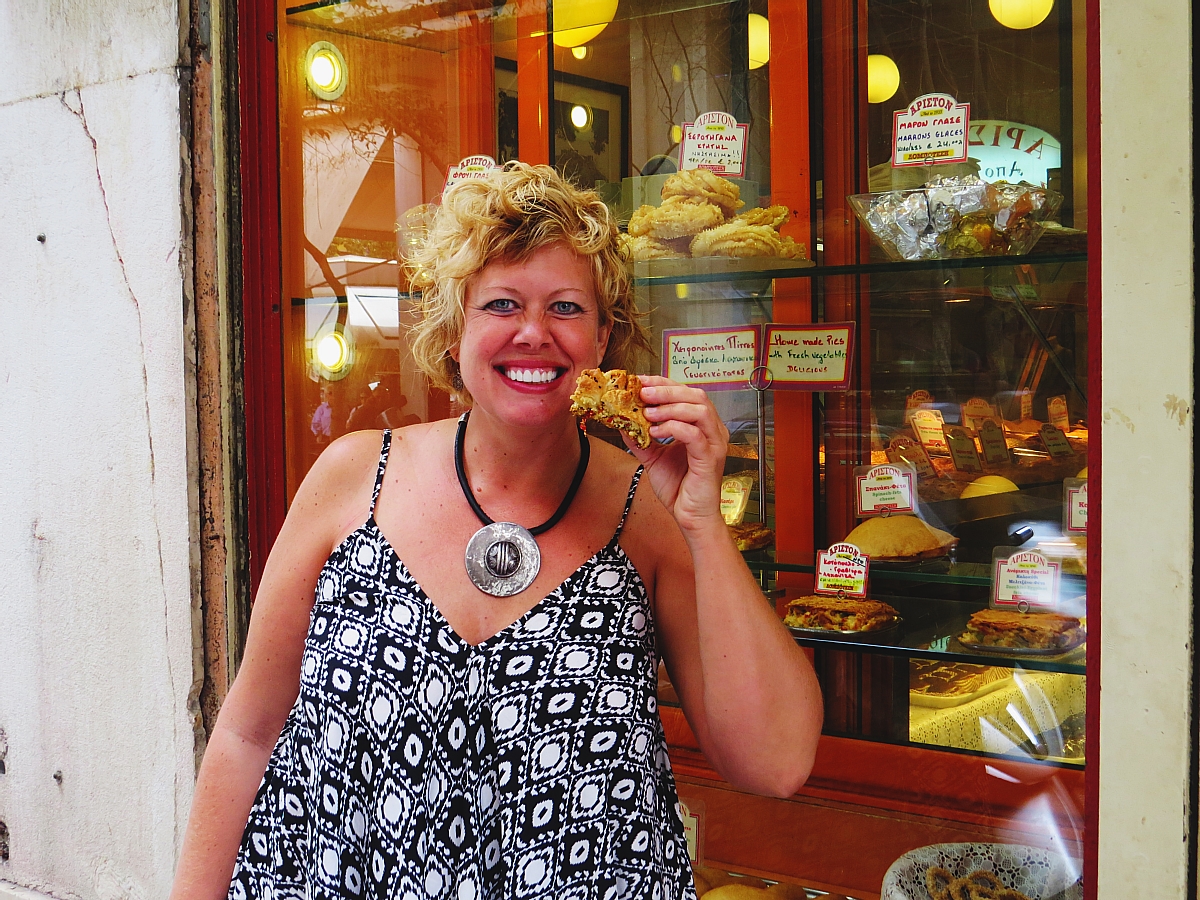 The next stop was for traditional Greek sweets at Xatzi. There were so many decadent sweets, it was hard to choose, but I decided upon a cake that came with a buffalo milk ice cream and pistachios on top. Any day that I get ice cream for breakfast is a good day in my book.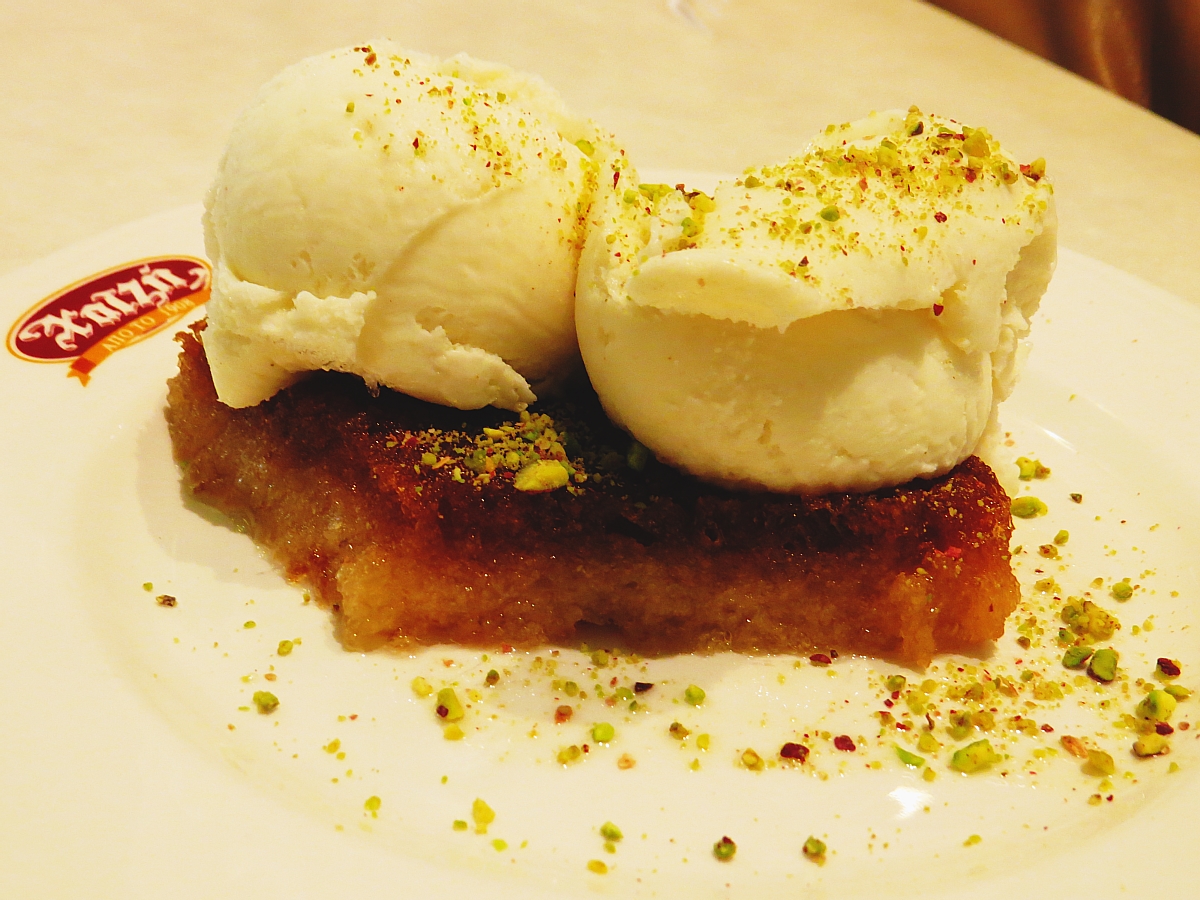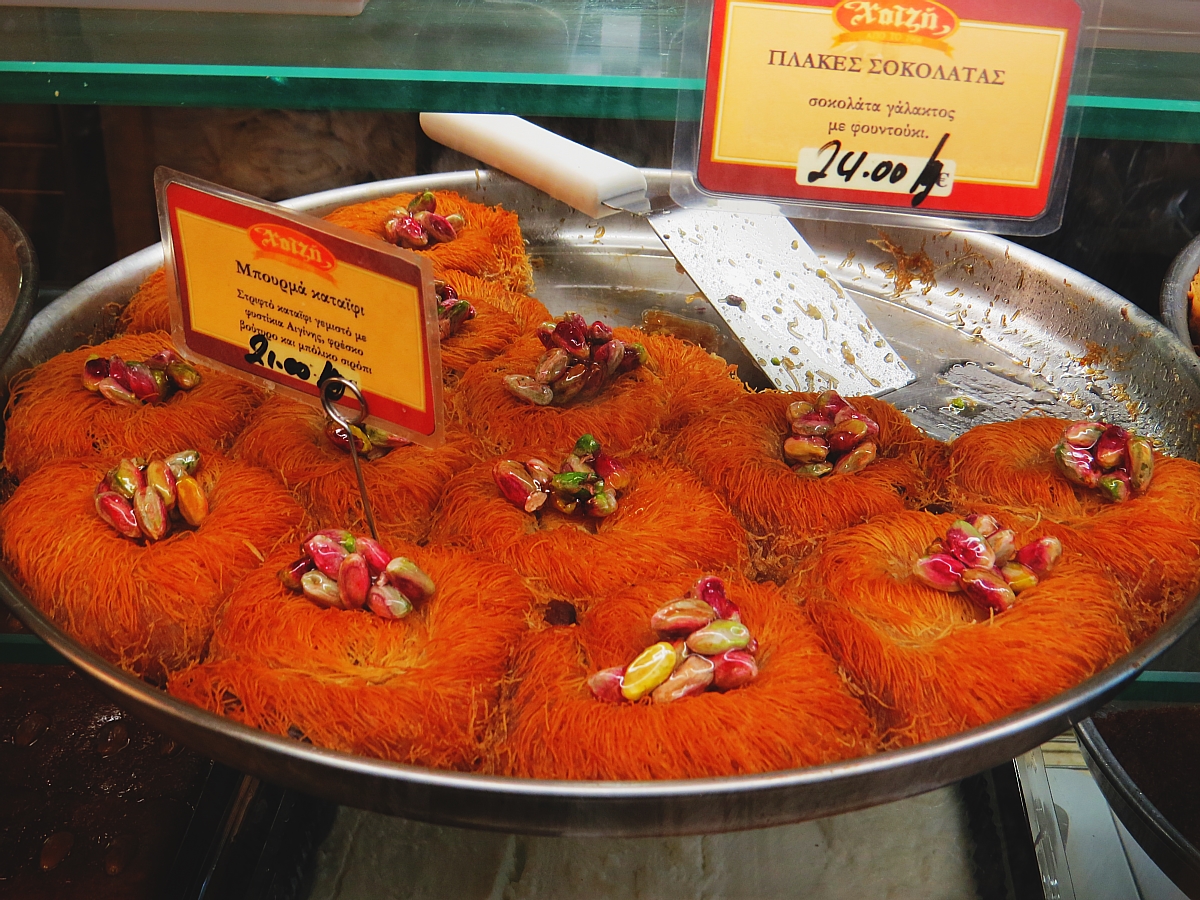 One of my favorite Greek foods in Athens is the traditional round sesame bread sold on almost every corner called Koulouri Thessalonikis. The bread is crunchy on the outside and chewy on the inside and becomes an addiction to eat. So, of course, we had to stop for one of these staples in Athens.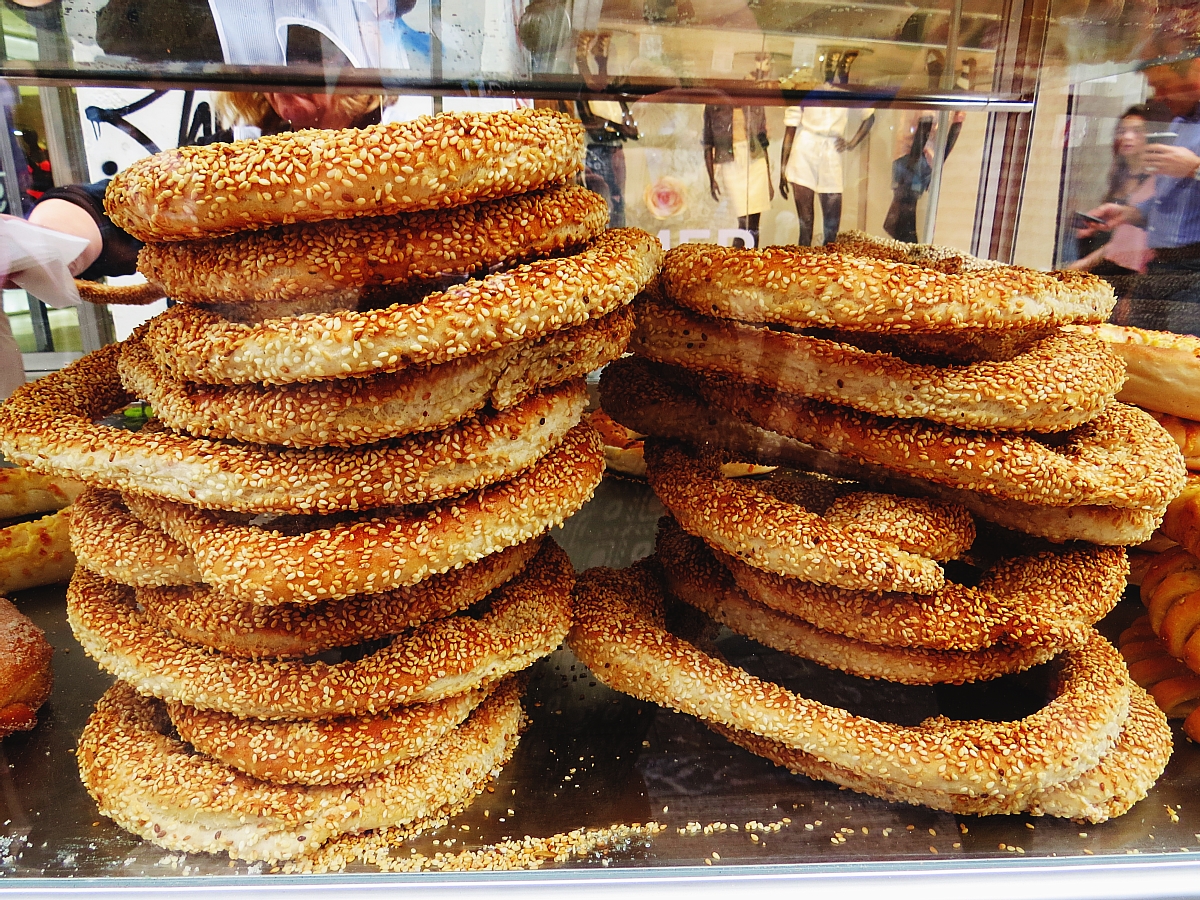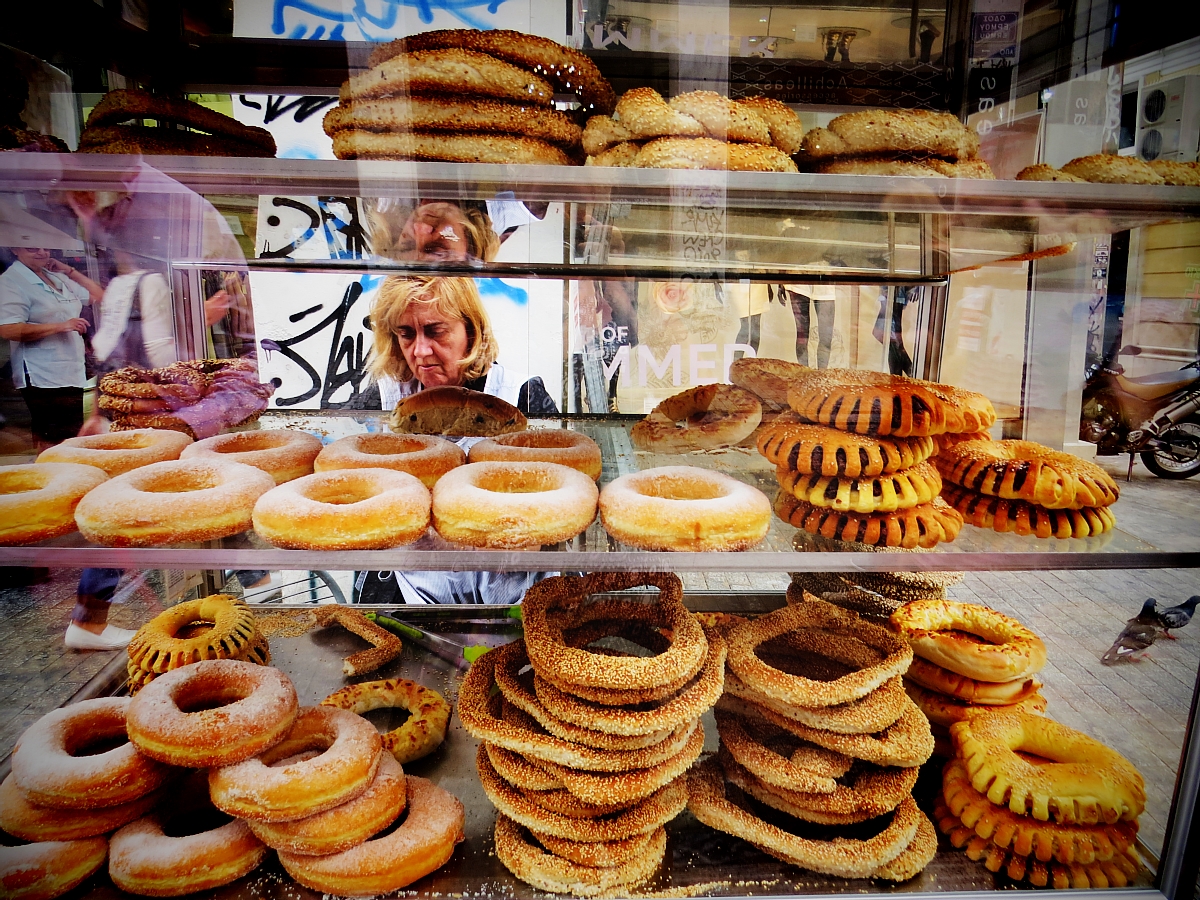 One of the things I loved about this Athens food tour with Greeking.me is that we alternated between sweet and savory tastes during the tour. So, our next stop was for the delicious loukoumades, also known as Greek doughnuts, at the famous Krinos.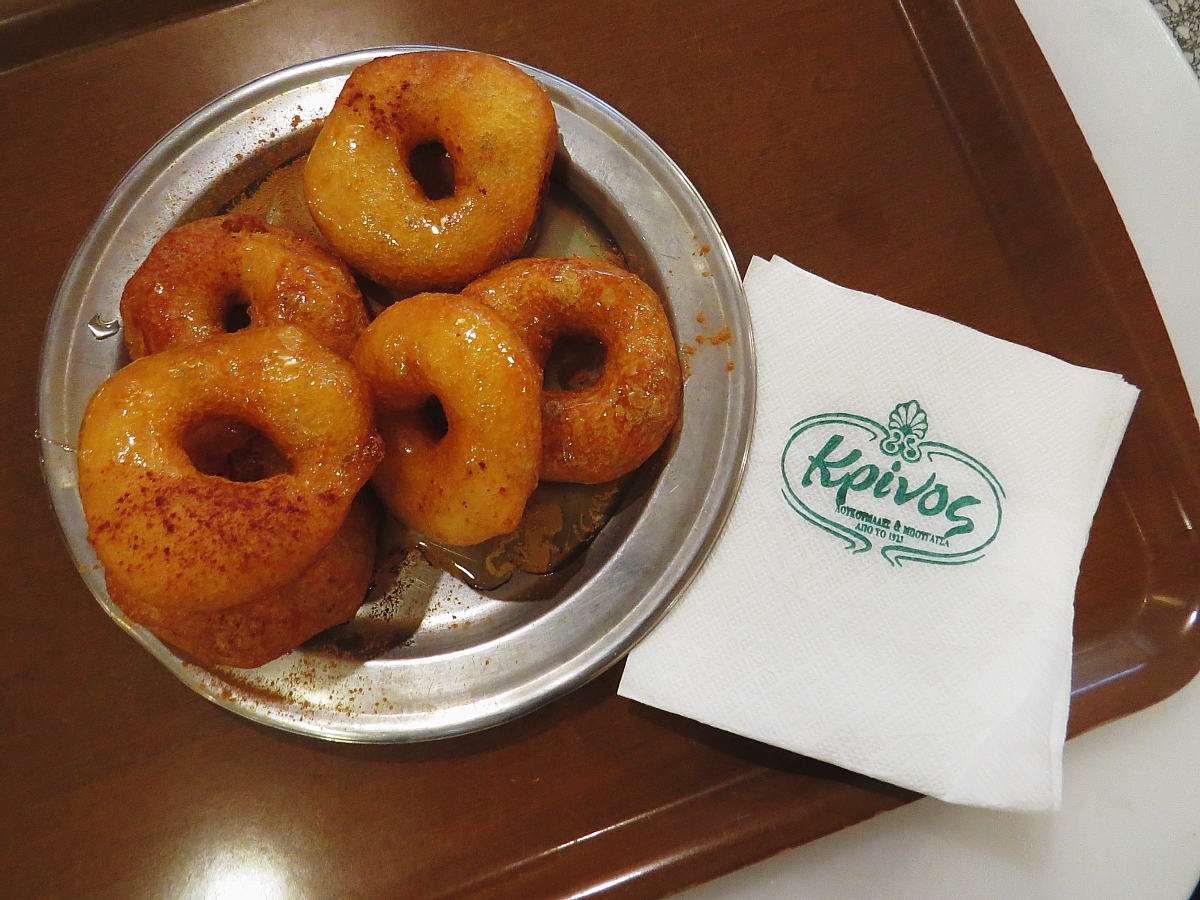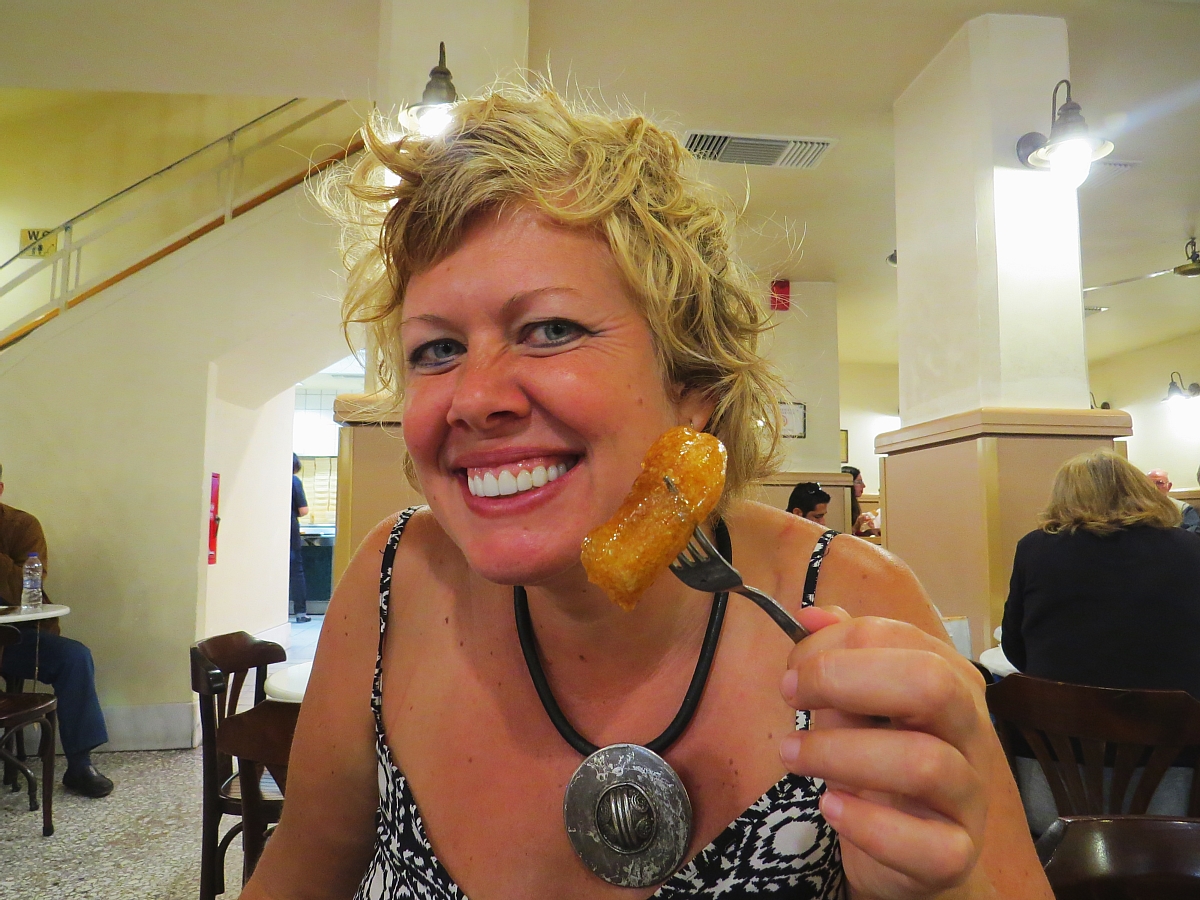 Then came my favorite stop of all. We went to Coffee Blend, where they roasted Greek coffee. I am a bit of a coffee fanatic, and I especially liked the medium roast they did. This was a really fun stop with fun employees that shared lots of information about the coffee with me, and who also had a great sense of humor.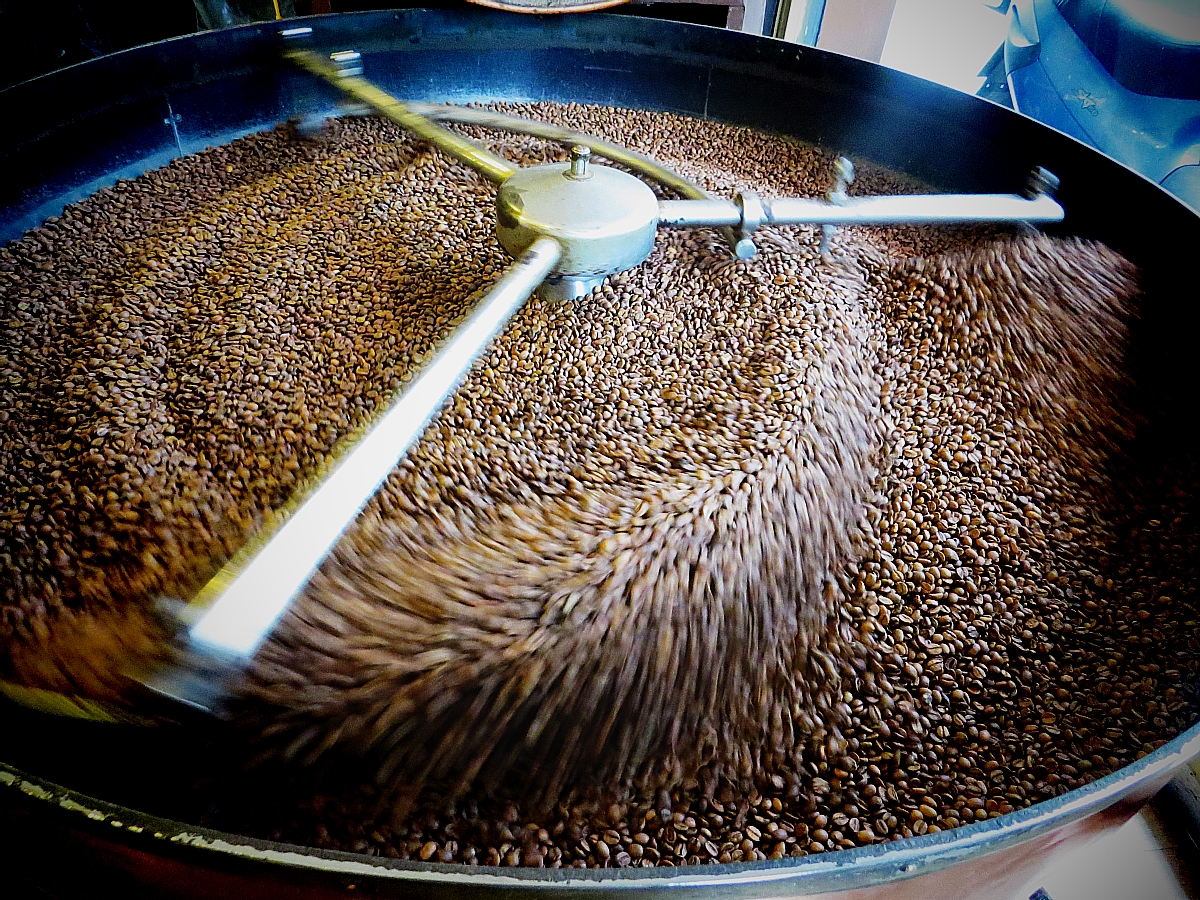 Next, it was time to walk through the Central Market, which is another one of my favorite things to do in Athens. The meat area with the butchers is always lively, lots of activity going on, and you can't pass through unnoticed!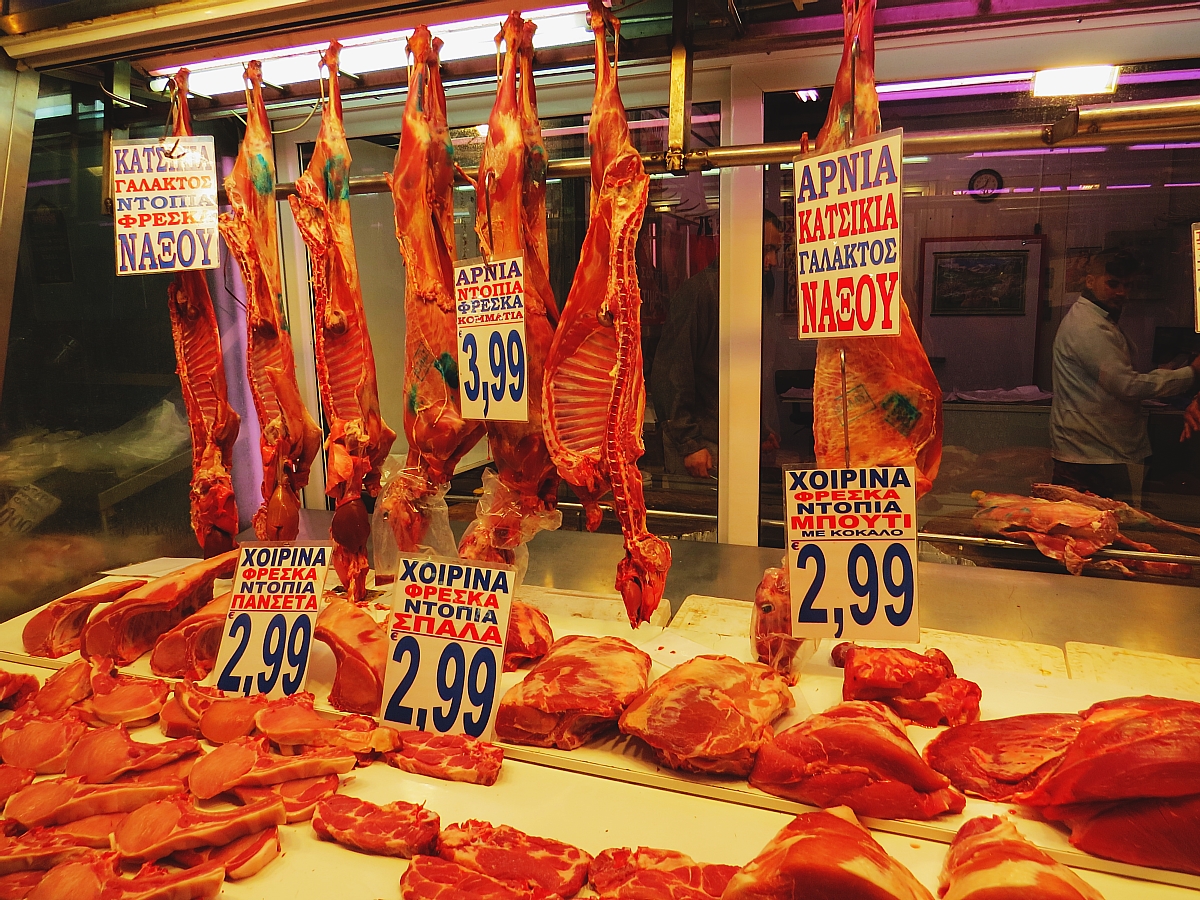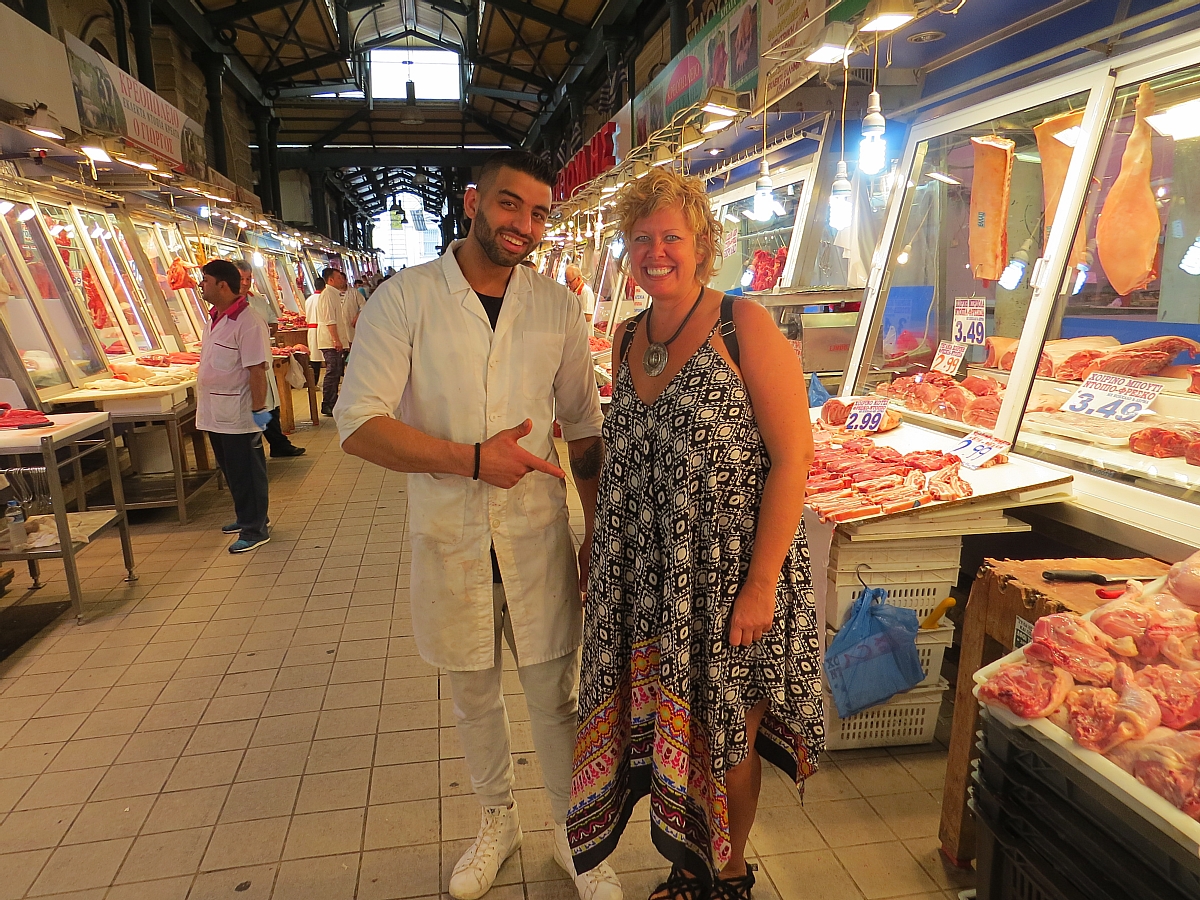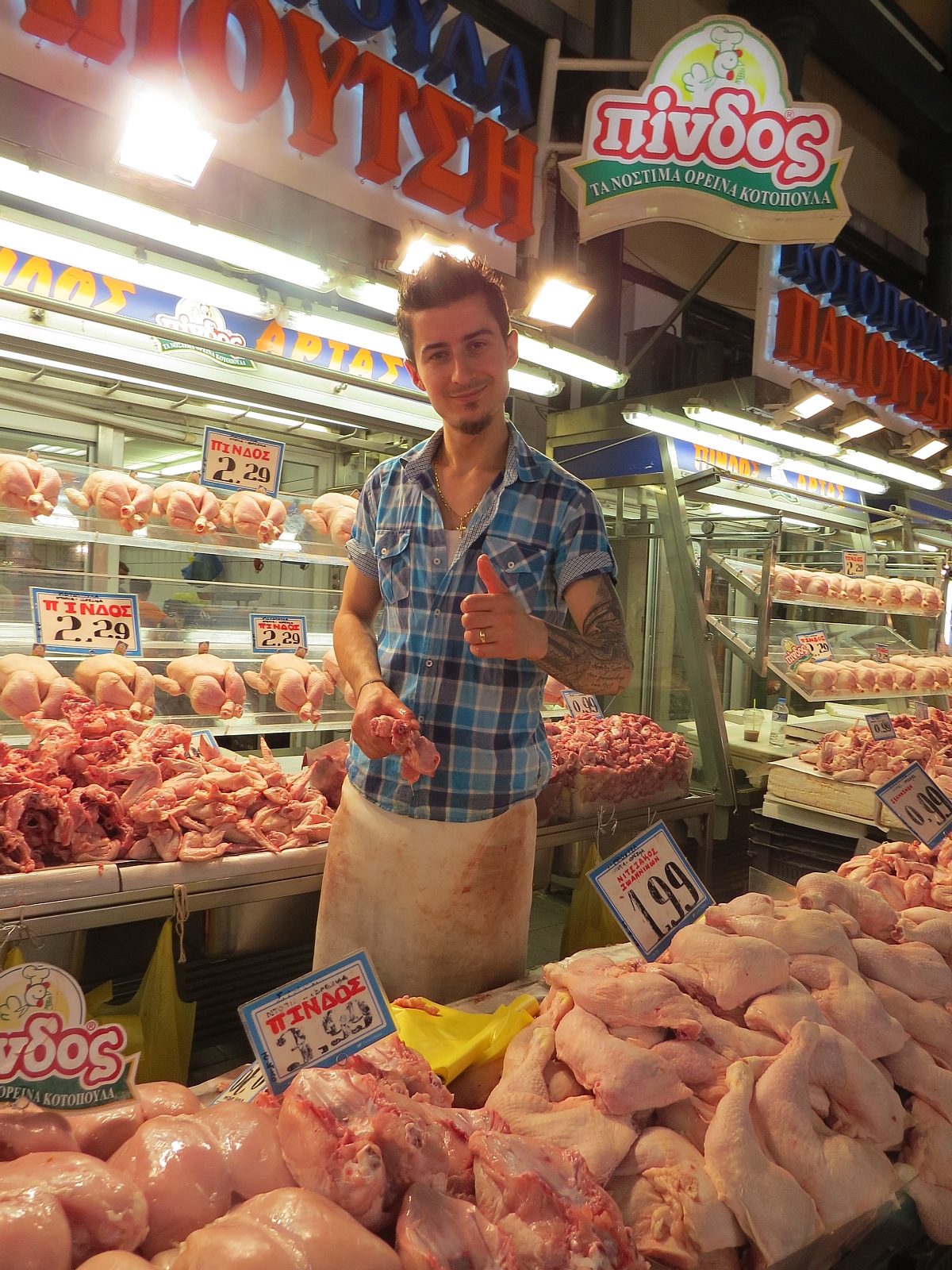 We then had the lemon goat soup at Epirus Tavern, inside the meat market, which is known for their soups and traditional Greek food. The soup was like nothing I've ever had, and was very heavy on both lemon and dill. This particular soup was more like a stew, very thick, but they also had regular soups that I think would be comforting on a cold day.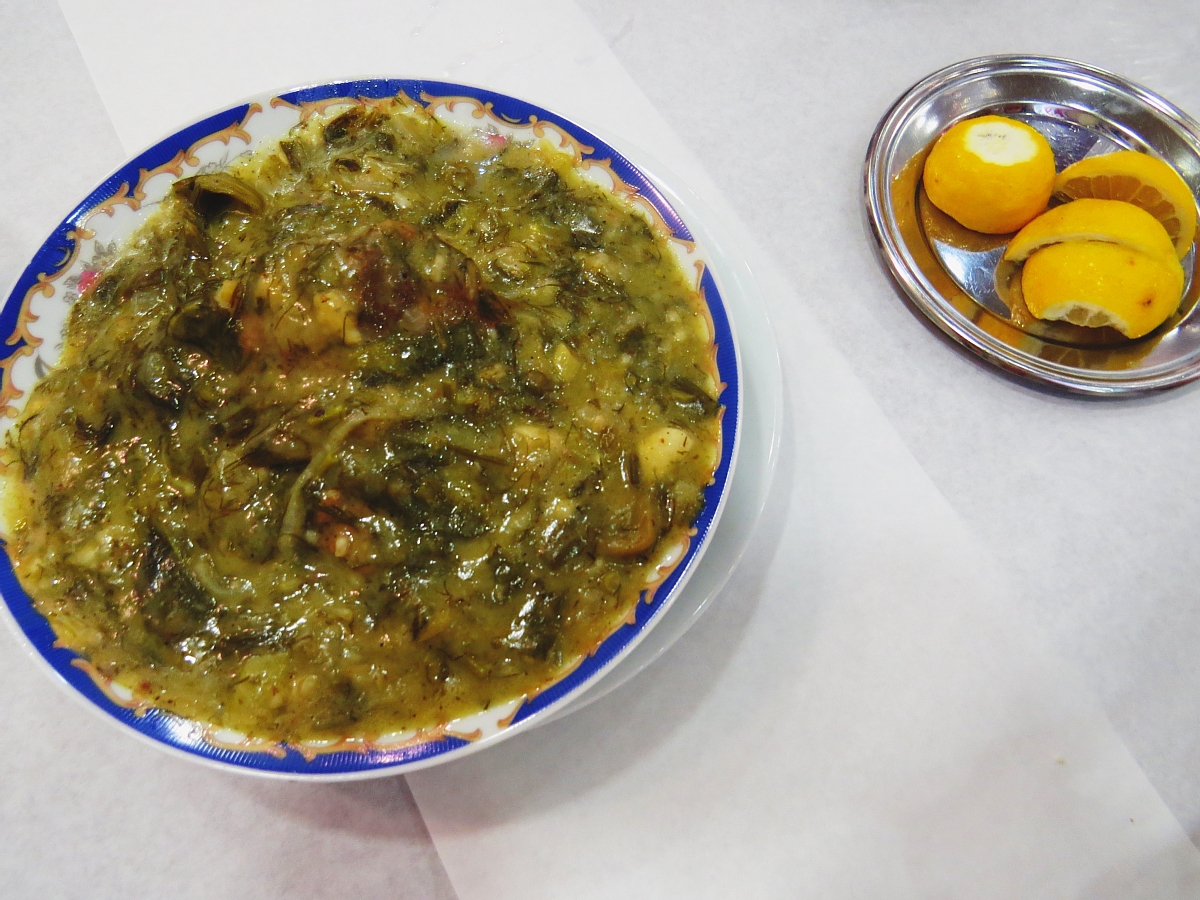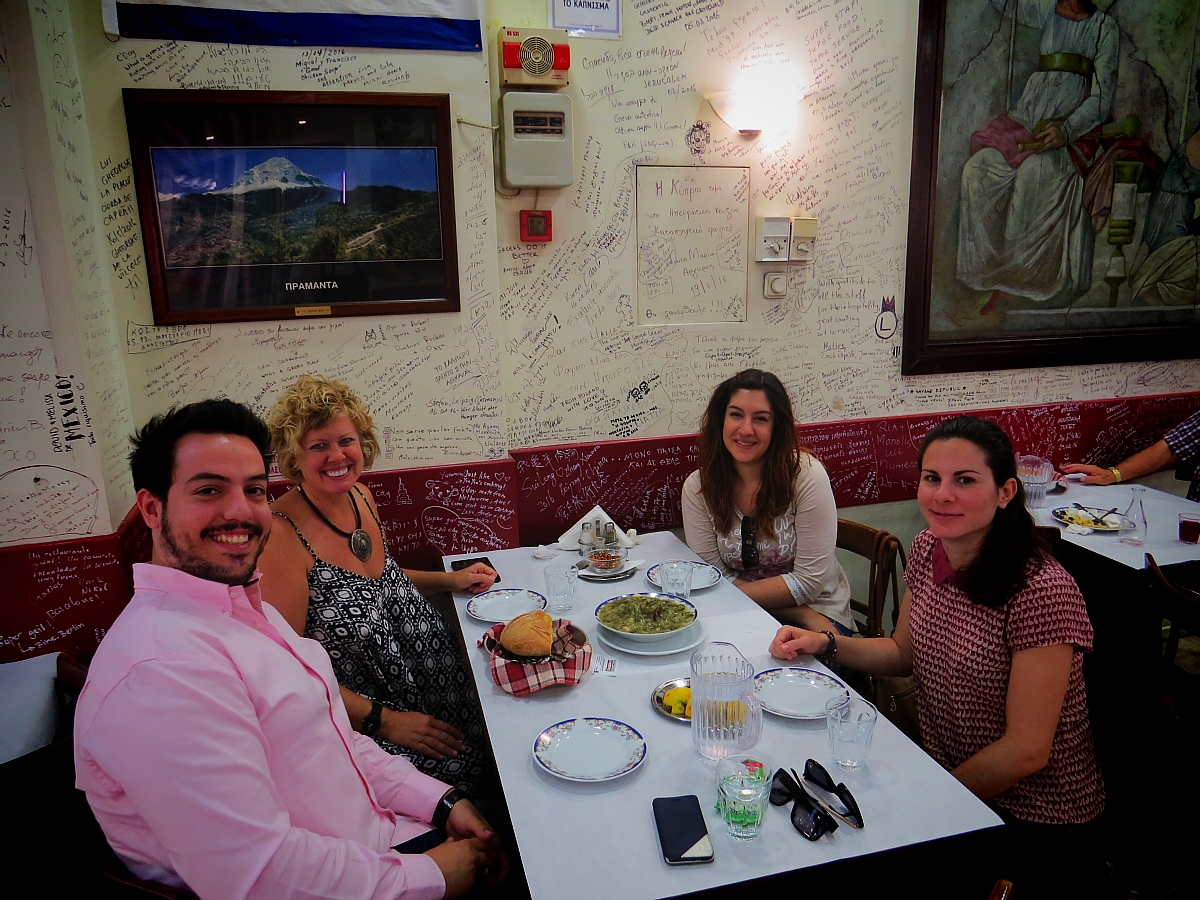 I must take a moment here and say the absolute best part of this Athens food tour were my guides, Nikos, Anna, and Christine. They shared a wealth of knowledge on not only the foods we tried, but also a little history of Athens and Greek food. Not only that, they were friendly and fun to be around. I left that day not just feeling like I had been on a food tour, but that I had made new friends.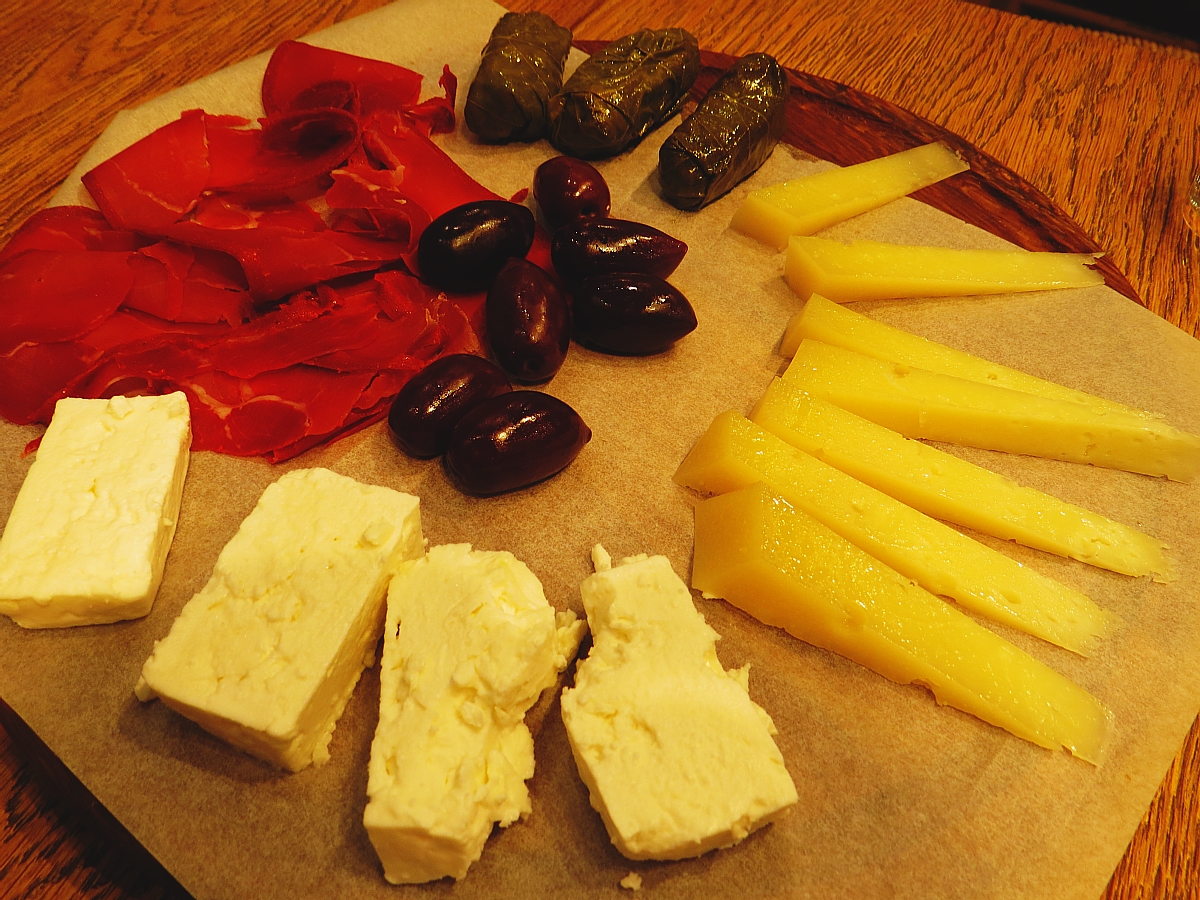 The next stop was at Miran. Did I mention you should go hungry?  I didn't need to eat breakfast or lunch the day I took the food tour. This place is known for their cured meats and sausages. We also got to eat another of my favorites, stuffed grape leaves.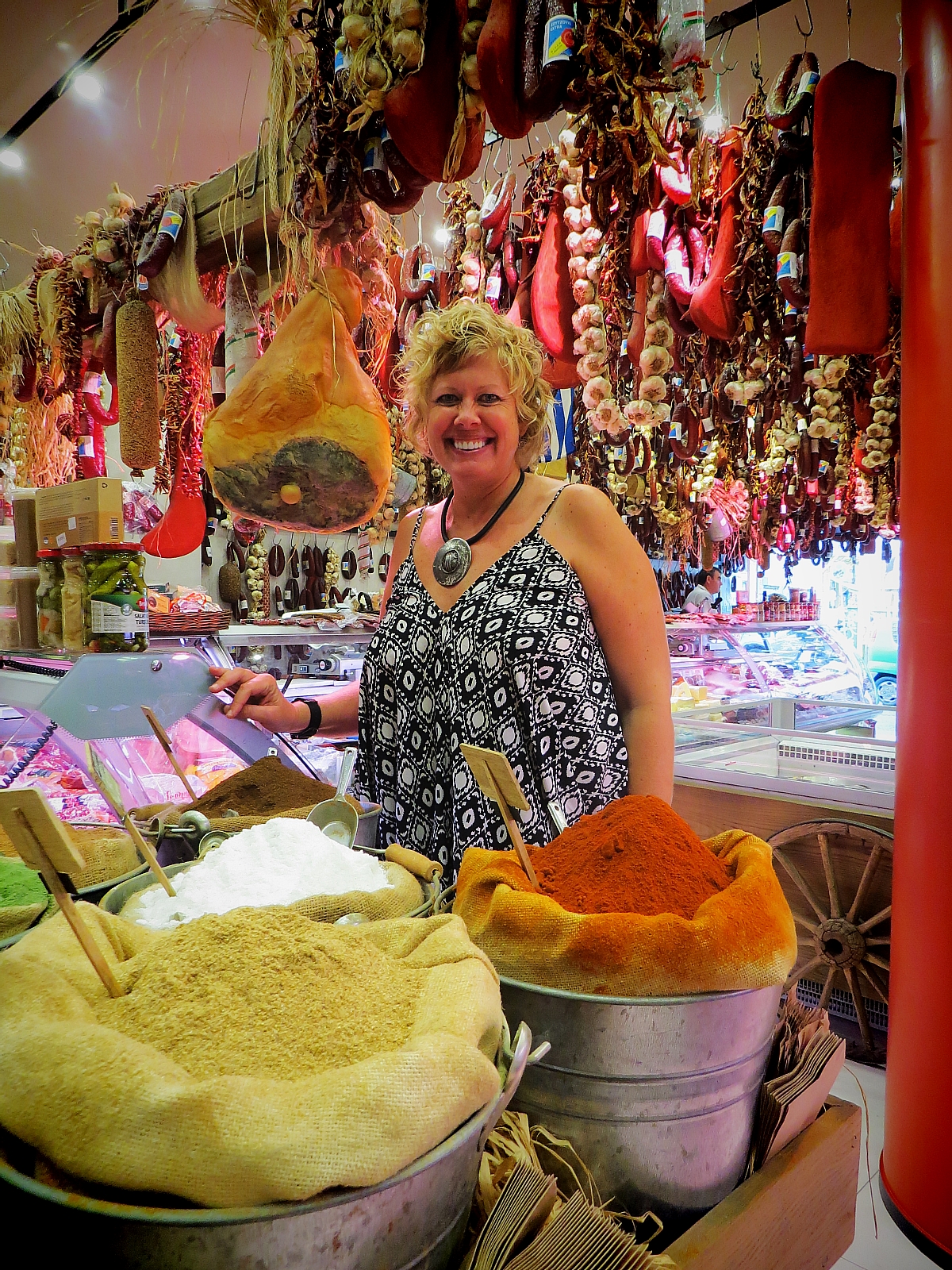 We then wandered and stopped in spice stores, where I gladly snagged some beautiful bottles of essential oils and some gorgeous salt, olive stores, and a wine shop.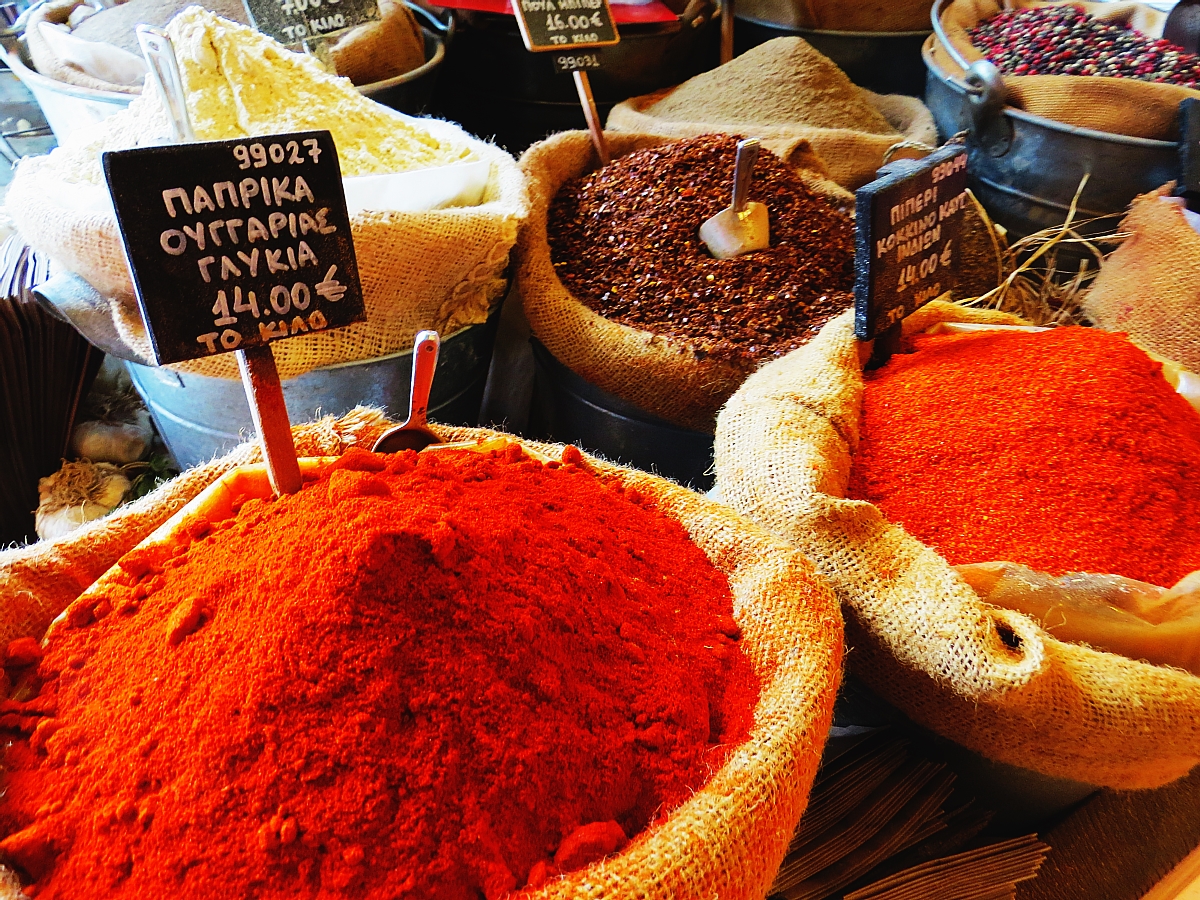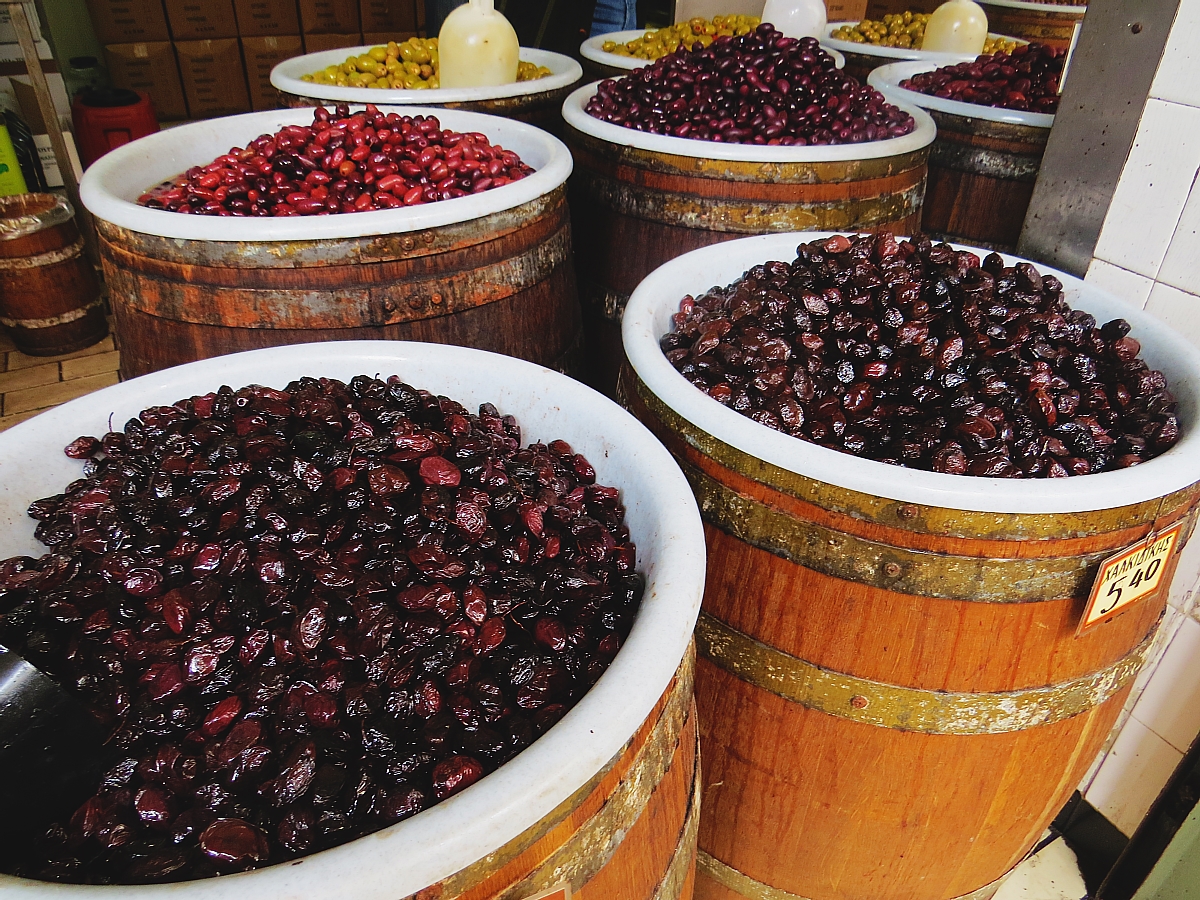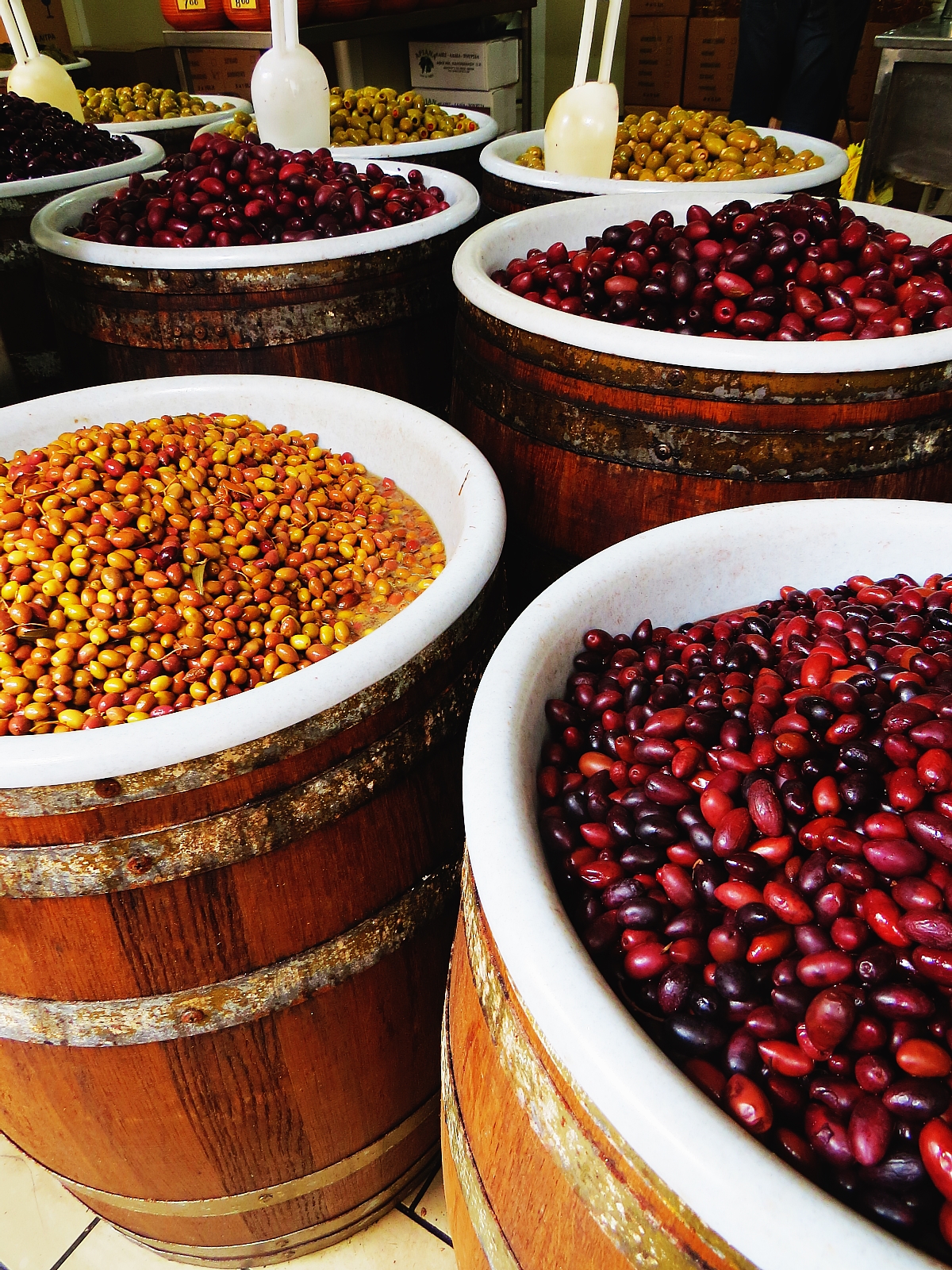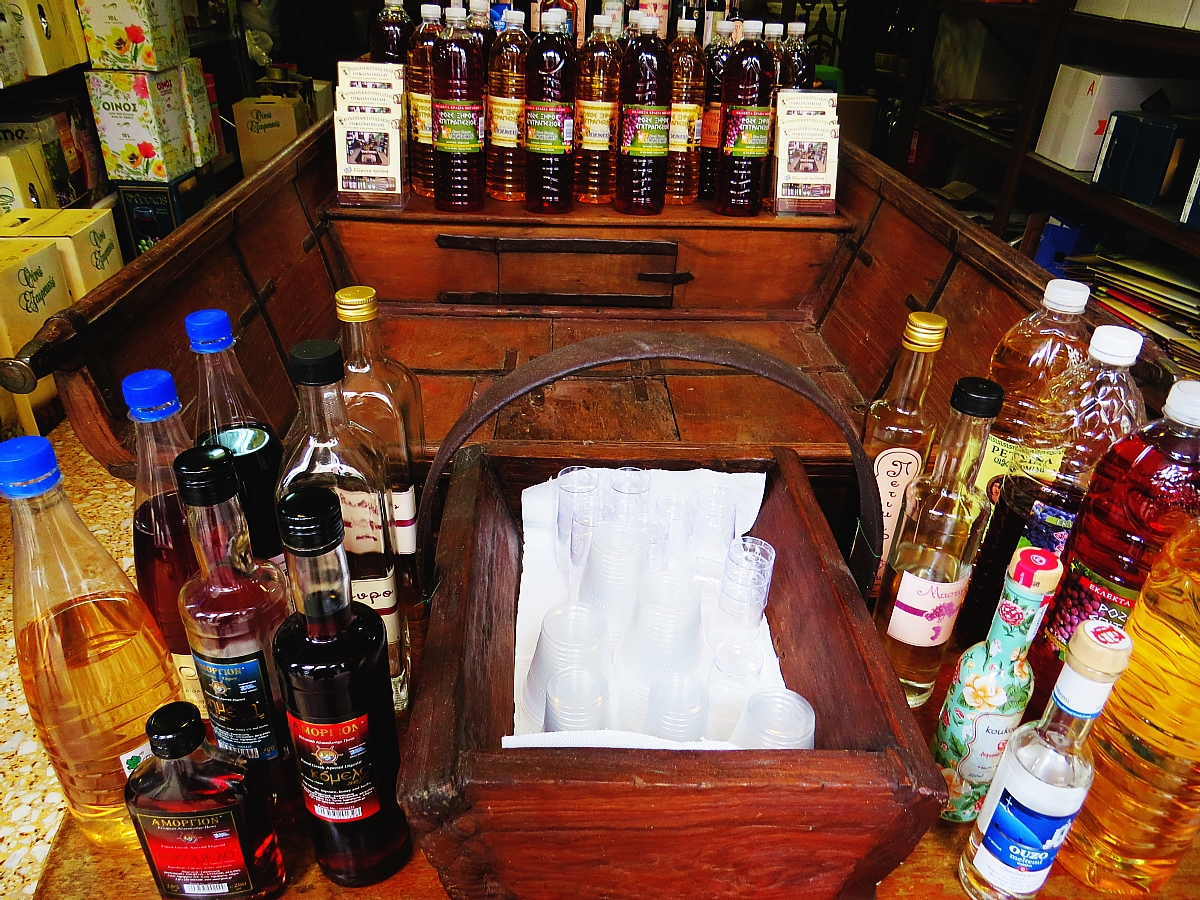 On our way to the next stop we strolled through the produce area of the Central Market, an area I always have enjoyed for its vibrant produce. I think it's the quality of the Greek produce which makes their food so enjoyable, so I loved seeing it in the market where it's sold.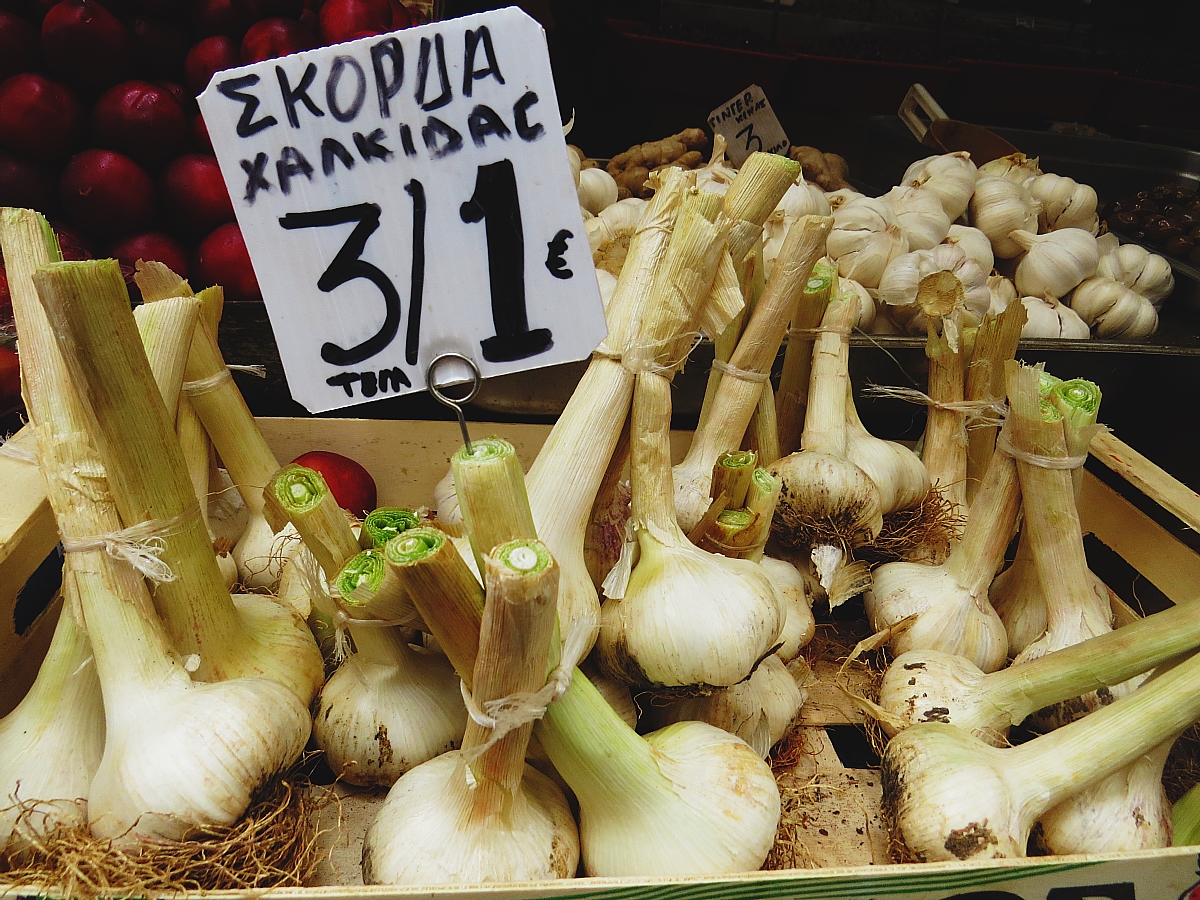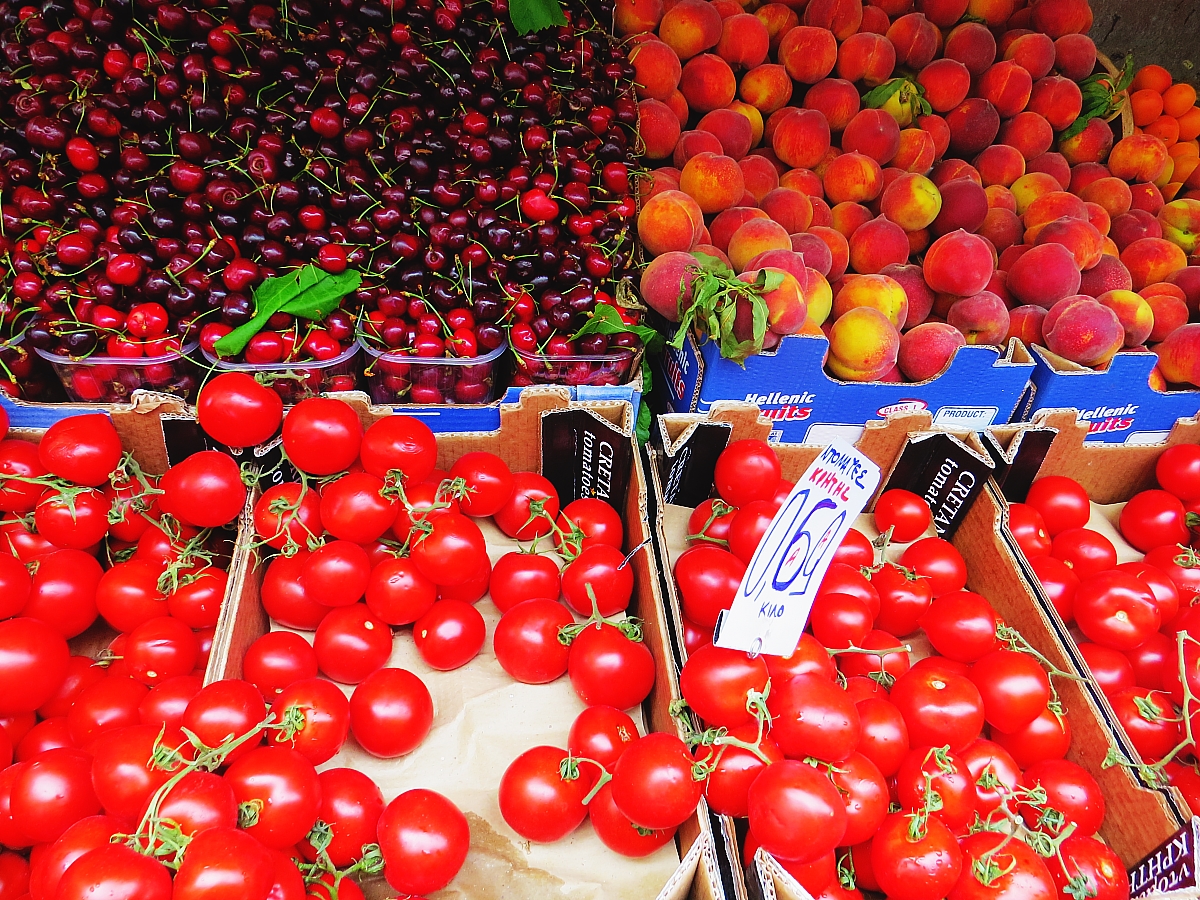 Our last stop was at Cooks of Athens where we tried even more traditional Greek foods that were all delicious. We were supposed to have one last stop for sweet bougatsa, a custard and filo dessert, but I couldn't eat another bite at that point.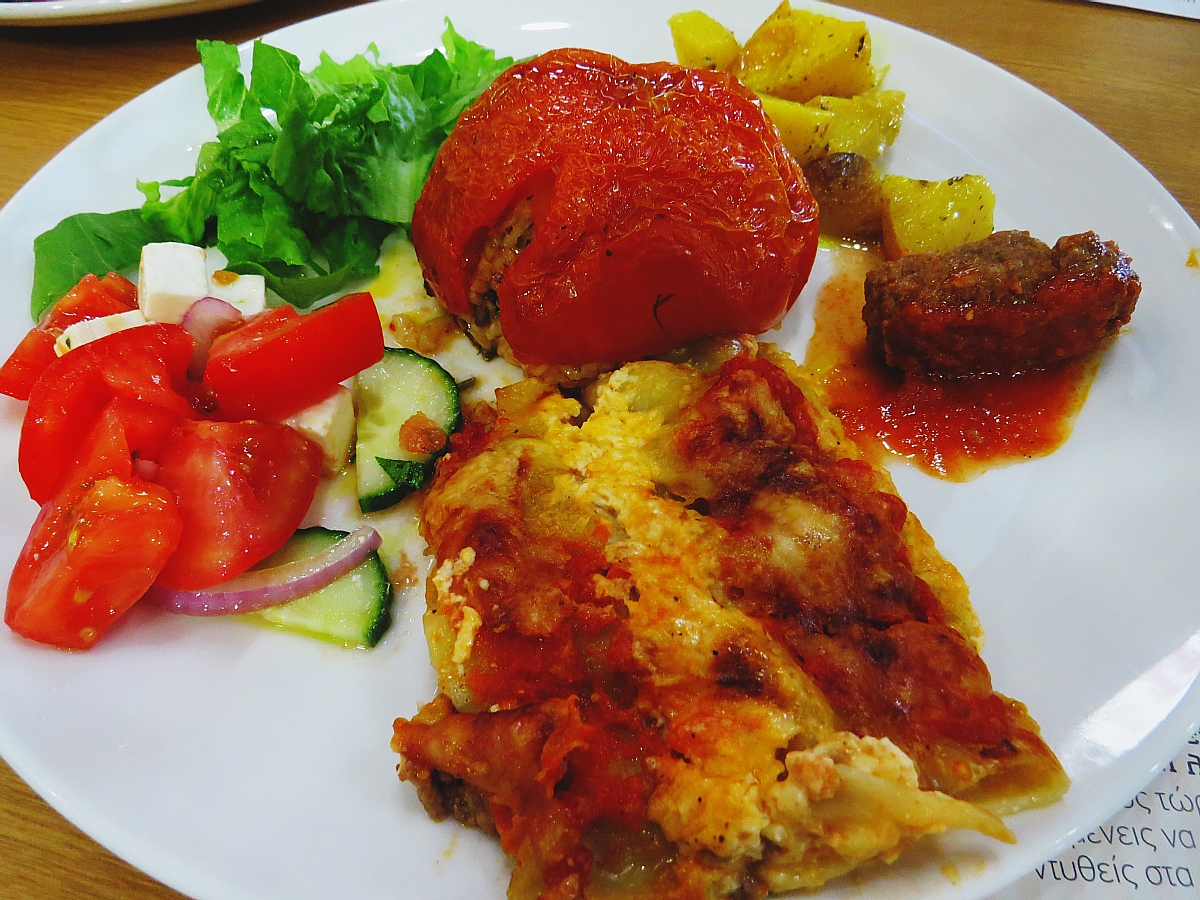 All in all, I really enjoyed this Athens food tour, getting to taste some of the Greek food specialties, learn the history of the food, and more importantly, I enjoyed making new friends. And isn't that what Greek food is made for? For sitting among friends and enjoying food that was made with love.
You can book the Athens For Foodies food tour at https://www.greeking.me/athens-food-tour.
Like this article? Subscribe and never miss a post!