My Crazy Moroccan Food Safari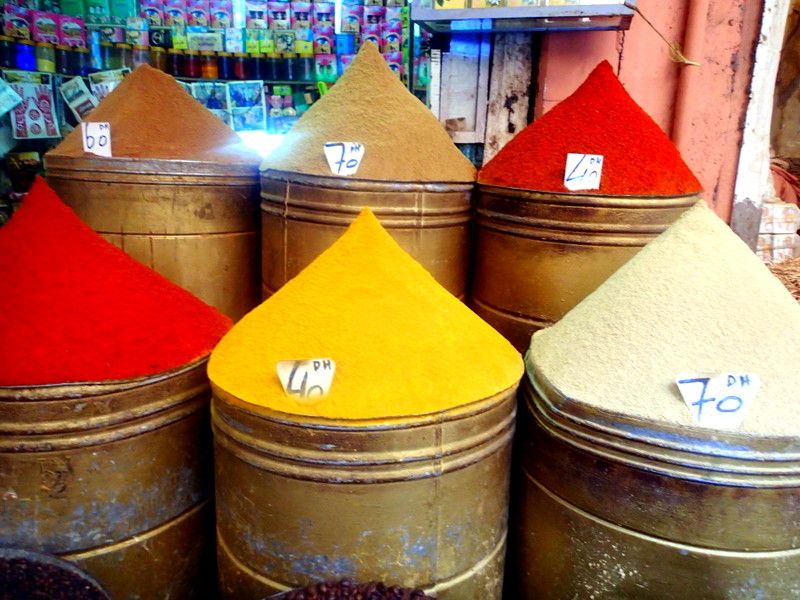 I wander through the medina's chaotic streets, my stomach growling with hunger. Vendors constantly surround me trying to get me to buy rugs, argan oil, and vibrant spices. Old women clutch my clothing asking for money. One man even chases me around the square, trying to shove a snake in my face. I stop for none of it. I take no pictures.
I am on a mission. I am on a mission to find one of the lamb mechoui restaurants that I had read about from Jamie Oliver. Mechoui is a whole lamb that's been cooked in an oven in the ground. This sounded like the perfect hole-in-the-wall (um, ground?) place that I love. But, I am lost and panicked at the thought that I may never find it. (Yes, not being able to find the lamb that's been roasting in the ground all day warrants panic.)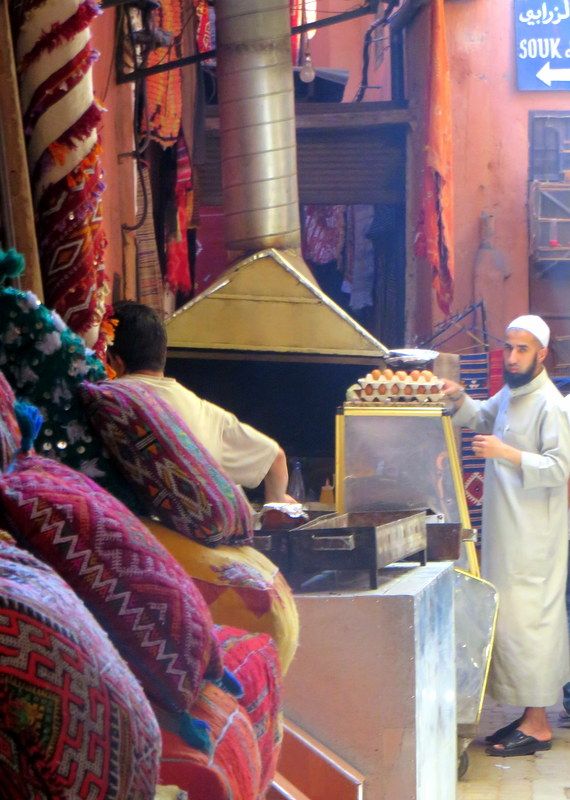 Then, I turn the corner, and I am surrounded by dozens of lamb's heads sitting on top of tagines. I know this has to be the place. A man at the counter tears lamb apart with his bare hands. I warily look around, as my stomach grumbles louder. There are no other tourists. This is a good sign. "One please." I say, boldly stepping up to the counter.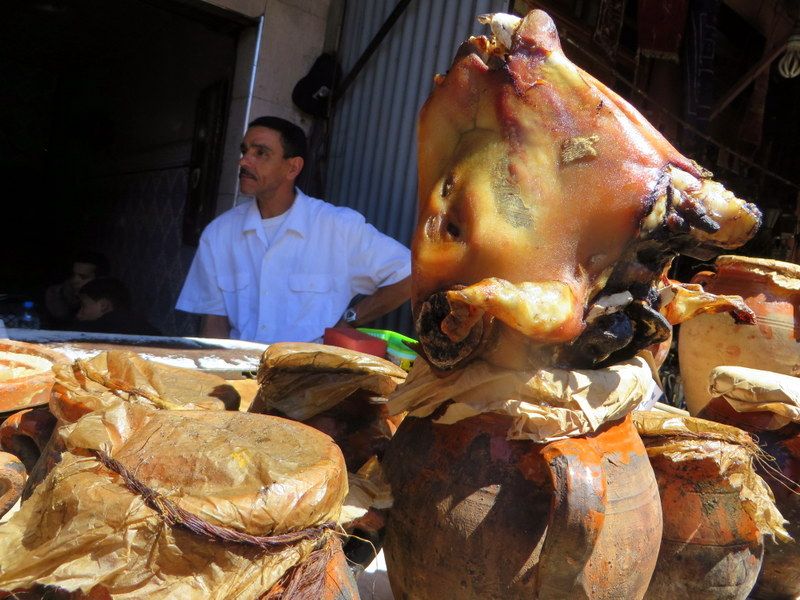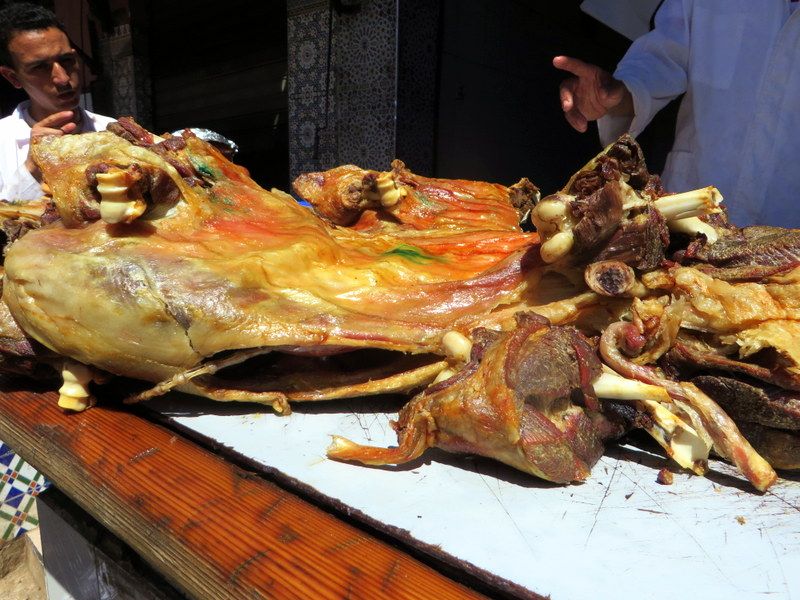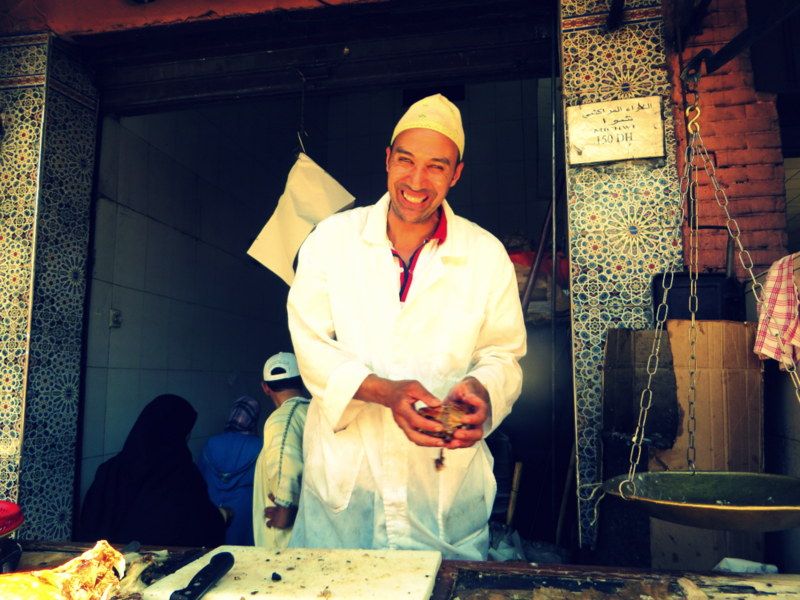 I am taken to another counter where another man tears even more lamb apart, and he asks me how much I want. I settle for 250 grams (even though I could eat twice that amount), and the man weighs the meat, heaps a piece of bread on top, and there is lunch. I have no silverware, no napkins (a piece of paper-the typical "napkin" in Morocco is brought at the end of my meal for me to use as a napkin), and so I sprinkle the cumin-salt mixture on top and dig in.  Grease from the tender lamb drips down my chin as I grin the grin of a hungry woman finally getting fed. The sweet mint tea that is brought is the perfect accompaniment.  I eat every mouth-watering bite, and can't believe how delicious it is. I give all the men watching me a thumbs up, as I listen to the tunes coming in on the old radio. They give me a thumbs up back and proceed to give me a tour of the oven.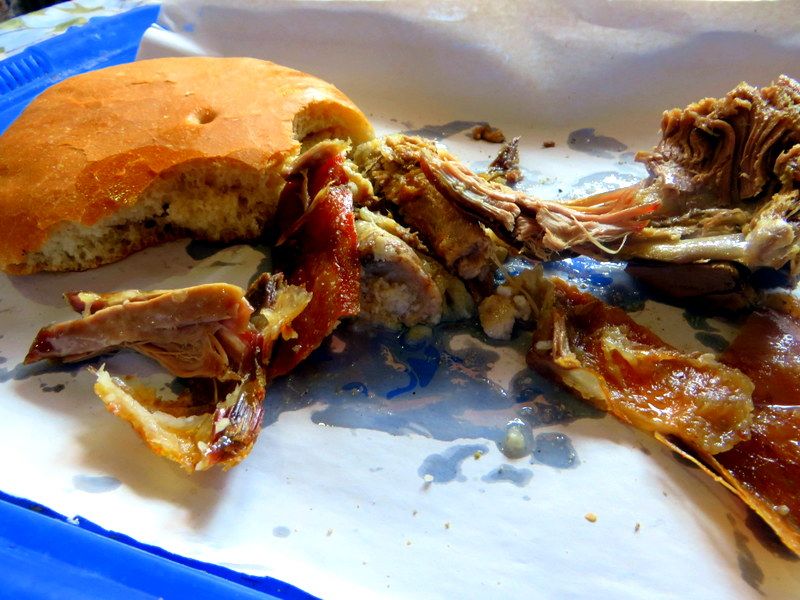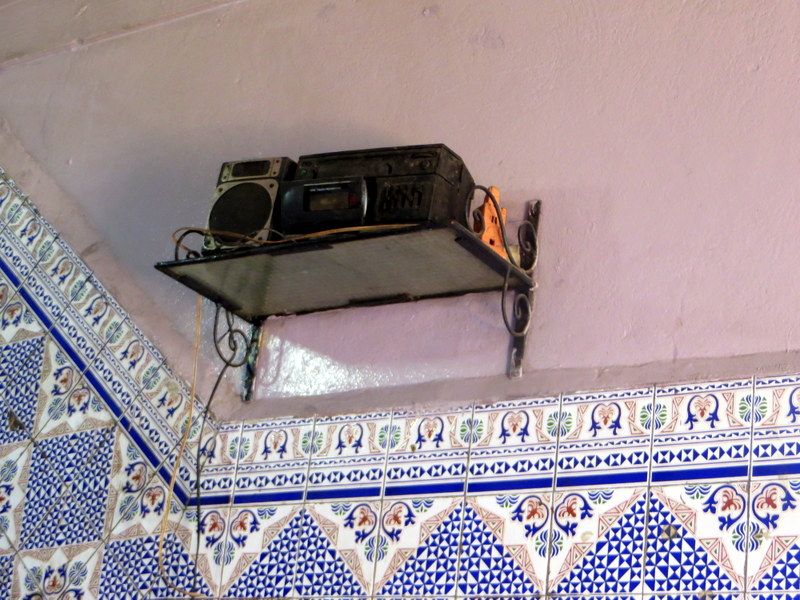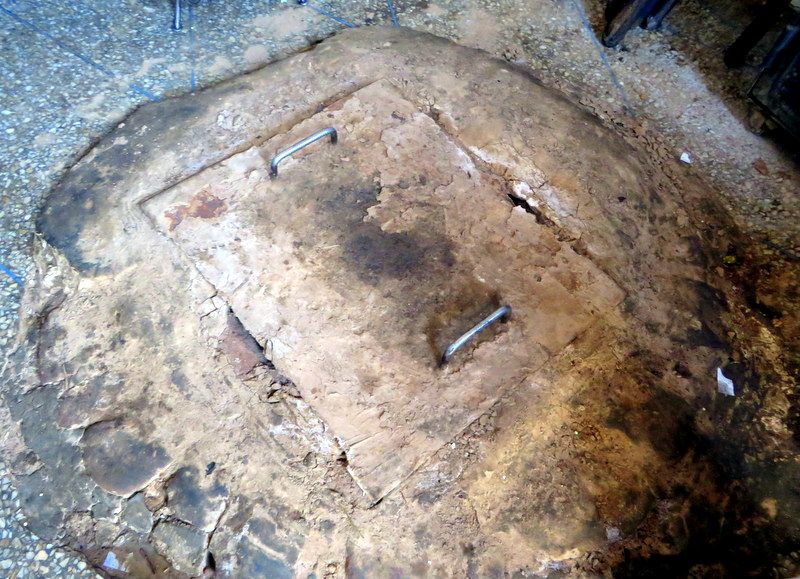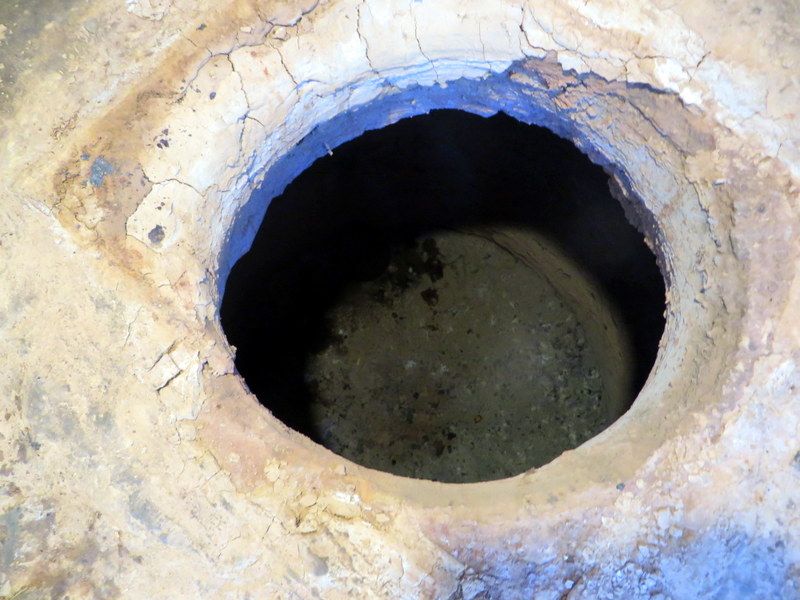 Several nights later, I pass by here again as a part of the Experience Marrakech: Food and Market Tour of Djemaa El Fna Including Traditional Dinner (a tour that was sponsored by Viator). The men all remember me and greet me with smiles and pose again for pictures.
I am hoping on this tour, that I will get a taste of some street food, but I am surprised to learn from Mustapha, my guide, that street food is considered the lowest form of food that you can eat in Morocco.  He tells me that food is supposed to be enjoyed communally in his culture. If a local is eating street food, it usually means he has been drinking ( a taboo in Muslim society) or that he has no family (another taboo). Also, many of the ingredients are inferior to the quality that is served at restaurants and the standard of hygiene is not good in Morocco, either. In fact, the locals look so far down on street food, that if you want to curse someone, you tell them, "Go eat street food." That is the equivalent of telling them to, "Go to hell."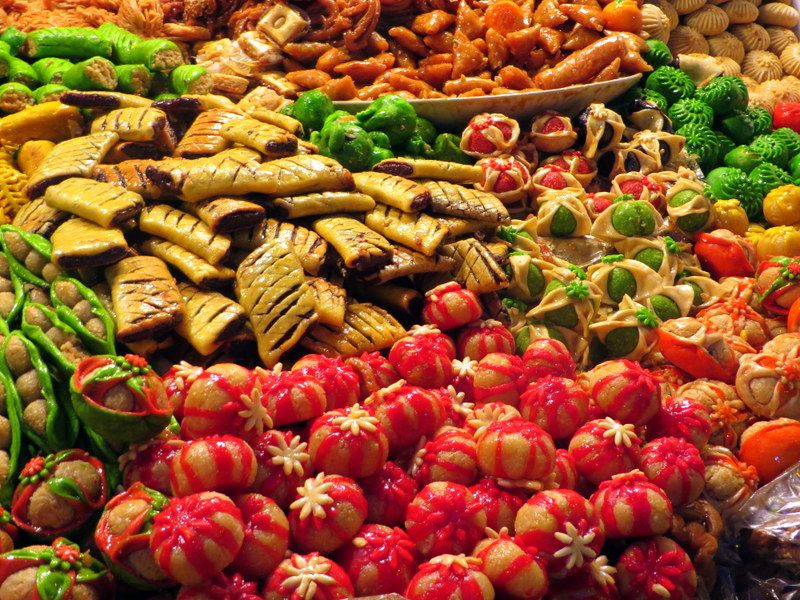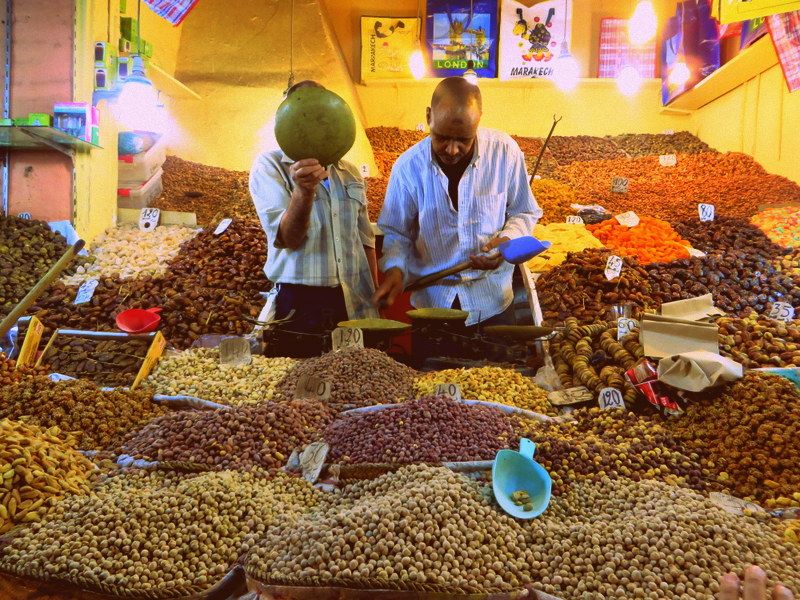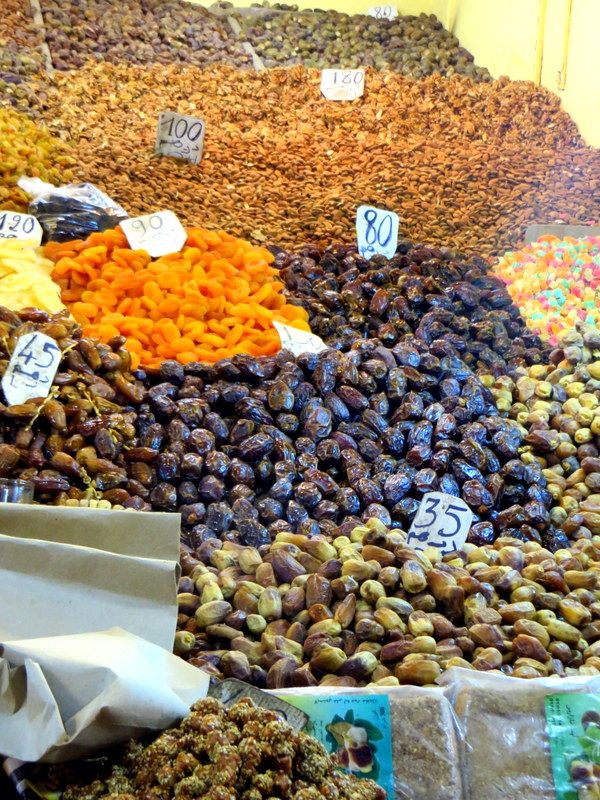 I am disappointed that we won't be eating street food, as its sizzling smell are making me hungry, but I am given a great tour of the medina and a great history of Moroccan food. I learn that cooking is the most important thing for a Moroccan woman to learn, and her cooking skills determine her entire success in life. (Success meaning to them, whom they marry).
Shortly after getting married, the wife must prepare a special meal for the in-laws. They will present her with special cookies if they think she is a good cook. If they don't present her with the cookies, it means that tough times are ahead, and she must spend many hours in the kitchen preparing to be a better cook.
I also learn that a man can determine his wife's mood just through her cooking. I am shown the many spices that make up Moroccan cooking, and other essential staples such as olives, dried fruits, and nuts. The colors are vibrant,and the fragrance of the spices fills the entire medina with their smell.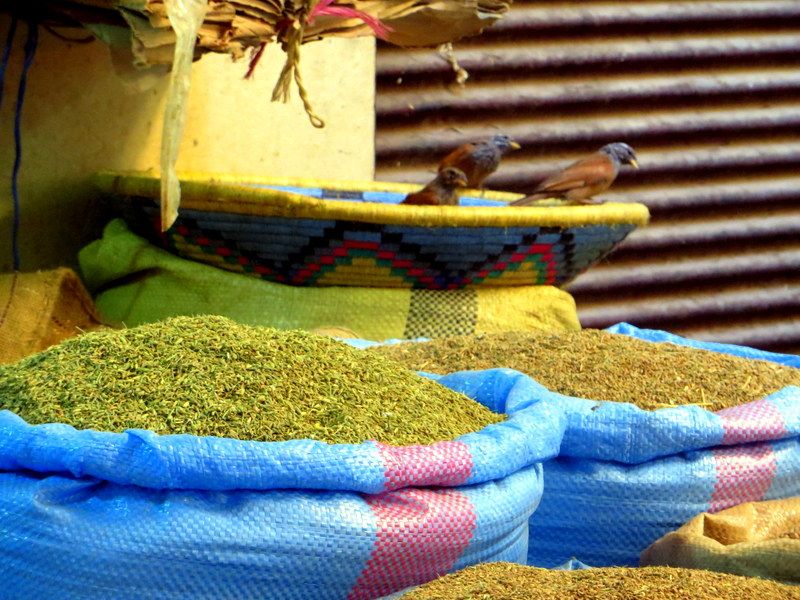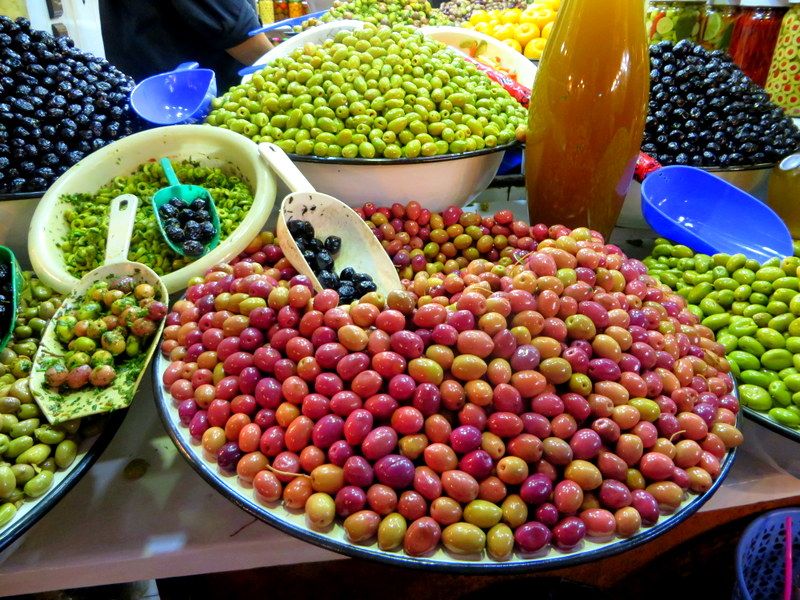 I also visit the local bread oven. The community brings their bread to a local bread oven, so they don't have to heat their own homes with their ovens. They also like the smoky taste the community oven gives to their bread, as olive wood is used for the fires of the scalding hot oven. Of course, I am immediately put to work when I visit!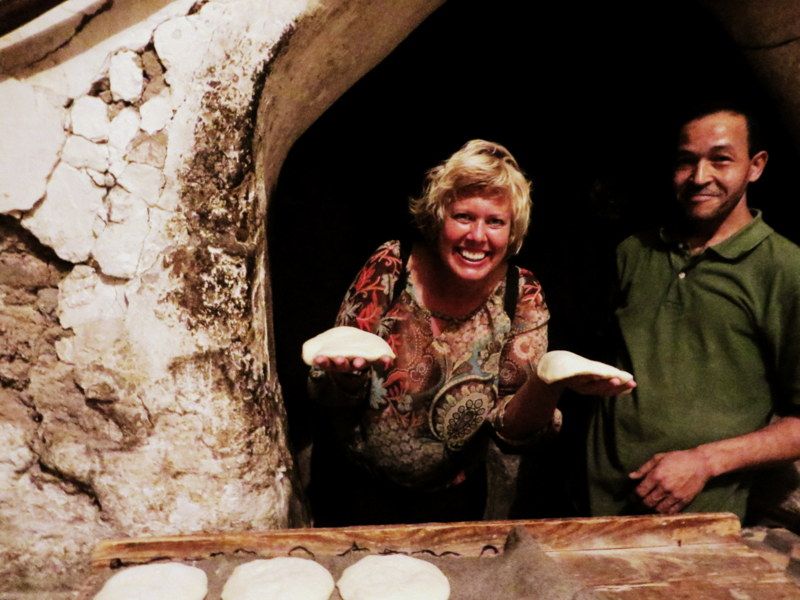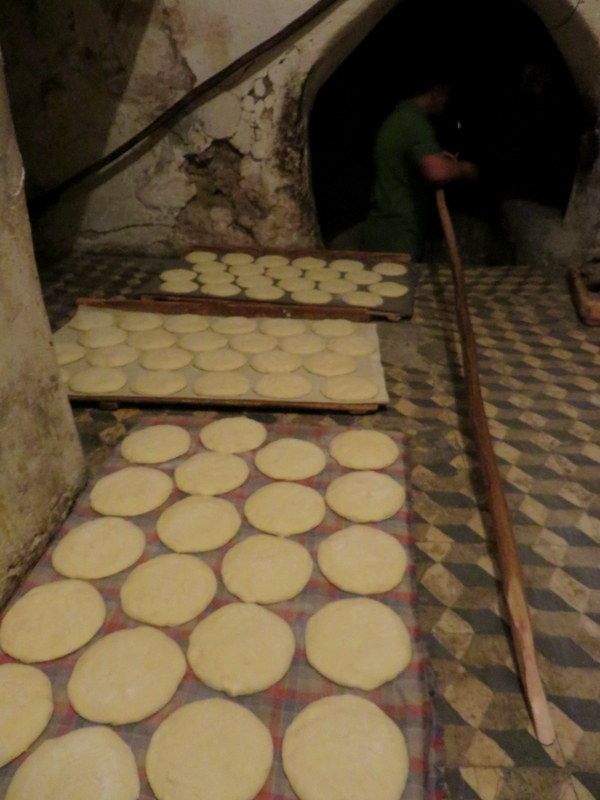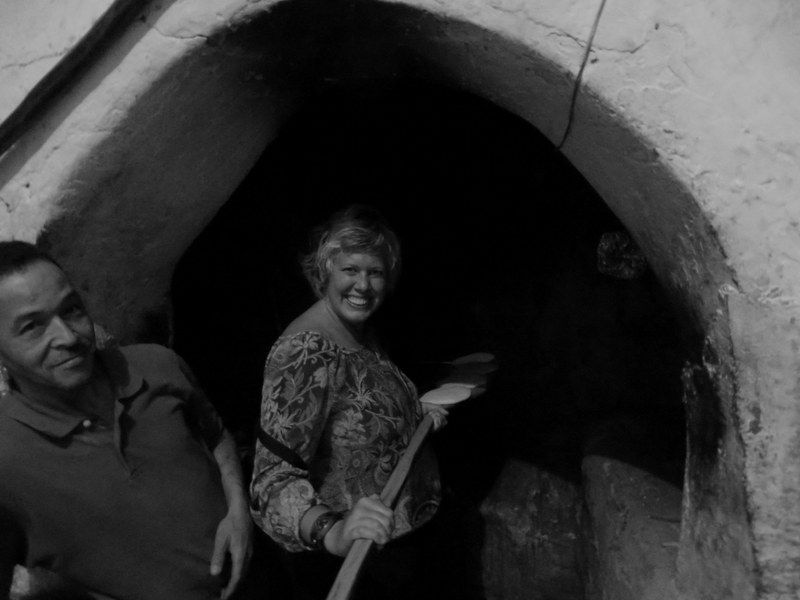 I also enjoy the traditional harira soup which is served during Ramadan as the first meal to break the fast. It is nurturing and flavorful.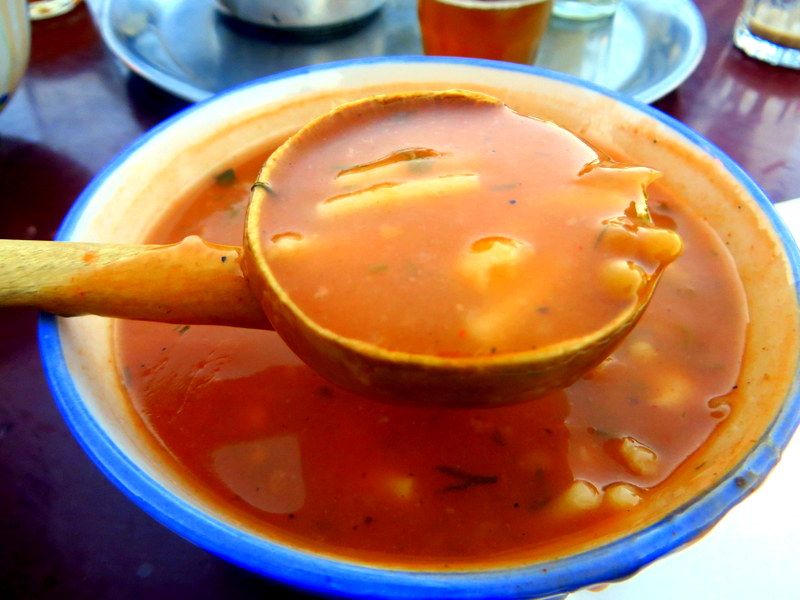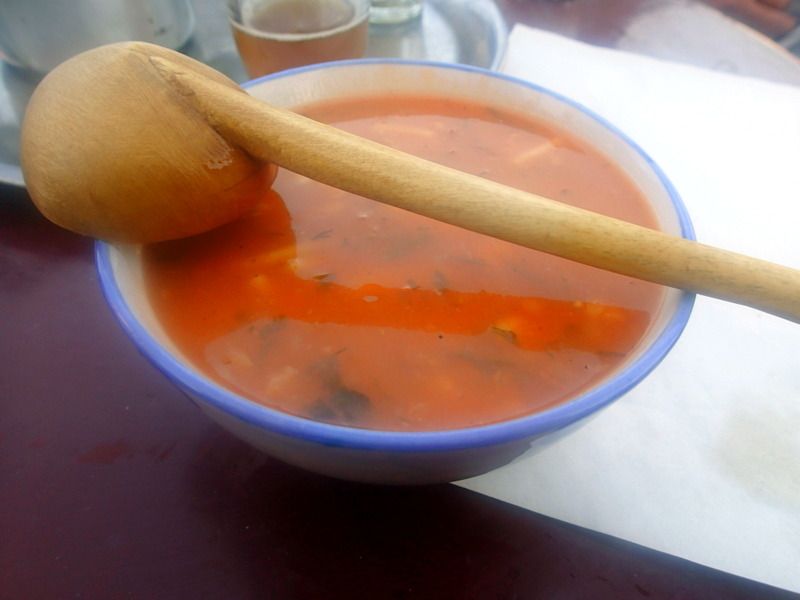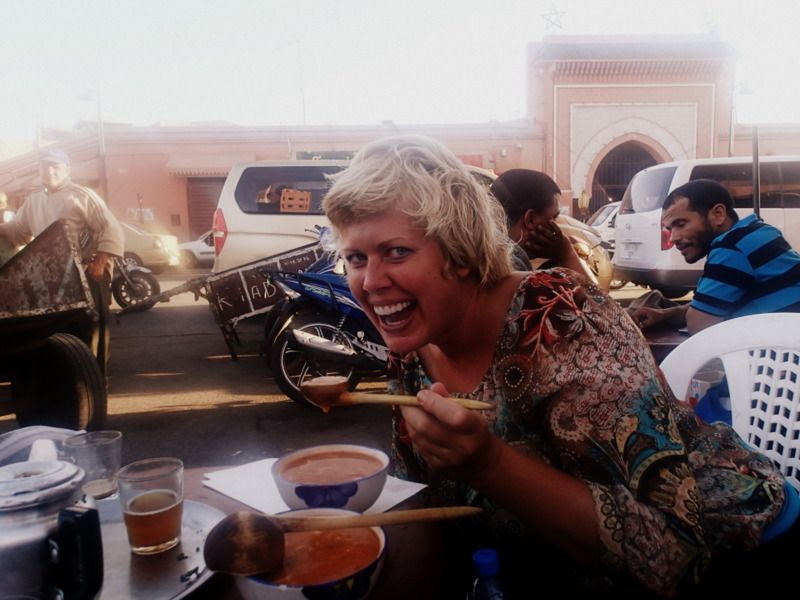 I eat piping hot Moroccan doughnuts served with Moroccan mint tea that is so sweet it makes my teeth hurt.  I am the only woman at this local tea shop that is usually just frequented by men.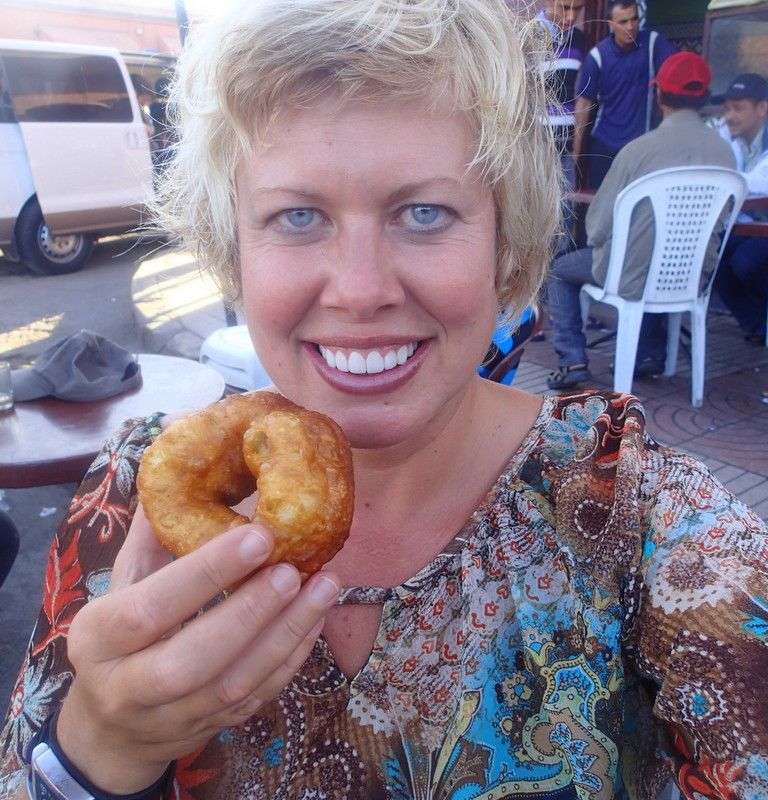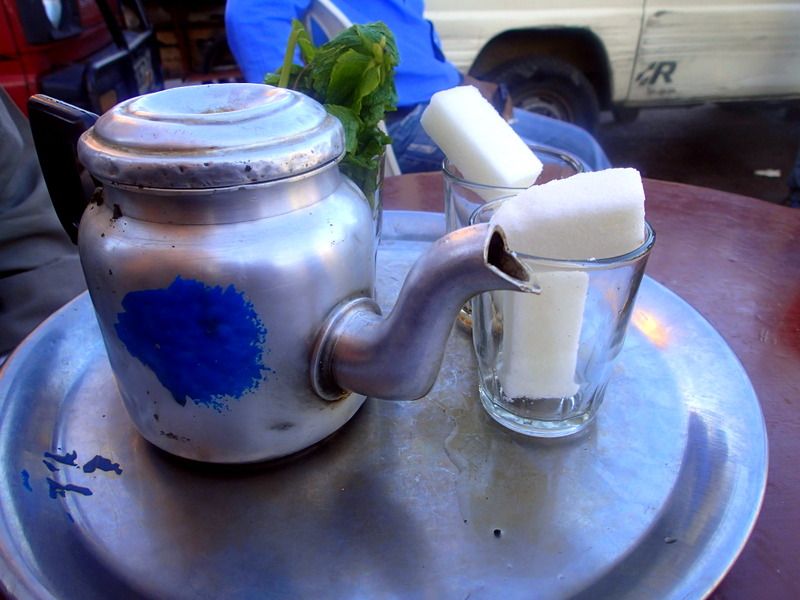 For dinner, I have a very special dish. I have beef that's been slow-cooked in a clay pot for 12 hours with preserved lemons and olives. It is tender and moist. I think of all the work that the women go through just to prepare a meal. I pondered how their entire lives revolve around the food that will be served that day. While I love food and cooking, I can't imagine living in a world where my success hinges on my ability to cook, and my entire social life revolves around preparing a meal. I said a prayer of gratitude for the freedom that I had.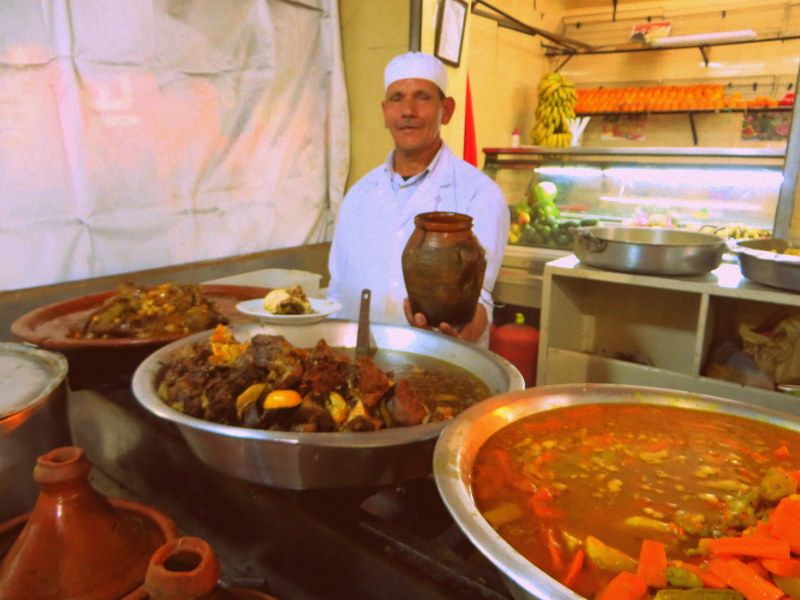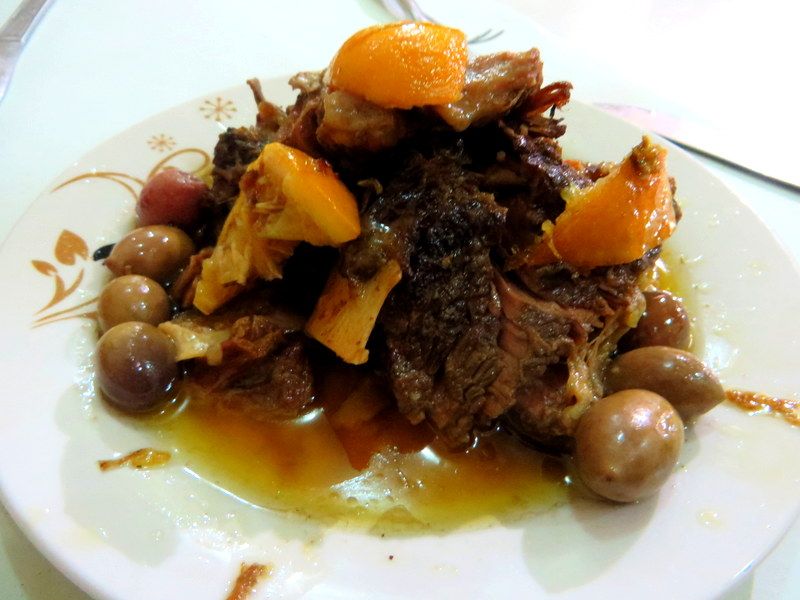 I spend the rest of my time in Morocco, sampling the other tradional Moroccan foods. The tagines, the couscous, the chicken pastilla pie, with its layers of chicken, almonds, phyllo dough, and cinnamon and sugar.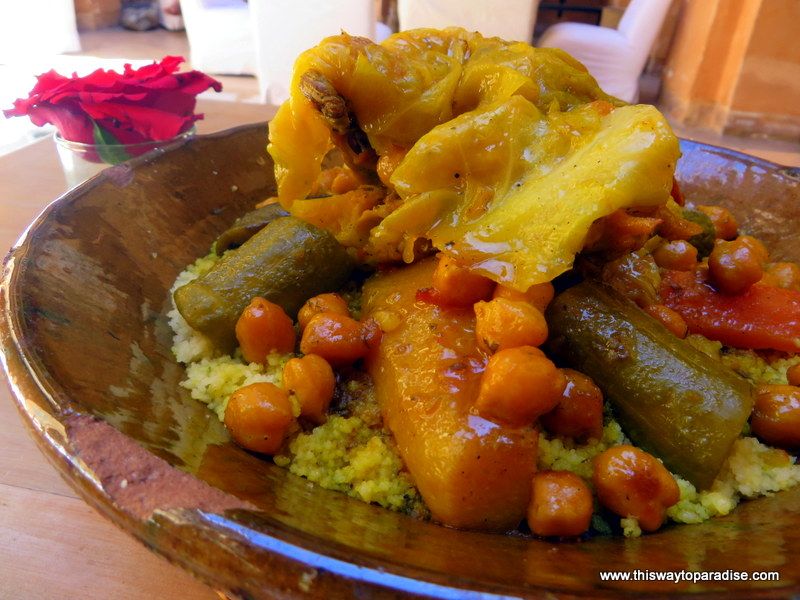 But, there is one thing that is still tempting me, one craving that I cannot deny. I cannot leave Morocco without tasting its illicit street food for myself.  I feel like a kid again stealing cookies out of the cookie jar, as I order the kofta (minced beef) kebabs, as they still sizzle on the grill. I don't care who feels sorry for me that I am eating alone, or who may think that the reason I am ordering them is because I have been drinking.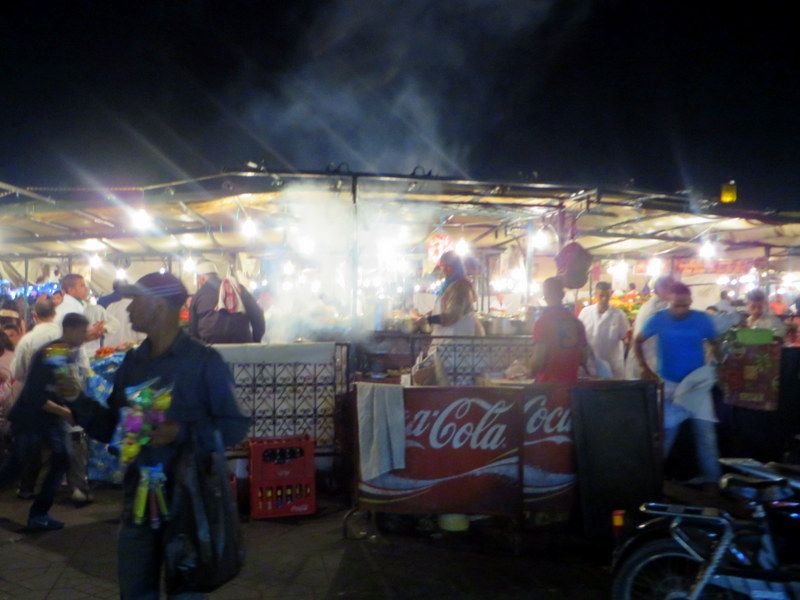 They are amazing. And, as I stuff the last harissa (spicy chile sauce) coated kofta in my mouth, I can't help but wonder if street food will ever catch on in Morocco?
Somehow, I doubt it. Not with a culture so ingrained in the fact that it's the woman's job to cook every meal, and dinner time is a considered a sacred time where the family gathers around to talk and enjoy each other's company.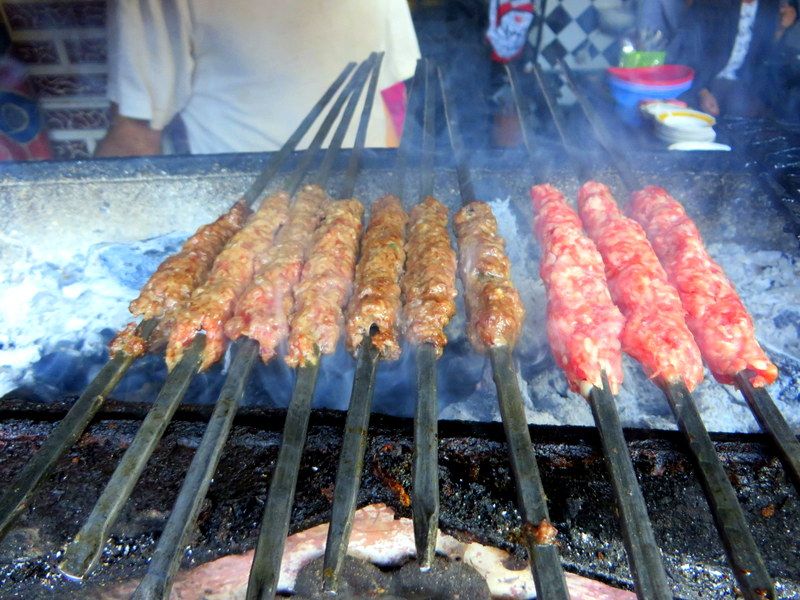 I end my food safari in Morocco, grateful for the tastes I have enjoyed, for the sights I have seen, but more grateful for my freedoms to travel freely, only cook when I want to, and to eat all the street food I can possibly devour.
Like this article? Subscribe and never miss a post!