All Of The Canadian Food You Need To Try
If you're visiting Canada, you won't want to leave without trying the incredible Canadian food. Canadian food has Scottish, English, and French roots, and I find a lot of the food is the perfect comfort food. Here's some of the food to try on a Canada holiday that you won't want to miss.
All Of The Canadian Food You Need To Try 
1. BeaverTails

BeaverTails are made from fried dough that is shaped to look like a beaver's tail. You can choose your own toppings such as chocolate hazelnut, cinnamon sugar, apple cinnamon, and maple. This Canadian food tradition is a sweet treat that you won't want to miss.
2. Poutine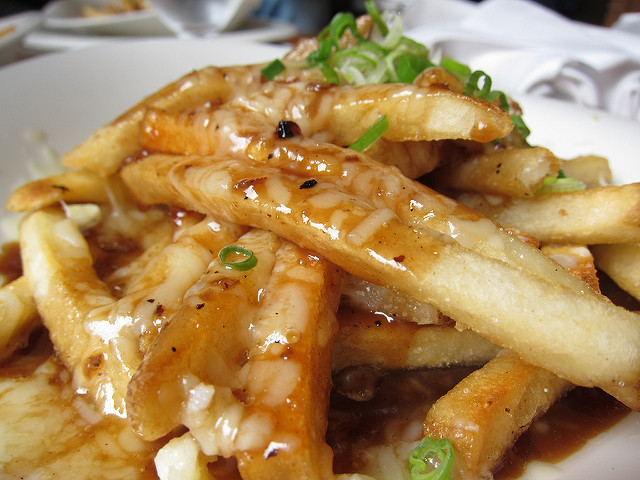 Photo by Jon Campbell, Flickr CC
French fries, brown gravy, and cheese curds. Does it get any better than this? And no one does it better than in Canada. It originated in Quebec, and the best places to order it are in diners, pubs, and roadside chip stands.
3. Butter Tart

Butter tart is made of butter, sugar, syrup, and egg filled into a flaky pastry and baked. These gooey, sweet tarts melt in your mouth, and the filling is usually a little runny when you eat it.
4. Pâté Chinois

Pâté Chinois is the Canadian's version of Shepherd's Pie. It's made from layers of ground beef, creamed corn, and mashed potatoes. This Canadian food is comfort food at it's best, and the Canadians like to eat it with ketchup.
5. Montreal Smoked Meat Sandwich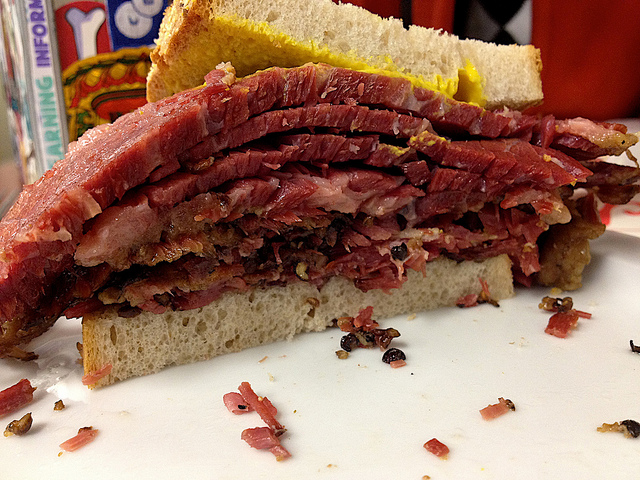 Photo by PRO Alan Levine, Flickr CC
Montreal smoked meat is made by curing beef brisket with spices, and then smoking it. It's  a lot like pastrami in New York, and is usually served on rye bread with yellow mustard. If you're in Montreal, go and have your sandwich at Schwartz's Deli. It's the oldest deli in Canada. There will be a line, but it will be worth it.
6. Montreal-Style Bagel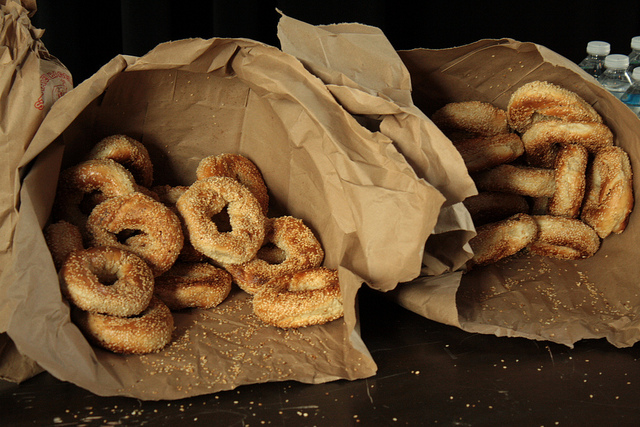 Photo by PRO Alexa Clark, Flickr CC
I think the Montreal-style bagel is a lot better than the NY-style bagel. It's baked in a wood burning oven. It's usually thinner and sweeter because it's boiled in honey-sweetened water before being baked. They are usually topped with sesame or poppy seeds.
7. Bloody Caesar

The Bloody Caesar is like a Bloody Mary, but is made with Clamato (tomato and clam juice) instead. More than 350 million Caesars are consumed by Canadians each year, and its especially popular in Calgary.
8. Peameal Bacon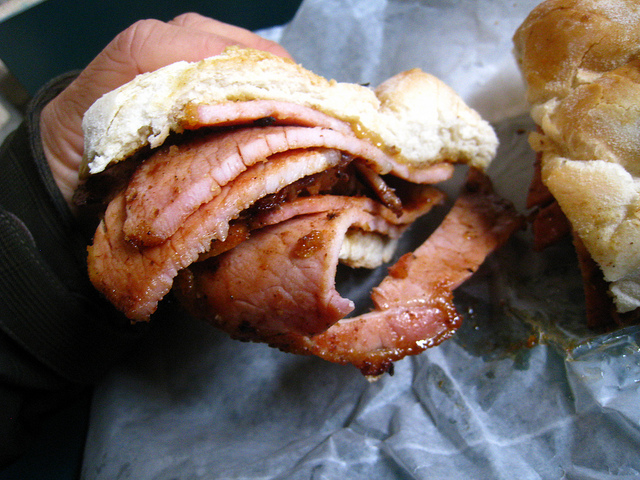 Photo by RosieTulips, Flickr CC
Peameal bacon is pork loin that's pickled in brine and rolled in cornmeal. Peameal bacon sandwiches are often considered a signature dish of Toronto's St. Lawrence Market.
9. Ketchup Chips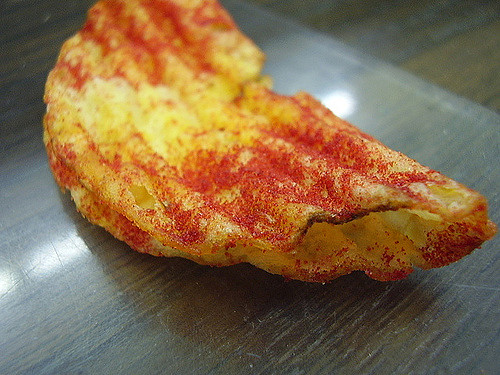 Photo by Shannon, Flickr CC
Ketchup lovers rejoice. Canada has a potato chip just for you. Other interesting flavors are dill pickle chips and poutine chips.
10. Nanaimo Bars

Nanaimo bars are one of my favorite things to eat in Canada. This no-bake dessert is named after Nanaimo in British Columbia. There is a crumb-based layer topped by a layer of custard flavoured butter icing which is covered with melted chocolate. Chefs often make different varieties such as coconut, peanut butter, or mint.
If you're visiting Toronto, you can try many of these treats without heading out into the cold. Look for a Toronto healthy meal delivery service and let them deliver to you.
Like this article? Subscribe and never miss a post!