I Ate All The Falafel In Portland So You Don't Have To
Ok, I didn't eat all the falafel in Portland because I quickly came to realize that's a lot of falafel. And, I really like falafel, but I only like the good falafel, and I soon realized that if I ate ALL the falafel in Portland, that would also mean eating a lot of shitty falafel when I could be eating tacos. Because, really, I've never had a shitty taco. So, that seems like a better use of my time and my mouth. I also got tired of everyone telling me their falafel was the best, and their country invented falafel, so some of you were lying.
Plus, I came across this Falafel song, and then I totally lost my appetite for falafel. Was that the point of this song? Oh, that and there are exactly 0 searches each month for "falafel in Portland", so basically no one is going to read this article. Except my mom. Because she reads everything I write. Even the stuff about falafel. (Hi Mom!)
Oh, and since I got really tired of eating falafel, I thought this was appropriate because the last thing anyone would want is three wives. Trust me, on this and stick to one falafel and one wife. Life is just easier that way. Also, EVERYONE knows that the only thing better than two falafels is three tacos. Geez.
What is this? Utah?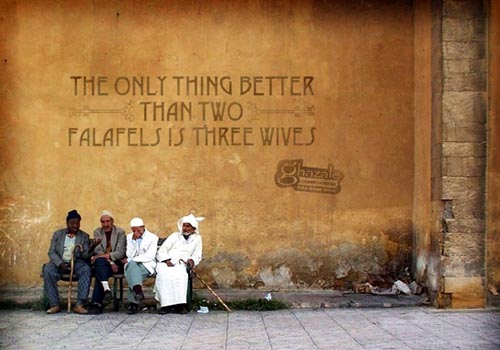 Found at : scaryideas
So, here you go. The reviews on all the falafel in Portland that I could manage to eat.
Falafel In Portland-The Good And The Bad
1. Falafel Express
I should have known by the fact that Falafel Express dared to put the word falafel in their name that it would be the best. (Have you every noticed that. Most falafel places don't even tell you upfront that they make falafel. It's like we make something with chickpeas, so we're gonna name it that. Or, we aren't proud of calling it falafel, so we'll name it after farm animals.) Notice, a place that serves really good tacos. They tell you. TACOS-whether it's Javier's, Salvador's, or Juan's, you will see the word tacos in the name.
So, I think the first thing about finding a good falafel place is to make sure it's in the name. That means they're proud of it. Oh, and Falafel Express is technically in Tigard, and not Portland, but, trust me, it's worth the drive.
The owner is from Palestine, and he told me that the best falafel is in Palestine, and I think he's right. His falafel was crispy, the way good falafel should be, and I liked that I had the option to put french fries on the sandwich. I also liked the lavash better than pita bread, and this sandwich was the least messy of all the sandwiches. Falafel Express also makes a great shawarma.
2. Cedo's Falafel And Gyro's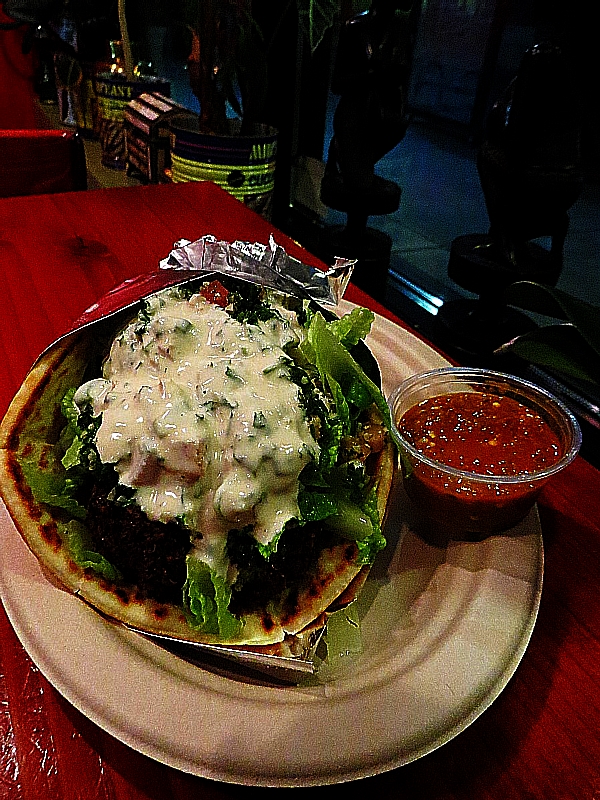 Cedo's Falafel And Gyro's makes Jerusalem style falafel, and is a close second to Falafel Express. It also confirms my theory that the best falafel places include falafel in the name of the place. Again, the falafel here is crisp, and I love that you can get tabouli on your sandwich. Their tzatziki sauce also has the proper consistency that I think a good tzatziki sauce should have, and the hot sauce here takes the sandwich over the top.
3. Wolf & Bears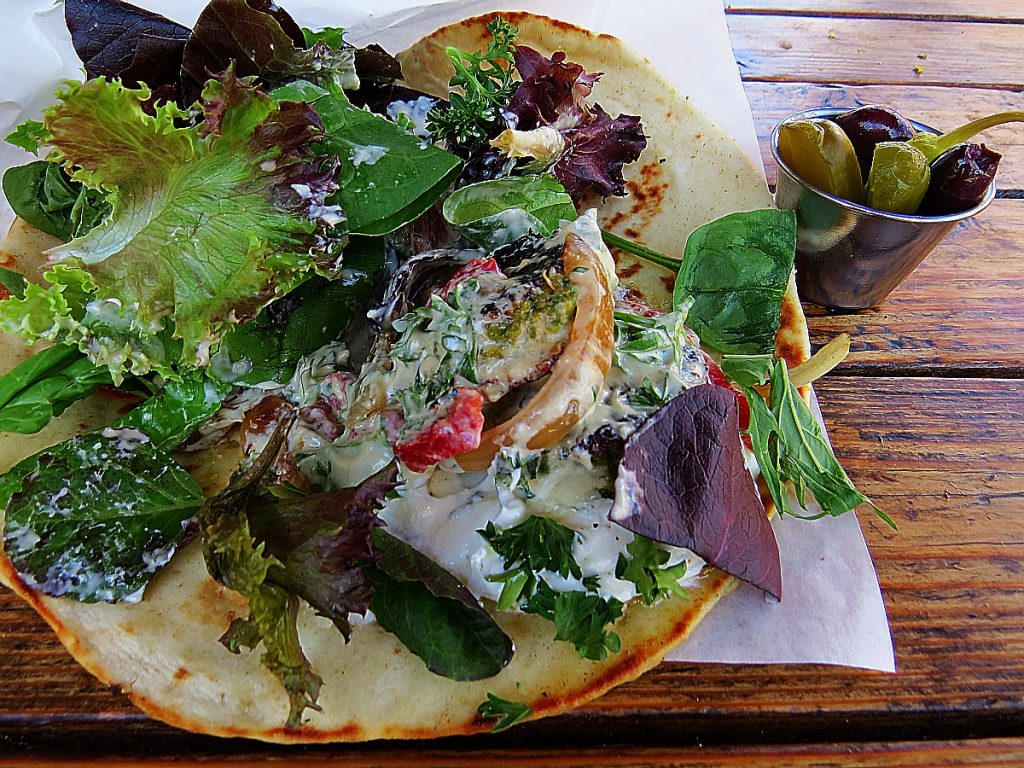 Ok, Wolf & Bears wins with the fact that you can get labneh on your falafel which, to me, is the equivalent of having your falafel and eating it, too. (I'm tempted to make a comment about wives here, but I'll refrain.) I got the Out To Lunch which also comes with caramelized onions. The falafel here is good, but not as crispy as the top two, so up your game a bit, Wolf & Bears. I also feel there was a bit too much "salad" in my sandwich. If I wanted a salad I would have ordered one. Still, really good.
4. Chickpeadx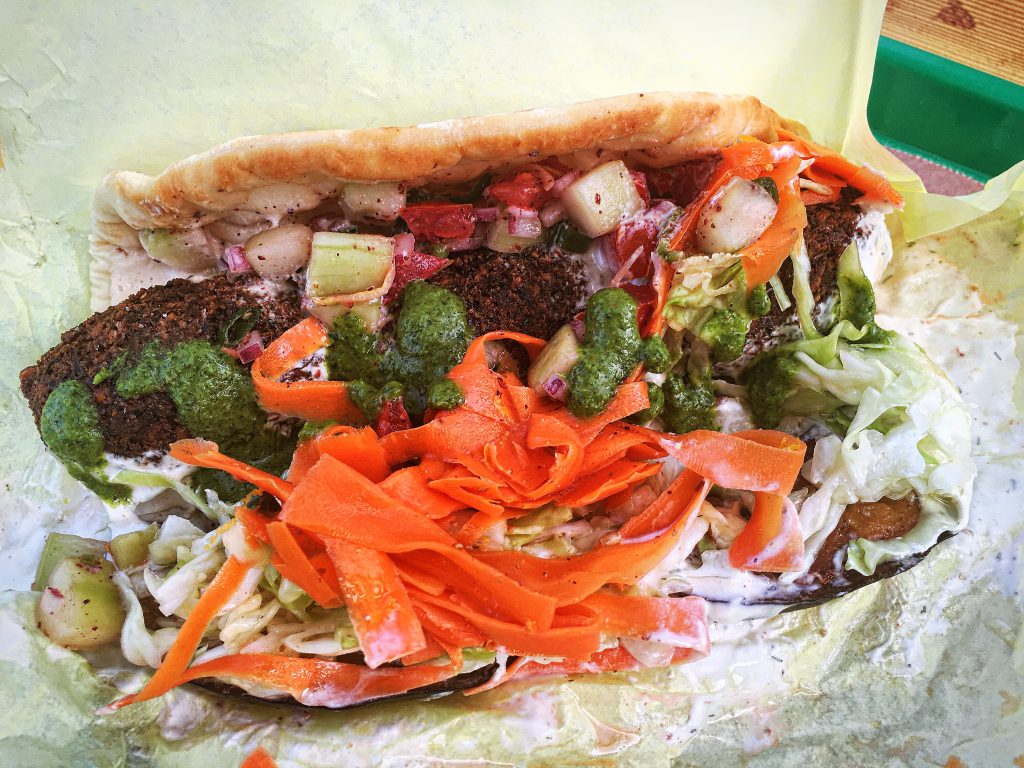 Chickpeadx had falafel that ranked right up there with Wolf & Bears, but wasn't quite as good. I took points off because they don't seem to know what labneh is. Their labneh was even thinner than Cedo's tzatziki sauce which was disappointing. I did like the spicy Zhug sauce, but I wasn't so sure about all the carrot ribbons. The falafel itself was nice and crispy, but the sandwich was a bit overfull and a complete mess to eat. Don't eat this on a date. It will not win you any wives.
5. Gyro House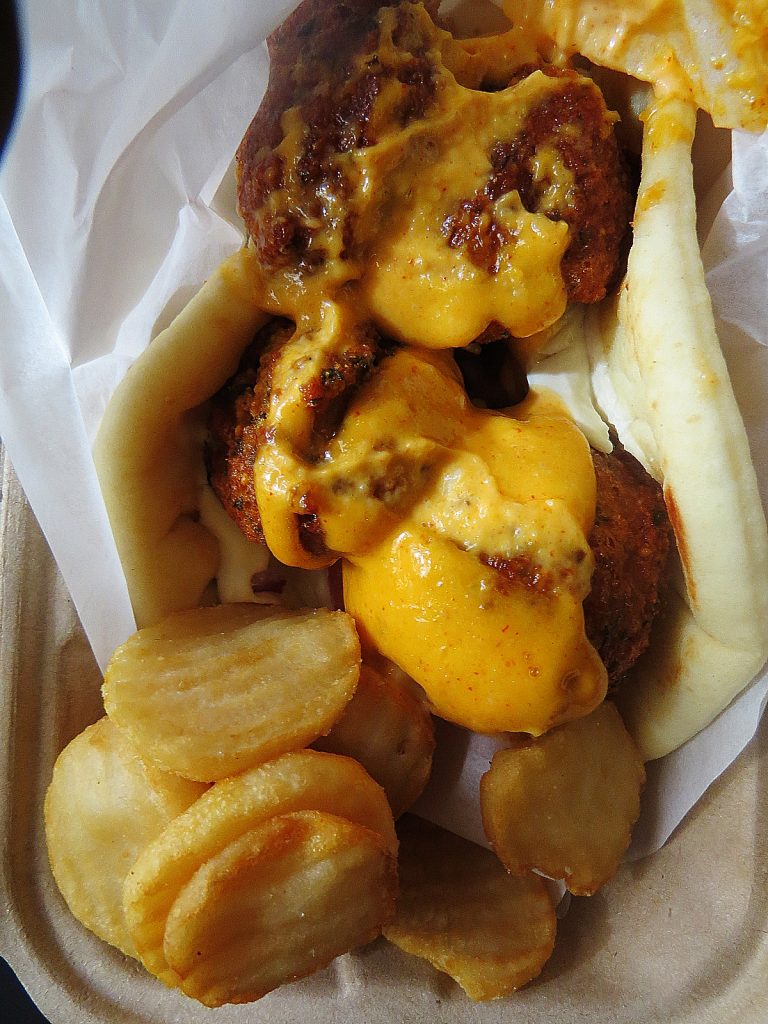 I should have known better than to order falafel at a place that tells you upfront that they specialize in gyros, but I did. Just no. The falafel was soggy and tasted like the oil that probably wasn't hot enough that they fried it in. It was messy. It was gross, and I threw most of it away.
Like this article? Subscribe and never miss a post!