Pig's Blood, Brains, Tongues, And Frogs: I Tasted It All To Follow The Anthony Bourdain Chiang Mai Food Trail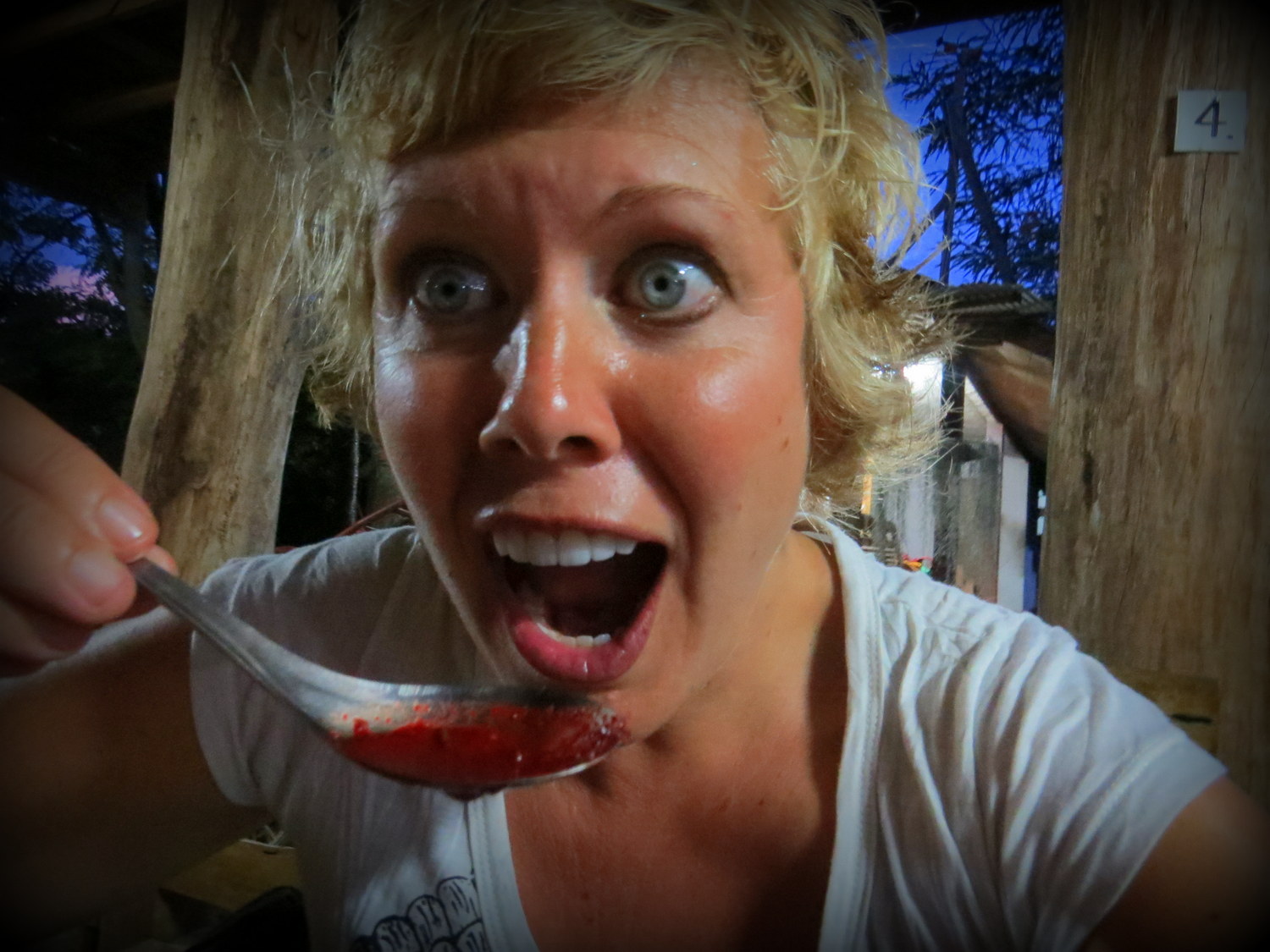 "Do we really want to travel in hermetically sealed popemobiles through the rural provinces of France, Mexico and the Far East, eating only in Hard Rock Cafes and McDonalds? Or do we want to eat without fear, tearing into the local stew, the humble taqueria's mystery meat, the sincerely offered gift of a lightly grilled fish head? I know what I want. I want it all. I want to try everything once." 




― 

Anthony Bourdain

, 

Kitchen Confidential: Adventures in the Culinary Underbelly
Some people have all the luck. My luck was landing in Chiang Mai only weeks before five men and one cabaret girl (the girl who just happened to be on the Anthony Bourdain episode) had planned to follow in Anthony Bourdain's footsteps. They planned to follow in the footprints he had made on his Parts Unknown tour of Chiang Mai.
Not only that, but Andy Ricker, owner of the incredible Thai restaurant Pok Pok, had been the guide for this tour. So, when the guy who had decided to organize this Magical Mystery Chiang Mai food tour of pig tails, tongues and brains, blood soup, and fried frogs asked if I was in, I said, "Yeah, I am most definitely in."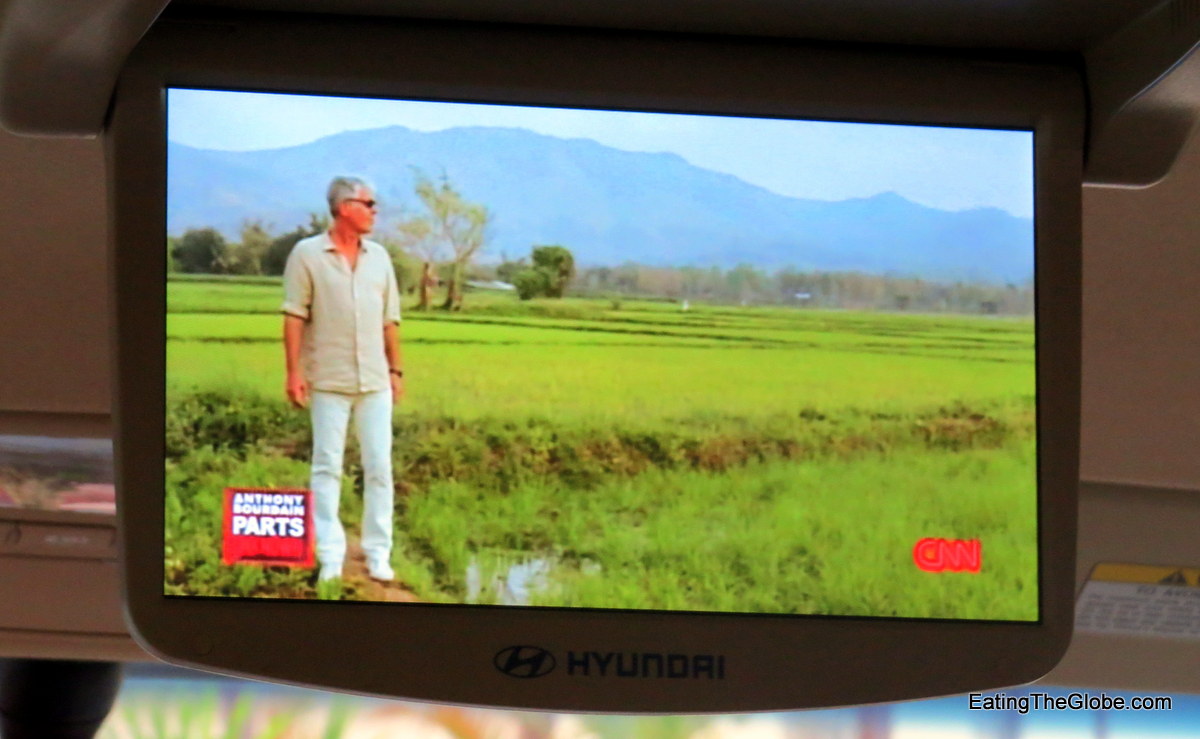 Whereas, Anthony Bourdain probably had the luxury of eating all the food shown on the show in two or three days, we did it all in one night. A seven-hour Chiang Mai food fest that actually gave me a food hangover the next day. We went to almost every place that was on the show (one was closed by the time we got there.) However, we skipped the cabaret because, well, we kind of were the cabaret!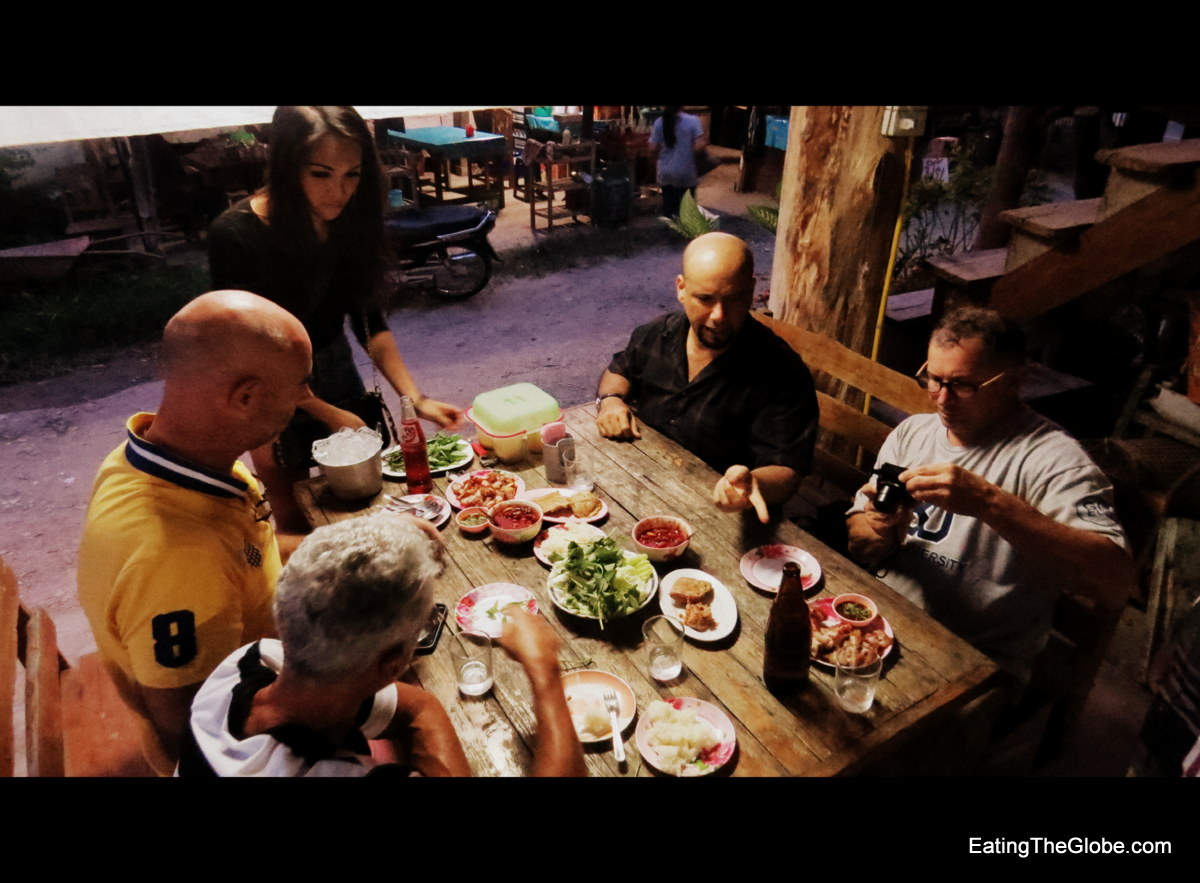 "I remember the moment I first realized I've been living my whole life in black and white. It was like discovering a color I never knew existed before. A whole new crayon box full of colors, that was it for me. From then on, there was no putting the pieces back together. No going home. Things were different now. Asia had ruined me for my old life." -Anthony Bourdain
Without further ado, here's what we ate:
1. Khao Kha Moo From The Cowboy Hat Lady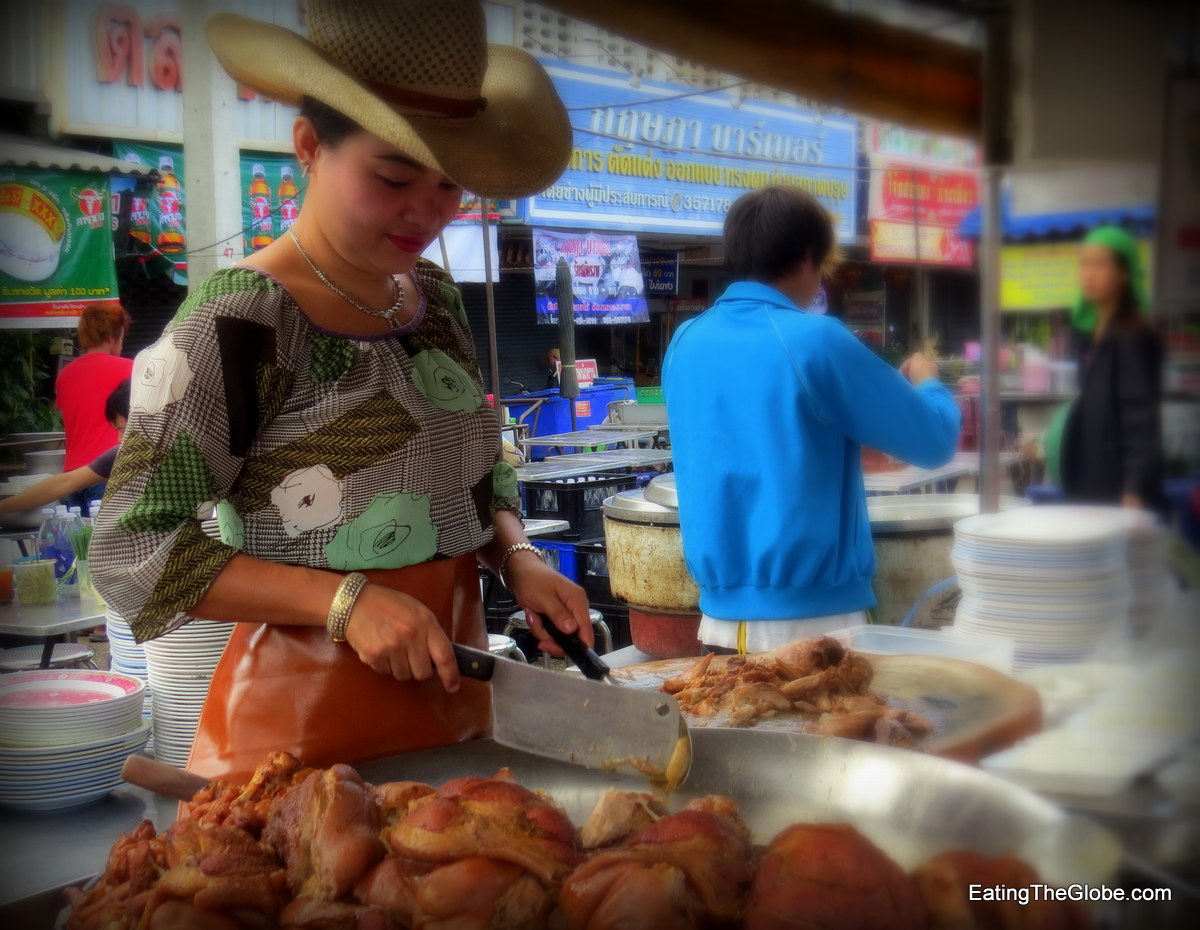 Night Market, Chang Pueak Gate, T. Chang Pueak
A. Muang, Chiang Mai 50000
The "cowboy hat lady" is an institution in Chiang Mai. She made mouth-watering stewed pork leg. What makes it special is the sauce you put on top, the pickled cabbage, and the eggs. And boy, do they peel a lot of eggs every night. The cowboy hat lady first used the hat when the light was getting in her eyes. Everyone soon recognized her because of the hat, so it's now become her trademark. This was one of my favorite meals of the night, and at 30 baht a plate ($1 USD) this place could become a habit for me.
"Travel changes you. As you move through this life and this world you change things slightly, you leave marks behind, however small. And in return, life – and travel – leaves marks on you. Most of the time, those marks – on your body or on your heart – are beautiful. Often, though, they hurt." 




― 

Anthony Bourdain

, 

The Nasty Bits: Collected Varietal Cuts, Usable Trim, Scraps, and Bones
2.  Laap and Barbequed Pig Parts At Laap Kao Cham Cha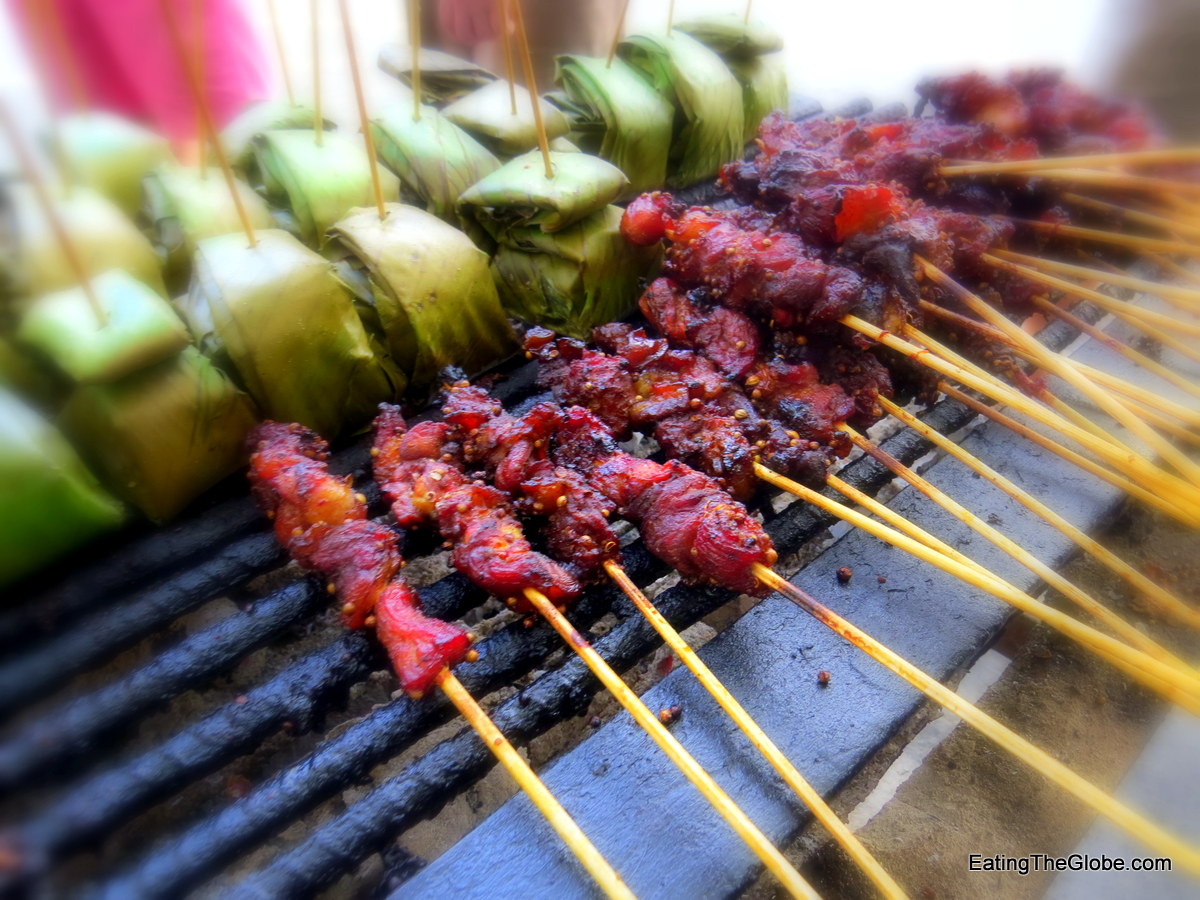 Located at the corner under the Rain Tree, Behind Prince Royal College, Rattanakosin Road, T. Wat Gate, 
A. Muang Chiang Mai 50000
Laap is raw pork meat with herbs and chiles. It was pretty spicy, and it really didn't seem like I was eating raw meat. I liked the flavor of this dish. I didn't go for the tripe on top. (That stuff looked like something that might appear in my dreams later if I ate it, so I left it alone!) We also ate grilled pig bits. I really liked the tongue. And, we munched on frogs. It was all pretty tasty, but nothing that I would go back and eat again.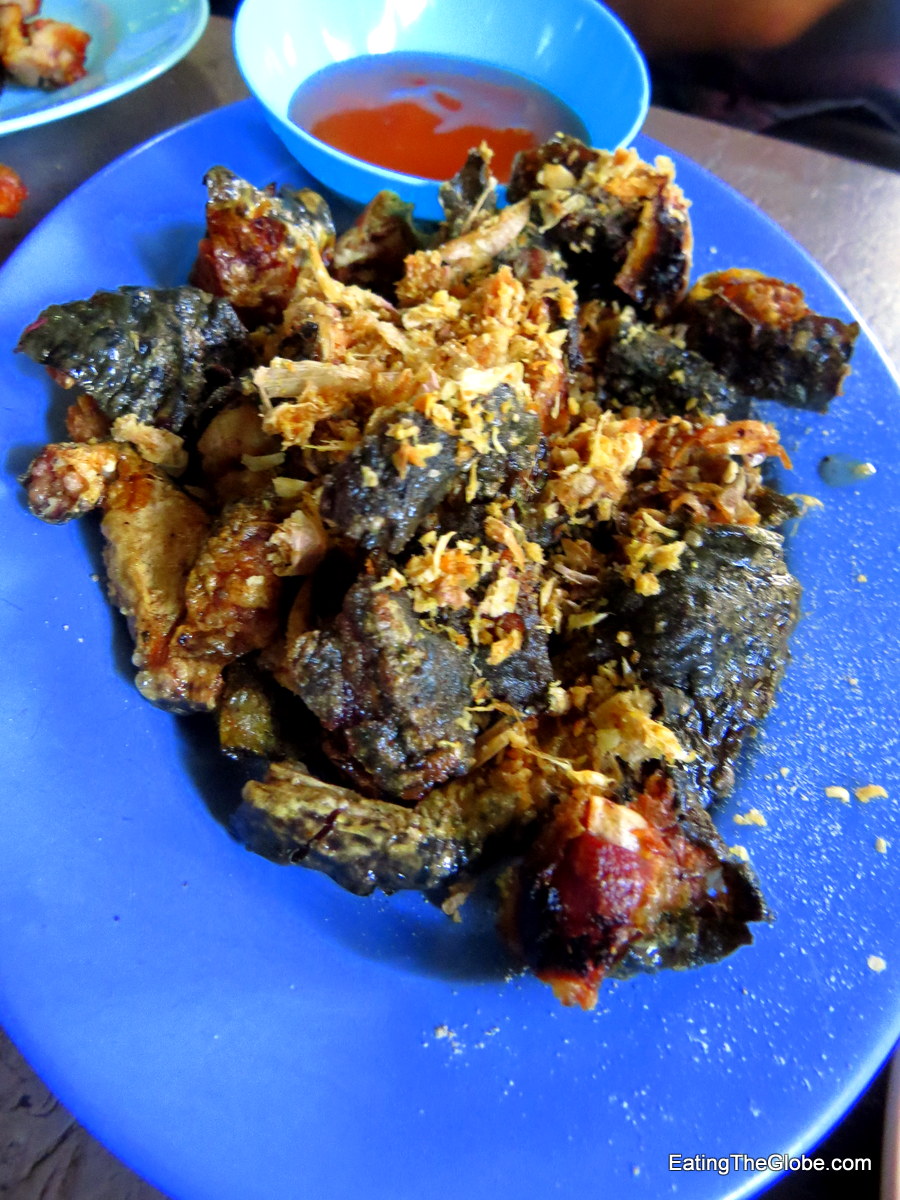 "Travel isn't always pretty. It isn't always comfortable. Sometimes it hurts, it even breaks your heart. But that's okay. The journey changes you; it should change you. It leaves marks on your memory, on your consciousness, on your heart, and on your body. You take something with you. Hopefully, you leave something good behind."




― 

Anthony Bourdain

, 

No Reservations: Around the World on an Empty Stomach
3.  Pig's Blood Soup With Bile, Pig's Brains And Tails At Him Tang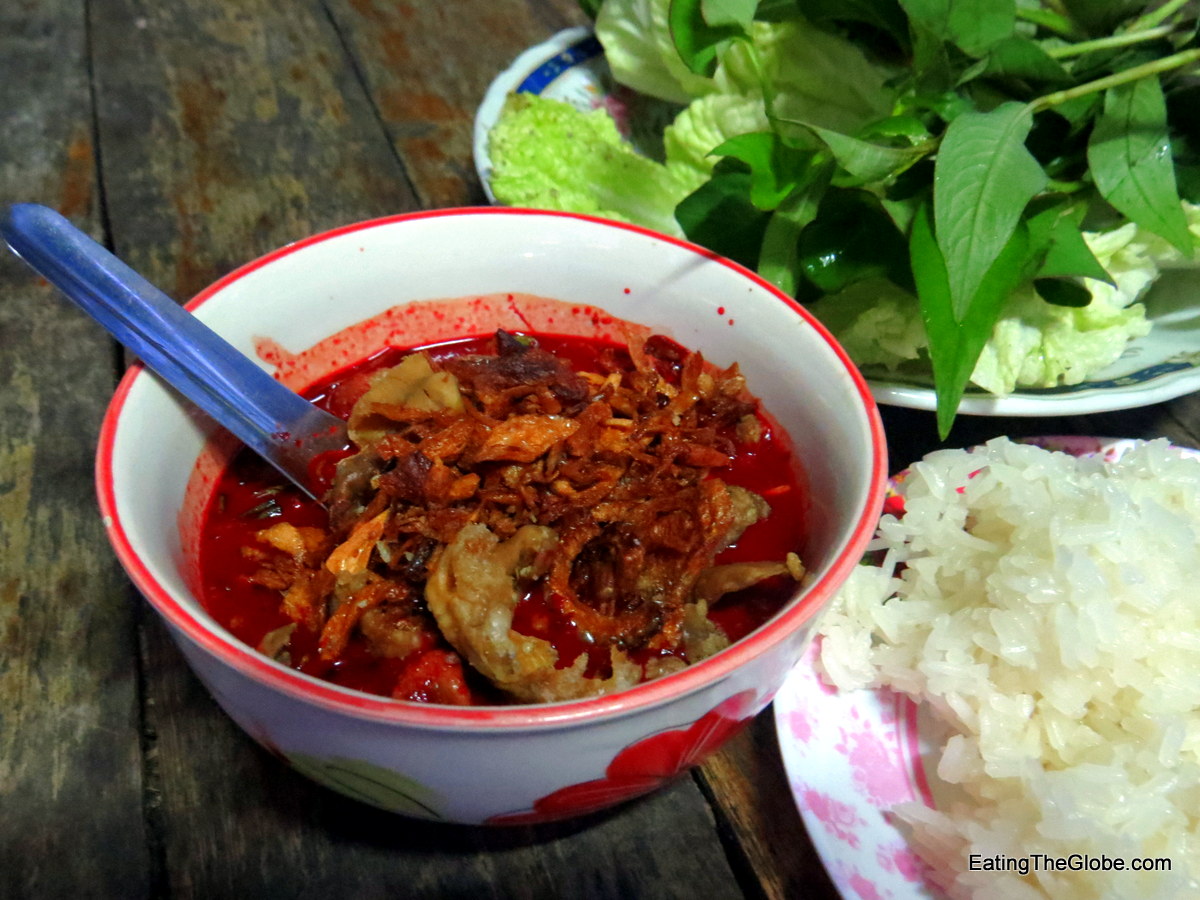 32 Moo 3, T. On-Klang, 
A. Mae-On, Chiang Mai 50130
This place was my least favorite for obvious reasons, but it still wasn't bad. The raw blood soup is called loo, and contains raw meat and is served cold. Now, this is where I took my life in my own hands. People have died from parasites from eating this, but I still had to try it. I love boat noodle soup, but with that, the blood is cooked, so you don't realize you are eating blood. Loo is different. There is no way of hiding it. You are definitely eating blood. This soup, served with fried intestines on top wasn't bad if I ate small bites. It had a nice spicy kick. So, I got braver. I decided to eat a bigger bite. When I did, I definitely tasted the blood. That was enough of that for me.
The brains were mixed with kaffir lime leaves, curry paste, and chilies, and then grilled in a banana leaf. They were actually quite good, and you couldn't tell you were eating brains. They almost had a custardy texture to them. The pig's tail wasn't bad either and tasted like any other piece of meat you might throw on the grill. This was an experience for sure. Honestly, though, I was glad when it was over!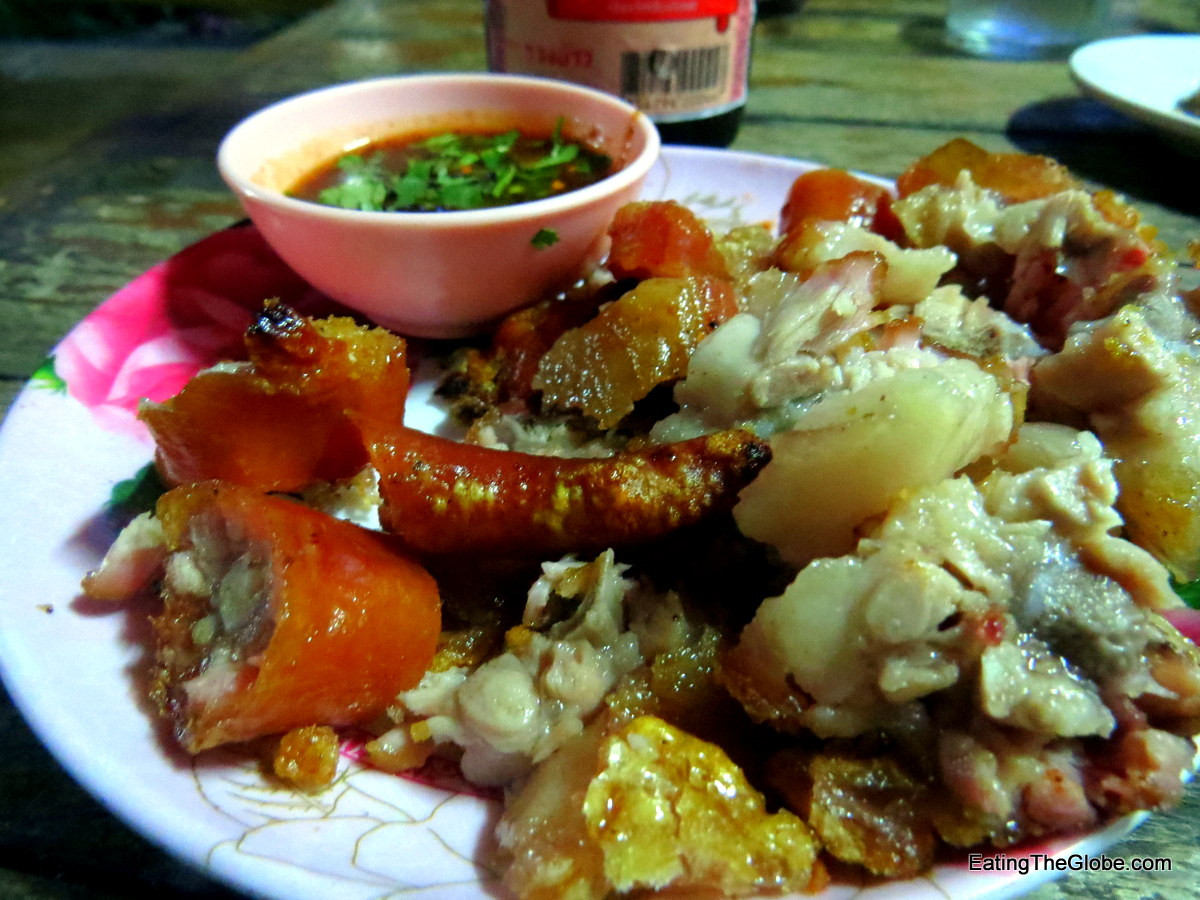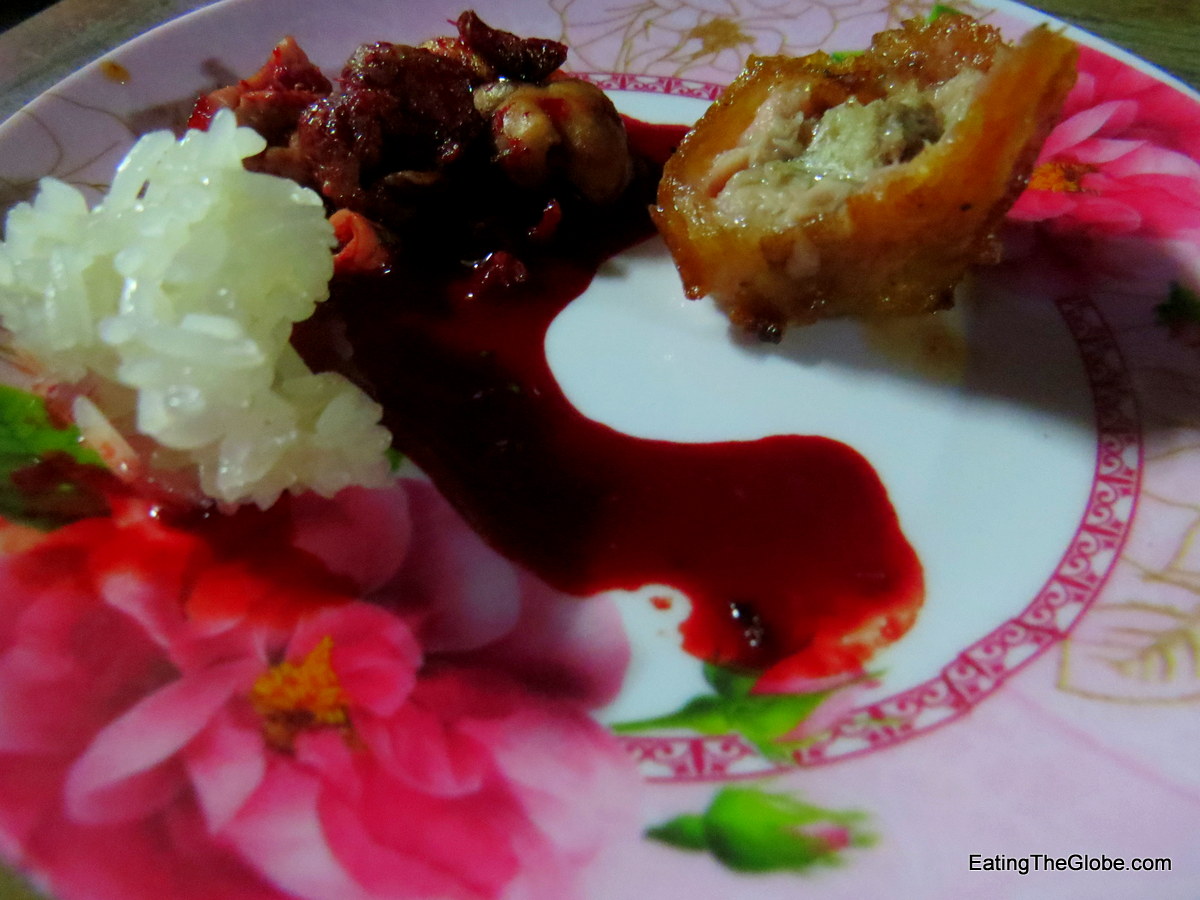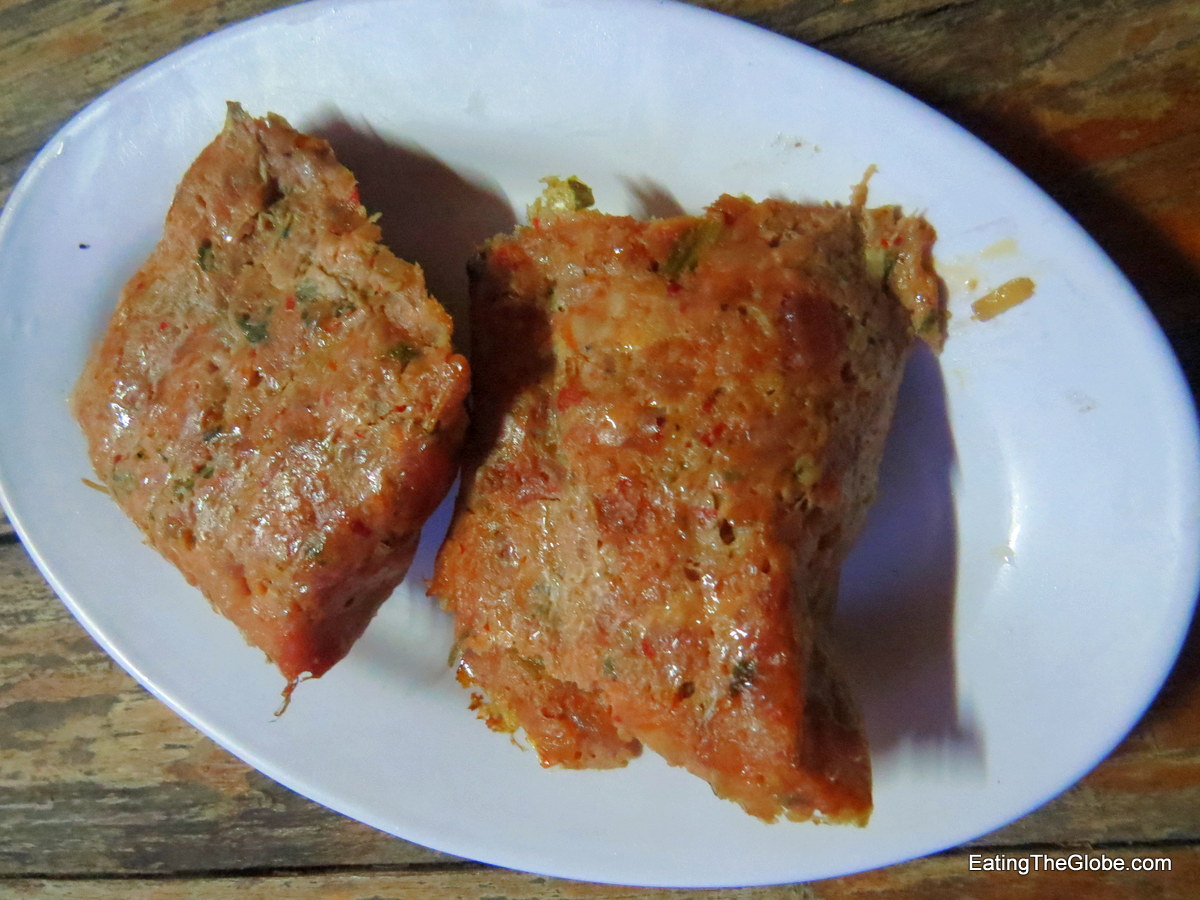 "Good food and good eating are about risk."-Anthony Bourdain
4.  Hammered Meat At Pa Daeng Jin Tup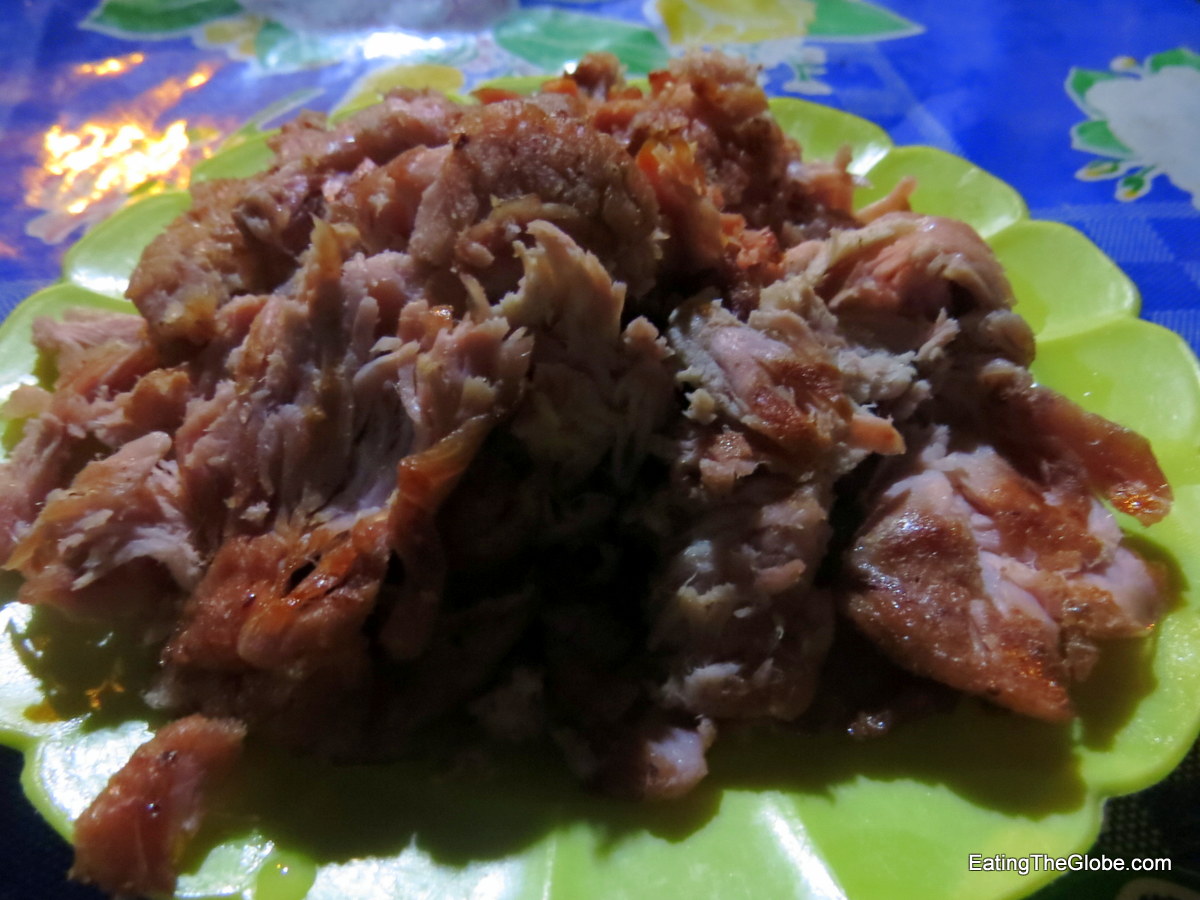 Located at the corner of Mae Yoi Intersection, T. San Sai,
A. San Sai, Chiang Mai 50210
"Shut up and eat.  And if you don't like the food, eat it anyway, or I beat you!" This is what the small woman told us as she served us our hammered pork and beef. (They were out of the chicken). Honestly, this wasn't that exciting, but I didn't say anything. After all, she did have a big knife! And, there were blood stains on the cutting board.
"Cooking professionally is a dominant act, at all times about control. Eating well, on the other hand, is about submission. It's about giving up all vestiges of control, about entrusting your fate entirely to someone else. It's about turning off the mean, manipulative, calculating, and shrewd person inside you, and slipping heedlessly into a new experience as if it were a warm bath. It's about shutting down the radar and letting good things happen. Let it happen to you." -Anthony Bourdain, The Nasty Bits: Collected Varietal Cuts, Usable Trim, Scraps, and Bones
5. Midnight Fried Chicken At Kai Thawt Thien Kheun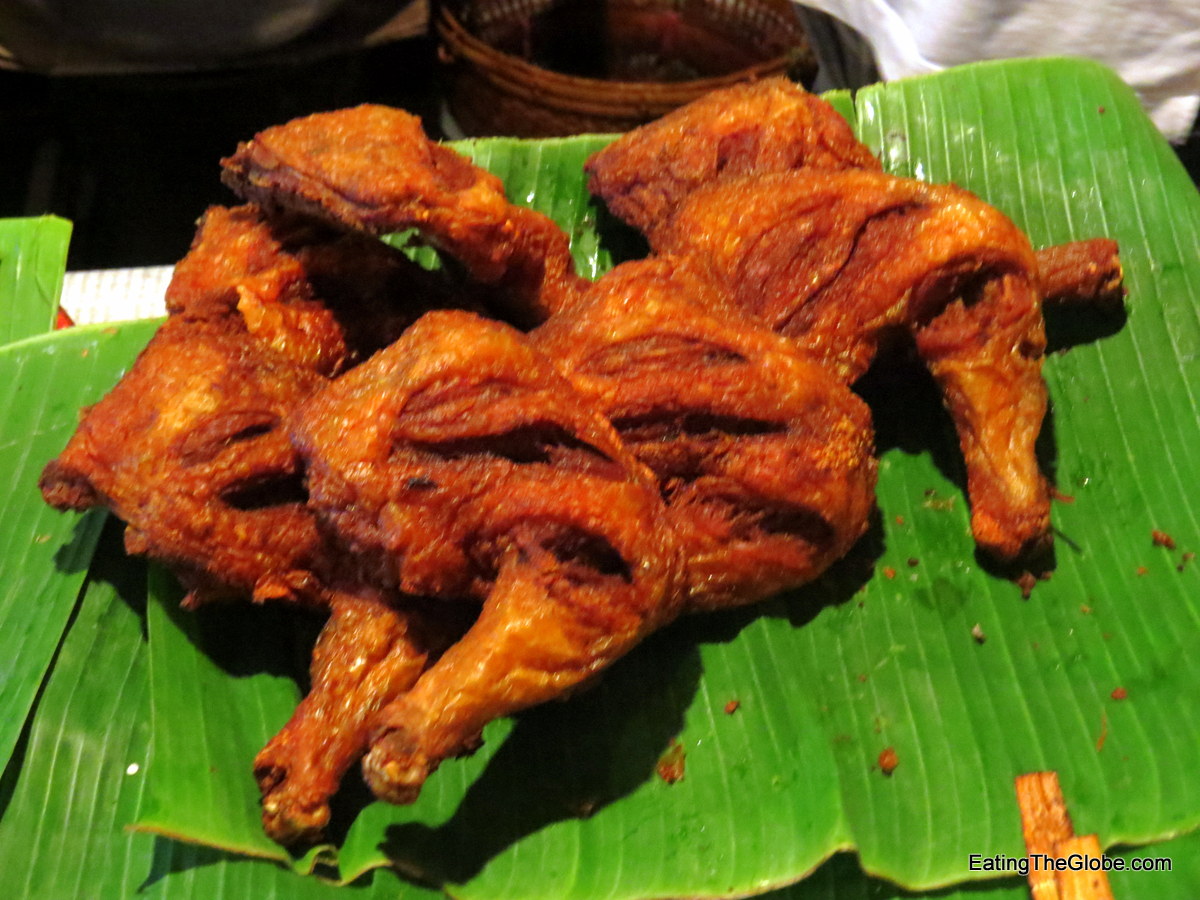 139 Kampaengdin Road, T. Haiya
A. Muang, Chiang Mai 50100
Kai Thawt Thien Kheun, also known as Midnight Sticky Rice is somewhat of an institution in Chiang Mai. After all the blood and guts of the previous restaurants, I was starving at this point. (I mean, how much blood soup can a person eat?). We dug in to perfectly crispy fried chicken, fried pork, and oh-so-delicious Chiang Mai sausages.  And, oh yeah, sticky rice. The nam prik noon made from green chiles was perfect with the chicken, and I loved that everything in this meal could be eaten with my hands. What a way to end the night. This was my favorite spot of the night, and worth waiting for!
Hours are 11pm-5am.
I owe expansive thanks to Mark Wiens for guiding me with his knowledge of Thai food. You can order his guides below, which I highly recommend. Click here to view more details for the Eating Thai food guide.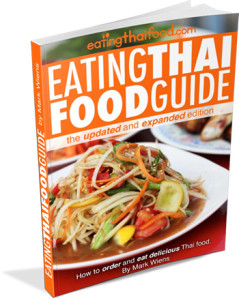 Like this article? Subscribe and never miss a post!