10 Foods You Can Only Get On The Road
Trying out new foods is one of the very best parts of traveling. It's already satisfying to bite into something delicious, but with the added knowledge that you can't get it anywhere else, good eats can become downright magical.
If there's one thing the U.S. has in spades, it's awesome eating. And in some cases, the experience of a too-good-to-be-true taco or perfectly crafted ice cream cone might be worth even a lengthy drive. No wonder the road trip is one of America's favorite ways to travel!
To celebrate our country's great tradition of road tripping, I put together ten classic foods from around the country you can only get in one place.
So whether these destinations are in your backyard or thousands of miles away, here are ten fantastic, one-of-a-kind American foods not to miss on your next road trip. I promise they're worth the drive, even if it's a long one.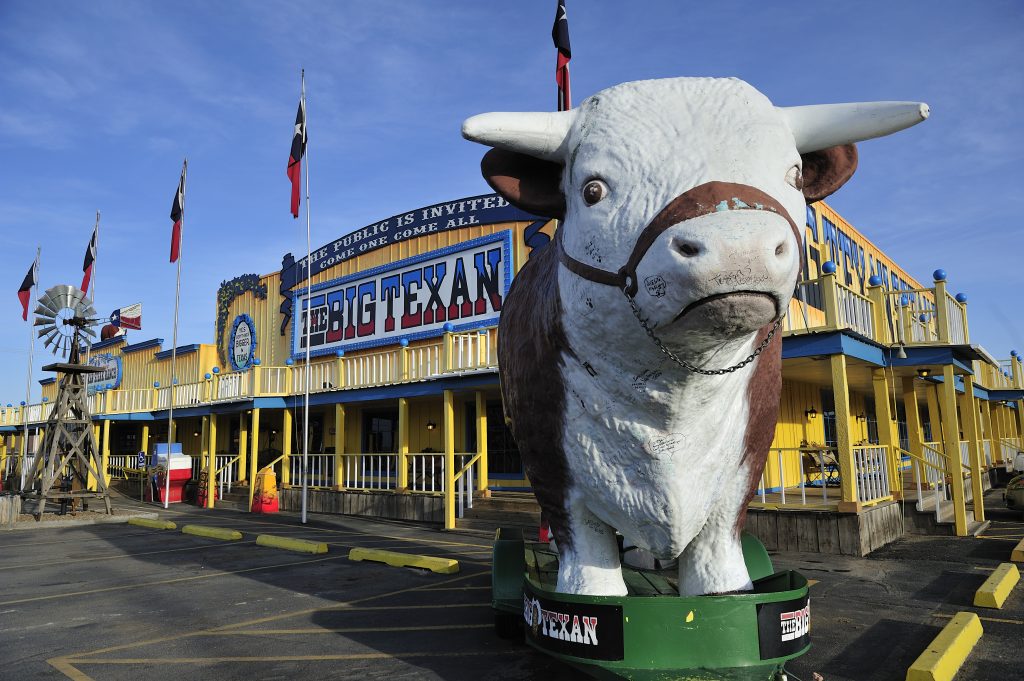 1. 72-ounce Steak Dinner at the Big Texan in Amarillo, Texas
They say everything's bigger in Texas, and dinner is no exception.
This extra-large cut of meat is part of an eating challenge that started all the way back in 1962, when a very hungry cowboy ate five steaks, a shrimp cocktail, a salad, a baked potato, and a dinner roll. Suitably impressed, the owner, Bob Lee, declared that anyone who can consume the same meal in an hour or less would get the whole kit and caboodle on the house, absolutely free of charge.
The deal still stands today. And since the meal retails for $72, you'd better get there hungry!
2. Fried Grouper Sandwiches at Frenchy's Cafe in Clearwater, Florida
If you think all fried fish is the same, think again. This well-loved southwest Florida franchise serves up "super"-sized battered grouper sandwiches in an array of scrumptious flavors, including original, buffalo, and cajun. They even have a grouper reuben!
Better yet, these colossal fish sandwiches will run you less than $15, which means you'll have plenty of spare change to buy a tropical, fruity frozen drink to wash it all down.
3. Craft Cheeses from Jasper Hill Farm in Greensboro, Vermont
Vermont has so much more than maple syrup going for it. And cheese can be so much more than prepacked single American slices or big, yellow bricks of cheddar!
This award-winning specialty cheese cave creates, produces, and ages some of the finest gourmet cheese in America. Although their strict food safety regulations make public tours an impossibility, you can grab a chunk or five nearby at The Willey's Store and other vendors, or sign up for one of the farm's special summer tasting events. Trust me — once you taste this stuff, you'll never go back to mass-produced "cheese product."
4. A Real Coney Island Hot Dog at Nathan's Famous in Brooklyn, New York
Places as disparate — and far from New York — as Indiana and Detroit all have their take on this hyper-American dish, which actually has Greek origins. And, sure, you can buy a package of Nathan's Famous hot dogs almost anywhere in the country, and fix 'em up yourself.
But there's only one Coney Island. And these delicious, greasy sandwiches (yes, hot dogs are considered sandwiches) are simply made for the boardwalk, even if you render yours fork-food instead of handheld by covering it with chili and cheese.
5. Hot Chicken at Prince's in Nashville, Tennessee
If you haven't had fried chicken Nashville style, get ready for cravings that will send you singing back to Music City on the regular.
Prince's Hot Chicken Shack, an unassuming strip mall restaurant, is ground zero for this dish, which is hot, hot, hot — literally and figuratively. Ambitious proprietors have opened new hot chicken joints across the city, and as far afield as Atlanta and New York. It's even made an appearance on KFC's menu.
But if you want the original, you've got to visit Prince's.
This southern version of fried chicken is rubbed with a spice paste including lard and lots (and lots) of cayenne, so anything above "medium" isn't for the faint of heart. Your sizzlin' bird will be served up with white bread and pickle chips. Sweet southern tea is optional, but an excellent reprieve from the burn.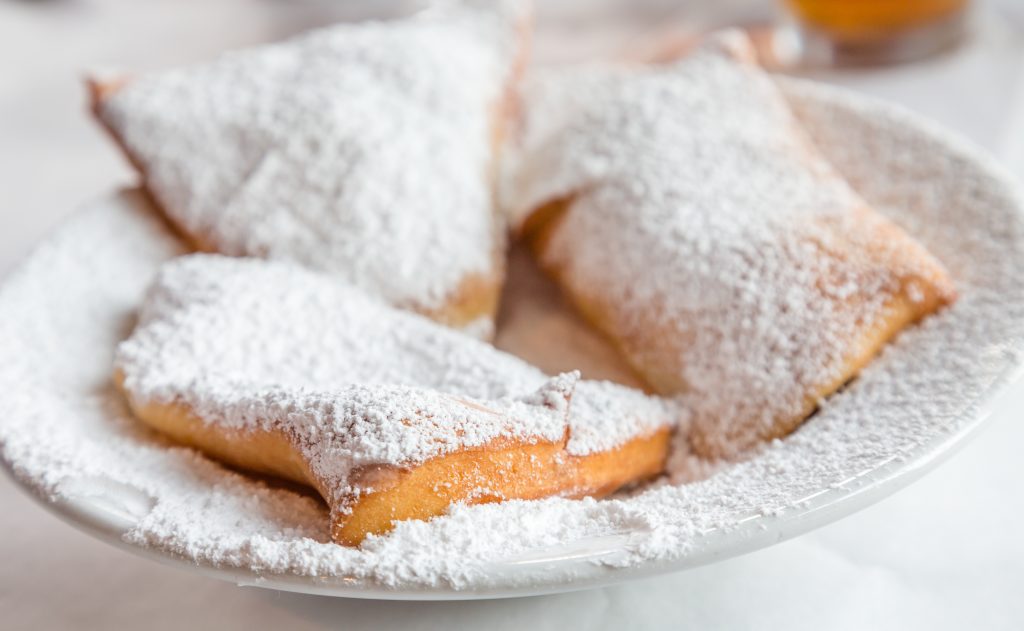 6. Beignets at Cafe du Monde in New Orleans, Louisiana
Fried dough covered in powdered sugar all with the sweet sounds of America's jazziest city in the backdrop? It just doesn't get any better.
Actually, come to think of it, it might… if you go in for with a strong cup of chicory coffee with your inevitable second plate.
7. Ice Cream at Jeni's in Columbus, Ohio
Jeni's drool-worthy ice cream is rich, creamy, and available in inventive flavors like orange blossom buttermilk and goat cheese with red cherries. They use only the highest-quality ingredients, and it shows: the shop boasts two awards from the Specialty Food Association.
So it's no wonder — and lucky for us! — the Columbus-based establishment now has locations across the American south, as well as in Chicago and Los Angeles. But with less than 10 shops across six states, it's safe to say you're gonna have to drive for this exceptional cone. (Don't worry… it's so worth it.)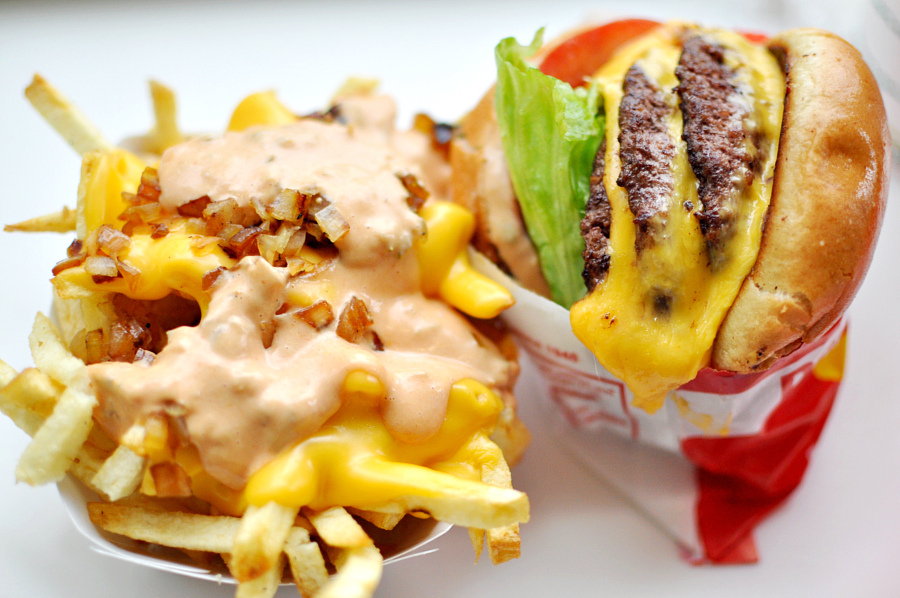 8. Well Done Fries, Animal Style at The Original In-N-Out Burger in Baldwin Park, California
Yes, yes, get your burger and shake… but don't skip out on this special side order, which is sure to usurp the sandwich as the star of the show.
When In-N-Out hears "well done," they take it to heart, so don't be surprised if you have to wait a while. But this crispy, crunchy, salty mess of deliciousness, drowned in the famous "animal style" sauce, is worth a few extra minutes of your time.
Since you're already road tripping, why not check out the original location in Baldwin Park, a suburb on the east side of Los Angeles? Of course, you can also catch these roadside eats across a number of states in the American west, including Utah, Nevada, Texas, Arizona, Oregon, and, of course, California.
9. Smoked Salmon Pate Roll at Piroshky Piroshky, Pike Place Market in Seattle, Washington
You may or may not have heard of these scrumptious Russian hand pastries, which reviewers describe as "light and flakey and just awesomeness." It's the Pacific northwest, so going in for fresh salmon is a given, but the kiosk also offers a variety of other sweet and savory versions. Grab one or three and wander around the rest of bustling Pike Place Market in downtown Seattle. It won't be hard to find a cup of coffee or a sweet treat for dessert.
10. Double Brat Sandwich at Charcoal Inn in Sheboygan, Wisconsin
In the chilly, northernmost reaches of the midwest, you need a meal that'll stick to your bones.
Look no further than Sheboygan's Charcoal Inn, which has locations on both the north and south sides of town. The double brat sandwich is a local favorite, but you might also be swayed by crispy fried shrimp or perch, not to mention a vast array of breakfast options. No matter what you decide, you'll want to finish the meal off with a delicious Torte — options include lemon poppy-seed and pistachio.
Sometimes, the Best Road Eats are the Ones You Make Yourself
When it comes to road tripping, it's easy to fall into less-than-awesome eating habits between foodie destinations. You can only consume so much jerky and so many bags of potato chips before you're craving something real!
That's one reason RVing is a great way to travel our country's highways: you can save up your money (and your calories!) for those destination eats by cooking a majority of your meals yourself.
If you're interested in checking out this unique way to travel and want to save even more cash on rental fees, be sure to check out the peer-to-peer marketplace RVshare, where private RV owners offer their rigs for rent when they're otherwise not being used. RVing lets you bring everything with you, including the kitchen sink — and your favorite, comforting, homemade meals.
Happy travels, and bon appétit!
Article written by Jamie Cattanach 
Like this article? Subscribe and never miss a post!